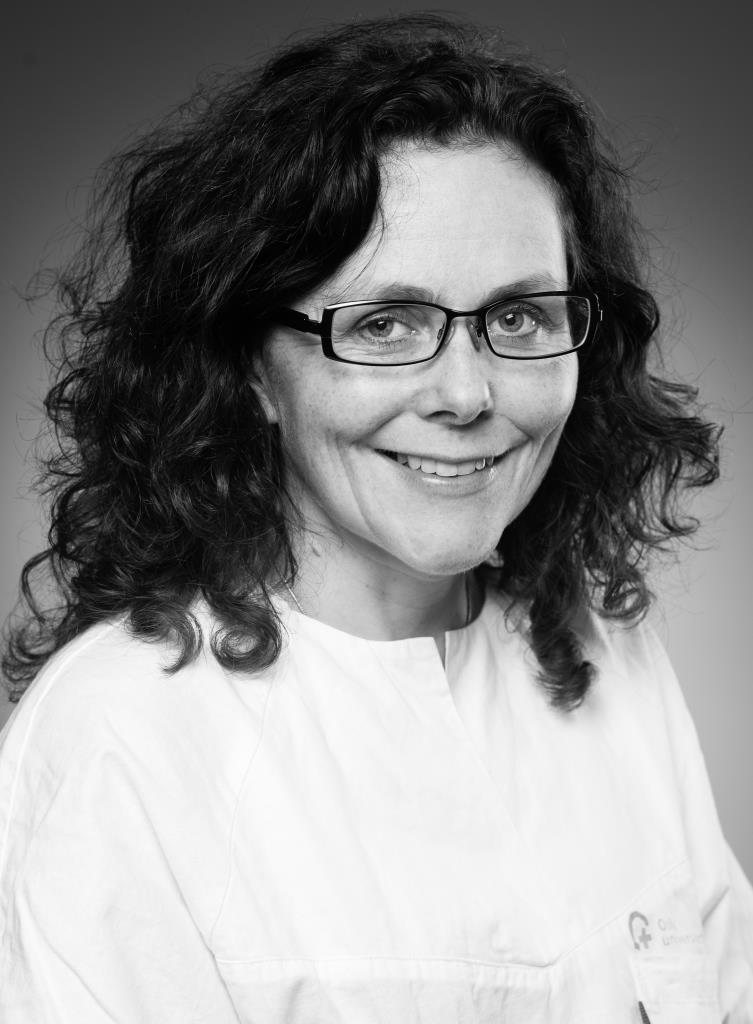 Vibeke Marie Almaas
Consultant Cardiologist, MD, PhD
+47 230 74145
Vibeke Almaas successfully defended her PhD thesis "Obstructive hypertrophic cardiomyopathy. Pathophysiology and clinical management" in October 2015. Her supervisors were Professor Emeritus Jan Peder Amlie, MD, PhD, University of Oslo and Professor Svend Aakhus, MD, PhD, Norwegian University of Science and Technology.
She found that a type of scarring in the heart muscle, interstitial fibrosis, in patients with hypertrophic cardiomyopathy (HCM), is associated with severe cardiac arrhythmia and that a newly developed cardiac ultrasound examination can identify patients at increased risk. Together with Scandinavian colleagues, Vibeke M. Almaas has shown that PTSMA is a safe and effective treatment for obstructive HCM patients.
In the period 2001-2009, over a hundred HCM patients were referred to Department of Cardiology, Rikshospitalet, Oslo University Hospital, for PTSMA; a catheter-based method of applying a myocardial infarction to the thickened heart partition, or myectomy; a heart operation where the thickened part of the heart partition is removed. Obstructive HCM patients have thickened cardiac wall that prevents blood from flowing freely into the main artery. These patients may be offered PTSMA or myectomy. A treatment team with experience in HCM assessed whether conditions were suitable for PTSMA or whether surgical correction and myectomy were needed. Before and after PTSMA / myectomy, patients were examined, among other things, with 48-hour cardiac rhythm recording, cardiac ultrasound and magnetic resonance (MRI) of the heart. The heart muscle tissue removed by myectomy was examined microscopically. PTSMA-treated patients were included in a Scandinavian database where long-term follow-up after PTSMA was recorded.
In her thesis Almaas and her colleagues showed that the catheter-based method PTSMA can be safely performed at centers with experienced invasive cardiologists and that interstitial fibrosis, scarring associated with severe arrhythmia, is not so readily seen in cardiac MRI examination, but scarring leads to reduced function of the heart muscle which can be identified by a fast and simple heart ultrasound method.
Publications 2023
Gronningsaeter L, Langesaeter E, Sørbye IK, Quattrone A, Almaas VM, Skulstad H, Estensen ME (2023)
High prevalence of pre-eclampsia in women with coarctation of the aorta
Eur Heart J Open, 3 (4), oead072
DOI 10.1093/ehjopen/oead072, PubMed 37559925
Strand ME, Vanhaverbeke M, Henkens MTHM, Sikking MA, Rypdal KB, Braathen B, Almaas VM, Tønnessen T, Christensen G, Heymans S, Lunde IG (2023)
Inflammation and Syndecan-4 Shedding from Cardiac Cells in Ischemic and Non-Ischemic Heart Disease
Biomedicines, 11 (4)
DOI 10.3390/biomedicines11041066, PubMed 37189684
Publications 2022
Castrini AI, Skjølsvik E, Estensen ME, Almaas VM, Skulstad H, Lyseggen E, Edvardsen T, Lie ØH, Picard KCI, Lakdawala NK, Haugaa KH (2022)
Pregnancy and Progression of Cardiomyopathy in Women With LMNA Genotype-Positive
J Am Heart Assoc, 11 (8), e024960
DOI 10.1161/JAHA.121.024960, PubMed 35434999
Rixon C, Andreassen K, Shen X, Erusappan PM, Almaas VM, Palmero S, Dahl CP, Ueland T, Sjaastad I, Louch WE, Stokke MK, Tønnessen T, Christensen G, Lunde IG (2022)
Lumican accumulates with fibrillar collagen in fibrosis in hypertrophic cardiomyopathy
ESC Heart Fail, 10 (2), 858-871
DOI 10.1002/ehf2.14234, PubMed 36444917
Publications 2021
Lie ØH, Chivulescu M, Rootwelt-Norberg C, Ribe M, Bogsrud MP, Lyseggen E, Beitnes JO, Almaas V, Haugaa KH (2021)
Left Ventricular Dysfunction in Arrhythmogenic Cardiomyopathy: Association With Exercise Exposure, Genetic Basis, and Prognosis
J Am Heart Assoc, 10 (8), e018680
DOI 10.1161/JAHA.120.018680, PubMed 33821670
Rootwelt-Norberg C, Lie ØH, Chivulescu M, Castrini AI, Sarvari SI, Lyseggen E, Almaas VM, Bogsrud MP, Edvardsen T, Haugaa KH (2021)
Sex differences in disease progression and arrhythmic risk in patients with arrhythmogenic cardiomyopathy
Europace, 23 (7), 1084-1091
DOI 10.1093/europace/euab077, PubMed 33829244
Rypdal KB, Erusappan PM, Melleby AO, Seifert DE, Palmero S, Strand ME, Tønnessen T, Dahl CP, Almaas V, Hubmacher D, Apte SS, Christensen G, Lunde IG (2021)
The extracellular matrix glycoprotein ADAMTSL2 is increased in heart failure and inhibits TGFβ signalling in cardiac fibroblasts
Sci Rep, 11 (1), 19757
DOI 10.1038/s41598-021-99032-2, PubMed 34611183
Publications 2019
Jensen MK, Faber L, Liebregts M, Januska J, Krejci J, Bartel T, Cooper RM, Dabrowski M, Hansen PR, Almaas VM, Seggewiss H, Horstkotte D, Adlova R, Berg JT, Bundgaard H, Veselka J (2019)
Effect of impaired cardiac conduction after alcohol septal ablation on clinical outcomes: insights from the Euro-ASA registry
Eur Heart J Qual Care Clin Outcomes, 5 (3), 252-258
DOI 10.1093/ehjqcco/qcy049, PubMed 30304395
Lorén CE, Dahl CP, Do L, Almaas VM, Geiran OR, Mörner S, Hellman U (2019)
Low Molecular Mass Myocardial Hyaluronan in Human Hypertrophic Cardiomyopathy
Cells, 8 (2)
DOI 10.3390/cells8020097, PubMed 30699940
Publications 2018
Veselka J, Faber L, Jensen MK, Cooper R, Januska J, Krejci J, Bartel T, Dabrowski M, Hansen PR, Almaas VM, Seggewiss H, Horstkotte D, Adlova R, Bundgaard H, Ten Berg J, Liebregts M (2018)
Effect of Institutional Experience on Outcomes of Alcohol Septal Ablation for Hypertrophic Obstructive Cardiomyopathy
Can J Cardiol, 34 (1), 16-22
DOI 10.1016/j.cjca.2017.10.020, PubMed 29275877
Publications 2017
Haland TF, Hasselberg NE, Almaas VM, Dejgaard LA, Saberniak J, Leren IS, Berge KE, Haugaa KH, Edvardsen T (2017)
The systolic paradox in hypertrophic cardiomyopathy
Open Heart, 4 (1), e000571
DOI 10.1136/openhrt-2016-000571, PubMed 28674623
Veselka J, Faber L, Liebregts M, Cooper R, Januska J, Krejci J, Bartel T, Dabrowski M, Hansen PR, Almaas VM, Seggewiss H, Horstkotte D, Adlova R, Bundgaard H, Ten Berg J, Stables RH, Jensen MK (2017)
Outcome of Alcohol Septal Ablation in Mildly Symptomatic Patients With Hypertrophic Obstructive Cardiomyopathy: A Long-Term Follow-Up Study Based on the Euro-Alcohol Septal Ablation Registry
J Am Heart Assoc, 6 (5)
DOI 10.1161/JAHA.117.005735, PubMed 28512112
Publications 2016
Haland TF, Almaas VM, Hasselberg NE, Saberniak J, Leren IS, Hopp E, Edvardsen T, Haugaa KH (2016)
Strain echocardiography is related to fibrosis and ventricular arrhythmias in hypertrophic cardiomyopathy
Eur Heart J Cardiovasc Imaging, 17 (6), 613-21
DOI 10.1093/ehjci/jew005, PubMed 26873460
Jensen MK, Jacobsson L, Almaas V, van Buuren F, Hansen PR, Hansen TF, Aakhus S, Eriksson MJ, Bundgaard H, Faber L (2016)
Influence of Septal Thickness on the Clinical Outcome After Alcohol Septal Alation in Hypertrophic Cardiomyopathy
Circ Cardiovasc Interv, 9 (6)
DOI 10.1161/CIRCINTERVENTIONS.115.003214, PubMed 27217377
Veselka J, Jensen MK, Liebregts M, Januska J, Krejci J, Bartel T, Dabrowski M, Hansen PR, Almaas VM, Seggewiss H, Horstkotte D, Tomasov P, Adlova R, Bundgaard H, Steggerda R, Ten Berg J, Faber L (2016)
Long-term clinical outcome after alcohol septal ablation for obstructive hypertrophic cardiomyopathy: results from the Euro-ASA registry
Eur Heart J, 37 (19), 1517-23
DOI 10.1093/eurheartj/ehv693, PubMed 26746632
Publications 2014
Apelland T, Gude E, Strøm EH, Gullestad L, Eiklid KL, Månsson JE, Reinholt FP, Houge G, Dahl CP, Almaas VM, Heiberg A (2014)
Familial globotriaosylceramide-associated cardiomyopathy mimicking Fabry disease
Heart, 100 (22), 1793-8
DOI 10.1136/heartjnl-2014-305616, PubMed 25031264
Publications 2013
Almaas VM, Haugaa KH, Strøm EH, Scott H, Dahl CP, Leren TP, Geiran OR, Endresen K, Edvardsen T, Aakhus S, Amlie JP (2013)
Increased amount of interstitial fibrosis predicts ventricular arrhythmias, and is associated with reduced myocardial septal function in patients with obstructive hypertrophic cardiomyopathy
Europace, 15 (9), 1319-27
DOI 10.1093/europace/eut028, PubMed 23426552
Almaas VM, Haugaa KH, Strøm EH, Scott H, Smith HJ, Dahl CP, Geiran OR, Endresen K, Aakhus S, Amlie JP, Edvardsen T (2013)
Noninvasive assessment of myocardial fibrosis in patients with obstructive hypertrophic cardiomyopathy
Heart, 100 (8), 631-8
DOI 10.1136/heartjnl-2013-304923, PubMed 24368281
Publications 2011
Jensen MK, Almaas VM, Jacobsson L, Hansen PR, Havndrup O, Aakhus S, Svane B, Hansen TF, Køber L, Endresen K, Eriksson MJ, Jørgensen E, Amlie JP, Gadler F, Bundgaard H (2011)
Long-term outcome of percutaneous transluminal septal myocardial ablation in hypertrophic obstructive cardiomyopathy: a Scandinavian multicenter study
Circ Cardiovasc Interv, 4 (3), 256-65
DOI 10.1161/CIRCINTERVENTIONS.110.959718, PubMed 21540441
Publications 2007
Krayer von Krauss MP, Kaiser M, Almaas V, van der Sluijs J, Kloprogge P (2007)
Diagnosing and prioritizing uncertainties according to their relevance for policy: the case of transgene silencing
Sci Total Environ, 390 (1), 23-34
DOI 10.1016/j.scitotenv.2007.09.028, PubMed 17988720
Publications 2005
Ghanima W, Almaas V, Aballi S, Dörje C, Nielssen BE, Holmen LO, Almaas R, Abdelnoor M, Sandset PM (2005)
Management of suspected pulmonary embolism (PE) by D-dimer and multi-slice computed tomography in outpatients: an outcome study
J Thromb Haemost, 3 (9), 1926-32
DOI 10.1111/j.1538-7836.2005.01544.x, PubMed 16102097
Publications 2004
Almaas V (2004)
Holdninger til personvern: rapport fra fokusgrupper om elektroniske spor og personvern
In Rapport, Rådet, Oslo, 1, februar 2004, 28 bl.
BIBSYS 041502264, ISBN 82-92447-00-8
Publications 2001
Almaas V (2001)
Når det piper i telefonen...: en analyse av mobiltelefonens betydning for by- og bygdeungdom
V. Almaas, [Trondheim], 93, [18] bl.
BIBSYS 020594852