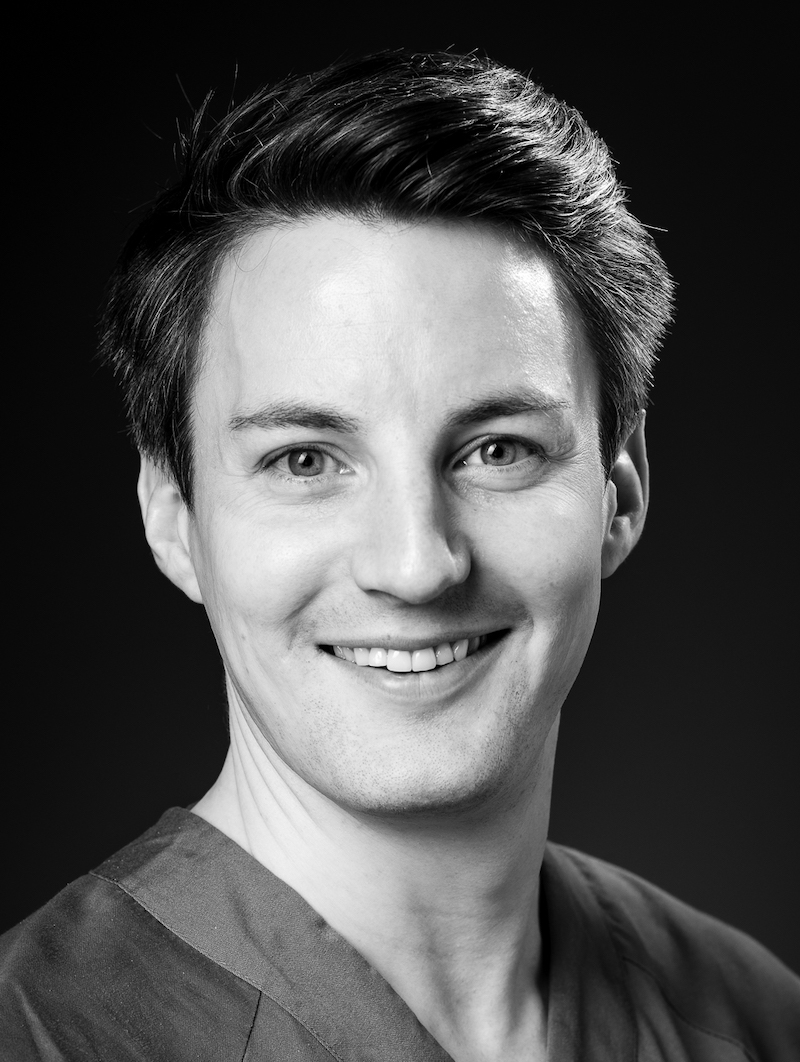 Eivind Westrum Aabel
Resident cardiologist and Senior researcher; MD, PhD
Eivind Westrum Aabel successfully defended his PhD thesis "Prediction of arrhythmic risk in patients with mitral annular disjunction" in May 2023. His supervisors were Professor Kristina Hermann Haugaa, MD, PhD, and Dr. Øyvind Haugen Lie, MD, PhD. In his doctoral thesis, Dr. Eivind Westrum Aabel and colleagues assessed the incidence and explored possible risk markers of ventricular arrhythmias in patients with mitral annular disjunction. The three studies of the thesis described the incidence rate of ventricular arrhythmias and described possible predictors of increased arrhythmic risk in patients with mitral annular disjunction. These observations improved our knowledge of risk stratification and provided clinicians caring for patients with mitral annular disjunction valuable information when evaluating the need for different follow-up strategies.
During his fellowship, Dr. Aabel was awarded with "Best Poster Prize" at the Annual Symposium on Heart Research two years in a row. He was also awarded with "Best Research Presentation" at the Norweigan Society of Cardiology Autumn meeting in 2021.
His research has mostly involved ventricular arrhythmias, with a focus on arrhythmic mitral valve prolapse and mitral annular disjunction, but also non-ischemic cardiomyopathy. He is the principal investigator of the first clinical trial on patients with arrhythmic mitral valve prolapse (FLECAPRO), investigating the effect of flecainide and metoprolol to suppress ventricular tachyarrhythmias.
Publications 2023
Kirkels FP, Rootwelt-Norberg C, Bosman LP, Aabel EW, Muller S, Castrini AI, Taha K, van Osta N, Lie ØH, Asselbergs FW, Lumens J, Te Riele ASJM, Hasselberg NE, Cramer MJ, Haugaa K, Teske AJ (2023)
The added value of abnormal regional myocardial function for risk prediction in arrhythmogenic right ventricular cardiomyopathy
Eur Heart J Cardiovasc Imaging (in press)
DOI 10.1093/ehjci/jead174, PubMed 37474315
Kirkels FP, van Osta N, Rootwelt-Norberg C, Chivulescu M, van Loon T, Aabel EW, Castrini AI, Lie ØH, Asselbergs FW, Delhaas T, Cramer MJ, Teske AJ, Haugaa KH, Lumens J (2023)
Monitoring of Myocardial Involvement in Early Arrhythmogenic Right Ventricular Cardiomyopathy Across the Age Spectrum
J Am Coll Cardiol, 82 (9), 785-797
DOI 10.1016/j.jacc.2023.05.065, PubMed 37612010
Rootwelt-Norberg C, Skjølsvik ET, Chivulescu M, Bogsrud MP, Ribe MP, Aabel EW, Beitnes JO, Brekke PH, Håland TF, Hasselberg NE, Lie ØH, Haugaa KH (2023)
Disease progression rate is a strong predictor of ventricular arrhythmias in patients with cardiac laminopathies: a primary prevention cohort study
Europace, 25 (2), 634-642
DOI 10.1093/europace/euac192, PubMed 36352512
Aabel EW, Chivulescu M, Lie ØH, Hopp E, Gjertsen E, Ribe M, Helle-Valle TM, Edvardsen T, Hegbom F, Dejgaard LA, Haugaa KH (2023)
Ventricular arrhythmias in arrhythmic mitral valve syndrome-a prospective continuous long-term cardiac monitoring study
Europace, 25 (2), 506-516
DOI 10.1093/europace/euac182, PubMed 36256597
Publications 2022
Chivulescu M, Aabel EW, Gjertsen E, Hopp E, Scheirlynck E, Cosyns B, Lyseggen E, Edvardsen T, Lie ØH, Dejgaard LA, Haugaa KH (2022)
Electrical markers and arrhythmic risk associated with myocardial fibrosis in mitral valve prolapse
Europace, 24 (7), 1156-1163
DOI 10.1093/europace/euac017, PubMed 35226070
Haugaa KH, Aabel EW (2022)
Mitral Annular Disjunction: Normal or Abnormal: It Is All About Location
JACC Cardiovasc Imaging, 15 (11), 1867-1869
DOI 10.1016/j.jcmg.2022.08.002, PubMed 36357129
Rootwelt-Norberg C, Christensen AH, Skjølsvik ET, Chivulescu M, Vissing CR, Bundgaard H, Aabel EW, Bogsrud MP, Hasselberg NE, Lie ØH, Haugaa KH (2022)
Timing of cardioverter-defibrillator implantation in patients with cardiac laminopathies-External validation of the LMNA-risk ventricular tachyarrhythmia calculator
Heart Rhythm, 20 (3), 423-429
DOI 10.1016/j.hrthm.2022.11.024, PubMed 36494026
Smedsrud MK, Chivulescu M, Forså MI, Castrini I, Aabel EW, Rootwelt-Norberg C, Bogsrud MP, Edvardsen T, Hasselberg NE, Früh A, Haugaa KH (2022)
Highly malignant disease in childhood-onset arrhythmogenic right ventricular cardiomyopathy
Eur Heart J, 43 (45), 4694-4703
DOI 10.1093/eurheartj/ehac485, PubMed 36036653
Aabel EW, Dejgaard LA, Chivulescu M, Helle-Valle TM, Edvardsen T, Hasselberg NE, Hegbom F, Lie ØH, Haugaa KH (2022)
Flecainide in patients with arrhythmic mitral valve syndrome: A case series
Heart Rhythm, 20 (4), 635-636
DOI 10.1016/j.hrthm.2022.12.024, PubMed 36566890
Publications 2021
Chivulescu M, Aabel E, Dejgaard L, Steen T, Dunlop O, Haugaa KH (2021)
Cardiac Arrest in a Patient With Arrhythmic Mitral Valve Prolapse Syndrome: Multiple Possible Etiologies
JACC Case Rep, 3 (16), 1769-1773
DOI 10.1016/j.jaccas.2021.08.019, PubMed 34825207
Haugaa KH, Aabel EW (2021)
Mitral Annulus Disjunction: Arrhythmic But Not Deadly?
JACC Cardiovasc Imaging, 14 (11), 2088-2090
DOI 10.1016/j.jcmg.2021.05.014, PubMed 34147448
Aabel EW, Chivulescu M, Dejgaard LA, Ribe M, Gjertsen E, Hopp E, Hunt TE, Lie ØH, Haugaa KH (2021)
Tricuspid Annulus Disjunction: Novel Findings by Cardiac Magnetic Resonance in Patients With Mitral Annulus Disjunction
JACC Cardiovasc Imaging, 14 (8), 1535-1543
DOI 10.1016/j.jcmg.2021.01.028, PubMed 33744128
Aabel EW, Haugaa KH (2021)
The Authors' Reply
JACC Cardiovasc Imaging, 14 (8), 1684-1685
DOI 10.1016/j.jcmg.2021.06.006, PubMed 34353547