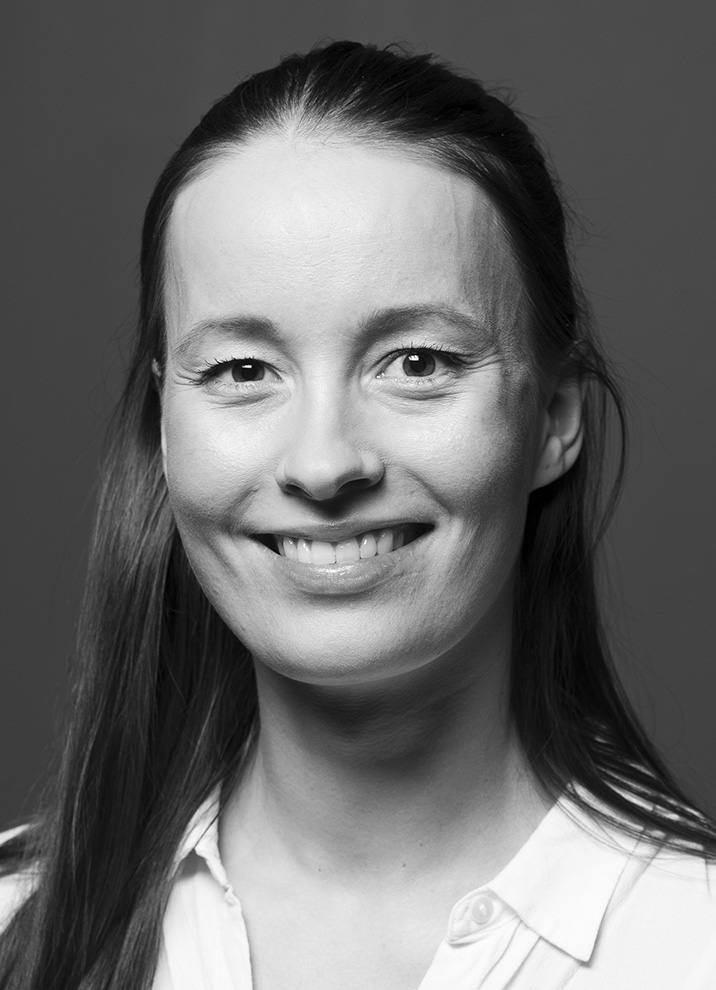 Christine Rootwelt-Norberg
Rootwelt-Norberg's main research focus is on genetic cardiology. She received her PhD in 2022, after defending the thesis "Disease manifestations and predictors of arrhythmia in arrhythmogenic cardiomyopathy". Her supervisors were professor Kristina H. Haugaa and Øyvind H. Lie.
Rootwelt-Norberg has a particular interest in risk stratification of life-threatening arrhythmias in patients with genetic cardiac diseases, and has worked mostly on research projects including arrhythmogenic cardiomyopathy, lamin A/C cardiomyopathy and arrhythmic mitral valve syndrome.
She received the Prof. J. Roelandt's Young Investigator Award for best original work in clinical science at the 2021 EuroEcho-Imaging Congress in Berlin. The award was given for the work "Disease progression rate is a strong predictor of ventricular arrhythmias in patients with cardiac laminopathies".
Publications 2023
Kirkels FP, Rootwelt-Norberg C, Bosman LP, Aabel EW, Muller S, Castrini AI, Taha K, van Osta N, Lie ØH, Asselbergs FW, Lumens J, Te Riele ASJM, Hasselberg NE, Cramer MJ, Haugaa K, Teske AJ (2023)
The added value of abnormal regional myocardial function for risk prediction in arrhythmogenic right ventricular cardiomyopathy
Eur Heart J Cardiovasc Imaging (in press)
DOI 10.1093/ehjci/jead174, PubMed 37474315
Kirkels FP, van Osta N, Rootwelt-Norberg C, Chivulescu M, van Loon T, Aabel EW, Castrini AI, Lie ØH, Asselbergs FW, Delhaas T, Cramer MJ, Teske AJ, Haugaa KH, Lumens J (2023)
Monitoring of Myocardial Involvement in Early Arrhythmogenic Right Ventricular Cardiomyopathy Across the Age Spectrum
J Am Coll Cardiol, 82 (9), 785-797
DOI 10.1016/j.jacc.2023.05.065, PubMed 37612010
Pannone L, Gauthey A, Conte G, Osei R, Campanale D, Baldi E, Berne P, Vicentini A, Vergara P, Sorgente A, Rootwelt-Norberg C, Della Rocca DG, Monaco C, Bisignani A, Miraglia V, Spolverini M, Paparella G, Overeinder I, Bala G, Almorad A, Ströker E, de Ravel T, Medeiros-Domingo A, Sieira J, Haugaa KH et al. (2023)
Genetics in Probands With Idiopathic Ventricular Fibrillation: A Multicenter Study
JACC Clin Electrophysiol, 9 (8 Pt 1), 1296-1306
DOI 10.1016/j.jacep.2023.03.008, PubMed 37227348
Rootwelt-Norberg C, Skjølsvik ET, Chivulescu M, Bogsrud MP, Ribe MP, Aabel EW, Beitnes JO, Brekke PH, Håland TF, Hasselberg NE, Lie ØH, Haugaa KH (2023)
Disease progression rate is a strong predictor of ventricular arrhythmias in patients with cardiac laminopathies: a primary prevention cohort study
Europace, 25 (2), 634-642
DOI 10.1093/europace/euac192, PubMed 36352512
Publications 2022
Bosman LP, Wang W, Lie ØH, van Lint FHM, Rootwelt-Norberg C, Murray B, Tichnell C, Cadrin-Tourigny J, van Tintelen JP, Asselbergs FW, Calkins H, Te Riele ASJM, Haugaa KH, James CA (2022)
Integrating Exercise Into Personalized Ventricular Arrhythmia Risk Prediction in Arrhythmogenic Right Ventricular Cardiomyopathy
Circ Arrhythm Electrophysiol, 15 (2), e010221
DOI 10.1161/CIRCEP.121.010221, PubMed 35089054
Christensen AH, Platonov PG, Svensson A, Jensen HK, Rootwelt-Norberg C, Dahlberg P, Madsen T, Frederiksen TC, Heliö T, Haugaa KH, Bundgaard H, Svendsen JH (2022)
Complications of implantable cardioverter-defibrillator treatment in arrhythmogenic right ventricular cardiomyopathy
Europace, 24 (2), 306-312
DOI 10.1093/europace/euab112, PubMed 34279601
Haugaa KH, Rootwelt-Norberg C (2022)
Cardiac desmosomal reserve: another piece of the exercise-induced arrhythmogenic cardiomyopathy puzzle?
Eur Heart J, 43 (12), 1265-1267
DOI 10.1093/eurheartj/ehab873, PubMed 34972201
Rootwelt-Norberg C, Christensen AH, Skjølsvik ET, Chivulescu M, Vissing CR, Bundgaard H, Aabel EW, Bogsrud MP, Hasselberg NE, Lie ØH, Haugaa KH (2022)
Timing of cardioverter-defibrillator implantation in patients with cardiac laminopathies-External validation of the LMNA-risk ventricular tachyarrhythmia calculator
Heart Rhythm, 20 (3), 423-429
DOI 10.1016/j.hrthm.2022.11.024, PubMed 36494026
Smedsrud MK, Chivulescu M, Forså MI, Castrini I, Aabel EW, Rootwelt-Norberg C, Bogsrud MP, Edvardsen T, Hasselberg NE, Früh A, Haugaa KH (2022)
Highly malignant disease in childhood-onset arrhythmogenic right ventricular cardiomyopathy
Eur Heart J, 43 (45), 4694-4703
DOI 10.1093/eurheartj/ehac485, PubMed 36036653
Publications 2021
Kirkels FP, Lie ØH, Cramer MJ, Chivulescu M, Rootwelt-Norberg C, Asselbergs FW, Teske AJ, Haugaa KH (2021)
Right Ventricular Functional Abnormalities in Arrhythmogenic Cardiomyopathy: Association With Life-Threatening Ventricular Arrhythmias
JACC Cardiovasc Imaging, 14 (5), 900-910
DOI 10.1016/j.jcmg.2020.12.028, PubMed 33582062
Lie ØH, Chivulescu M, Rootwelt-Norberg C, Ribe M, Bogsrud MP, Lyseggen E, Beitnes JO, Almaas V, Haugaa KH (2021)
Left Ventricular Dysfunction in Arrhythmogenic Cardiomyopathy: Association With Exercise Exposure, Genetic Basis, and Prognosis
J Am Heart Assoc, 10 (8), e018680
DOI 10.1161/JAHA.120.018680, PubMed 33821670
Rootwelt-Norberg C, Lie ØH, Chivulescu M, Castrini AI, Sarvari SI, Lyseggen E, Almaas VM, Bogsrud MP, Edvardsen T, Haugaa KH (2021)
Sex differences in disease progression and arrhythmic risk in patients with arrhythmogenic cardiomyopathy
Europace, 23 (7), 1084-1091
DOI 10.1093/europace/euab077, PubMed 33829244
Publications 2018
Lie ØH, Rootwelt-Norberg C, Dejgaard LA, Leren IS, Stokke MK, Edvardsen T, Haugaa KH (2018)
Prediction of Life-Threatening Ventricular Arrhythmia in Patients With Arrhythmogenic Cardiomyopathy: A Primary Prevention Cohort Study
JACC Cardiovasc Imaging, 11 (10), 1377-1386
DOI 10.1016/j.jcmg.2018.05.017, PubMed 30031702
Rootwelt-Norberg C, Lie ØH, Dejgaard LA, Chivulescu M, Leren IS, Edvardsen T, Haugaa KH (2018)
Life-threatening arrhythmic presentation in patients with arrhythmogenic cardiomyopathy before and after entering the genomic era; a two-decade experience from a large volume center
Int J Cardiol, 279, 79-83
DOI 10.1016/j.ijcard.2018.12.066, PubMed 30638987