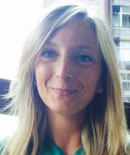 Anna Isotta Castrini
Cardiologist, PhD fellow; MD
Anna Isotta Castrini, MD, is cardiologist and PhD fellow at last year at Department of Cardiology, OUS, Rikshospitalet. She is supervised by Prof. Kristina Haugaa, Dr. Øyvind Lie, MD, PhD and Dr. Mette Estensen MD, PhD. Inherited cardiomyopathies are the main topic of her PhD project, with focus on effect of pregnancy on disease's penetrance and progression. With the research group, she published two important papers on the effect of pregnancy in arrhythmogenic cardiomyopathy and Lamin A/C cardiomyopathy, recently included in the European guidelines for management of cardiomyopathies. During her research fellowship, Dr. Castrini was awarded by "Best poster Price" during the Annual Symposium for Heart Research.
Dr. Castrini has a special interest for echocardiography and she is certified by the European Association
for Cardiovascular Imaging for trans-thoracic echocardiography in adults.
Publications 2023
Haugaa KH, Castrini AI (2023)
Sudden cardiac death in the young-Can illicit drug use explain the unexplained?
Heart Rhythm (in press)
DOI 10.1016/j.hrthm.2023.06.014, PubMed 37352948
Kirkels FP, Rootwelt-Norberg C, Bosman LP, Aabel EW, Muller S, Castrini AI, Taha K, van Osta N, Lie ØH, Asselbergs FW, Lumens J, Te Riele ASJM, Hasselberg NE, Cramer MJ, Haugaa K, Teske AJ (2023)
The added value of abnormal regional myocardial function for risk prediction in arrhythmogenic right ventricular cardiomyopathy
Eur Heart J Cardiovasc Imaging (in press)
DOI 10.1093/ehjci/jead174, PubMed 37474315
Kirkels FP, van Osta N, Rootwelt-Norberg C, Chivulescu M, van Loon T, Aabel EW, Castrini AI, Lie ØH, Asselbergs FW, Delhaas T, Cramer MJ, Teske AJ, Haugaa KH, Lumens J (2023)
Monitoring of Myocardial Involvement in Early Arrhythmogenic Right Ventricular Cardiomyopathy Across the Age Spectrum
J Am Coll Cardiol, 82 (9), 785-797
DOI 10.1016/j.jacc.2023.05.065, PubMed 37612010
Publications 2022
Castrini AI, Skjølsvik E, Estensen ME, Almaas VM, Skulstad H, Lyseggen E, Edvardsen T, Lie ØH, Picard KCI, Lakdawala NK, Haugaa KH (2022)
Pregnancy and Progression of Cardiomyopathy in Women With LMNA Genotype-Positive
J Am Heart Assoc, 11 (8), e024960
DOI 10.1161/JAHA.121.024960, PubMed 35434999
Sidhu K, Castrini AI, Parikh V, Reza N, Owens A, Tremblay-Gravel M, Wheeler MT, Mestroni L, Taylor M, Graw S, Gigli M, Merlo M, Paldino A, Sinagra G, Judge DP, Ramos H, Mesubi O, Brown E, Turnbull S, Kumar S, Roy D, Tedrow UB, Ngo L, Haugaa K, Lakdawala NK (2022)
The response to cardiac resynchronization therapy in LMNA cardiomyopathy
Eur J Heart Fail, 24 (4), 685-693
DOI 10.1002/ejhf.2463, PubMed 35229420
Skjølsvik ET, Haugen Lie Ø, Chivulescu M, Ribe M, Castrini AI, Broch K, Pripp AH, Edvardsen T, Haugaa KH (2022)
Progression of cardiac disease in patients with lamin A/C mutations
Eur Heart J Cardiovasc Imaging, 23 (4), 543-550
DOI 10.1093/ehjci/jeab057, PubMed 33824984
Publications 2021
Rootwelt-Norberg C, Lie ØH, Chivulescu M, Castrini AI, Sarvari SI, Lyseggen E, Almaas VM, Bogsrud MP, Edvardsen T, Haugaa KH (2021)
Sex differences in disease progression and arrhythmic risk in patients with arrhythmogenic cardiomyopathy
Europace, 23 (7), 1084-1091
DOI 10.1093/europace/euab077, PubMed 33829244
Publications 2020
Platonov PG, Castrini AI, Svensson A, Christiansen MK, Gilljam T, Bundgaard H, Madsen T, Heliö T, Christensen AH, Åström MA, Carlson J, Edvardsen T, Jensen HK, Haugaa KH, Svendsen JH (2020)
Pregnancies, ventricular arrhythmias, and substrate progression in women with arrhythmogenic right ventricular cardiomyopathy in the Nordic ARVC Registry
Europace, 22 (12), 1873-1879
DOI 10.1093/europace/euaa136, PubMed 32681178
Stokke MK, Castrini AI, Aneq MÅ, Jensen HK, Madsen T, Hansen J, Bundgaard H, Gilljam T, Platonov PG, Svendsen JH, Edvardsen T, Haugaa KH (2020)
Absence of ECG Task Force Criteria does not rule out structural changes in genotype positive ARVC patients
Int J Cardiol, 317, 152-158
DOI 10.1016/j.ijcard.2020.05.095, PubMed 32504717
Stokke MK, Castrini AI, Aneq MÅ, Jensen HK, Madsen T, Hansen J, Bundgaard H, Gilljam T, Platonov PG, Svendsen JH, Edvardsen T, Haugaa KH (2020)
Reply to: TFC ECG in arrhythmogenic cardiomyopathy: Inadequate mixture of criteria?
Int J Cardiol, 323, 203
DOI 10.1016/j.ijcard.2020.08.050, PubMed 32810539
Publications 2019
Castrini AI, Lie ØH, Leren IS, Estensen ME, Stokke MK, Klæboe LG, Edvardsen T, Haugaa KH (2019)
Number of pregnancies and subsequent phenotype in a cross-sectional cohort of women with arrhythmogenic cardiomyopathy
Eur Heart J Cardiovasc Imaging, 20 (2), 192-198
DOI 10.1093/ehjci/jey061, PubMed 29659777
Publications 2017
Carubelli V, Bonadei I, Castrini AI, Gorga E, Ravera A, Lombardi C, Metra M (2017)
Prognostic value of the absolute lymphocyte count in patients admitted for acute heart failure
J Cardiovasc Med (Hagerstown), 18 (11), 859-865
DOI 10.2459/JCM.0000000000000428, PubMed 27541359
Publications 2016
Carubelli V, Lombardi C, Lazzarini V, Bonadei I, Castrini AI, Gorga E, Richards AM, Metra M (2016)
N-terminal pro-B-type natriuretic peptide-guided therapy in patients hospitalized for acute heart failure
J Cardiovasc Med (Hagerstown), 17 (11), 828-39
DOI 10.2459/JCM.0000000000000419, PubMed 27322401
Publications 2015
Carubelli V, Castrini AI, Lazzarini V, Gheorghiade M, Metra M, Lombardi C (2015)
Amino acids and derivatives, a new treatment of chronic heart failure?
Heart Fail Rev, 20 (1), 39-51
DOI 10.1007/s10741-014-9436-9, PubMed 24925377
Castrini AI, Carubelli V, Lazzarini V, Bonadei I, Lombardi C, Metra M (2015)
Serelaxin a novel treatment for acute heart failure
Expert Rev Clin Pharmacol, 8 (5), 549-57
DOI 10.1586/17512433.2015.1073587, PubMed 26294074
Lombardi C, Carubelli V, Rovetta R, Castrini AI, Vizzardi E, Bondei I, Sciatti E, Manerba A, Benlodi E, Nodari S, Metra M (2015)
Prognostic value of serial measurements of blood urea nitrogen in ambulatory patients with chronic heart failure
Panminerva Med, 58 (1), 8-15
PubMed 26154625
Publications 2014
Lombardi C, Carubelli V, Lazzarini V, Vizzardi E, Bordonali T, Ciccarese C, Castrini AI, Dei Cas A, Nodari S, Metra M (2014)
Effects of oral administration of orodispersible levo-carnosine on quality of life and exercise performance in patients with chronic heart failure
Nutrition, 31 (1), 72-8
DOI 10.1016/j.nut.2014.04.021, PubMed 25287762
Publications 2012
Lombardi C, Castrini AI, Metra M, Carubelli V, Lazzarini V, Inama L, Dei Cas L (2012)
[Efficacy of ACE-inhibitors in patients with recent myocardial infarction. Studies with zofenopril]
G Ital Cardiol (Rome), 13 (10 Suppl 2), 55S-58S
DOI 10.1714/1167.12922, PubMed 23096377