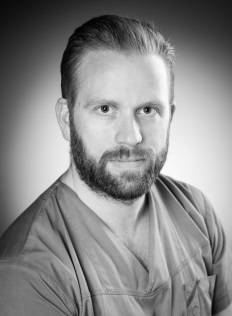 Øyvind Haugen Lie
Øyvind is a PhD fellow at Oslo University Hospital, Rikshospitalet.
He got his medical degree at Warsaw Medical University in 2009 and did his internship at Haraldsplass Hospital in Bergen.
Lie did his clinical rotation for 4,5 years in the medical departments at Gjøvik Hospital.
He joined the Center for Cardiological Innovation as a PhD fellow in May 2015. His PhD research is focused on advances in echocardiography in the assessment of myocardial function and remodeling in genetic and aquired cardiomyopathies.
Supervisors are: Associate Professor Kristina Hermann Haugaa, MD, PhD and Professor Thor Edvardsen, MD, PhD.
Publications 2019
Cadrin-Tourigny J, Bosman LP, Nozza A, Wang W, Tadros R, Bhonsale A, Bourfiss M, Fortier A, Lie ØH, Saguner AM, Svensson A, Andorin A, Tichnell C, Murray B, Zeppenfeld K, van den Berg MP, Asselbergs FW, Wilde AAM, Krahn AD, Talajic M, Rivard L, Chelko S, Zimmerman SL, Kamel IR, Crosson JE et al. (2019)
A new prediction model for ventricular arrhythmias in arrhythmogenic right ventricular cardiomyopathy
Eur Heart J, 40 (23), 1850-1858
DOI 10.1093/eurheartj/ehz103, PubMed 30915475
Castrini AI, Lie ØH, Leren IS, Estensen ME, Stokke MK, Klæboe LG, Edvardsen T, Haugaa KH (2019)
Number of pregnancies and subsequent phenotype in a cross-sectional cohort of women with arrhythmogenic cardiomyopathy
Eur Heart J Cardiovasc Imaging, 20 (2), 192-198
DOI 10.1093/ehjci/jey061, PubMed 29659777
Dejgaard LA, Lie ØH, Helle-Valle TM, Edvardsen T, Haugaa KH (2019)
Reply: Arrhythmic Mitral Annulus Disjunction and Mitral Valve Prolapse: Components of the Same Clinical Spectrum?
J Am Coll Cardiol, 73 (6), 739-740
DOI 10.1016/j.jacc.2018.12.008, PubMed 30765047
Haugaa KH, Lie ØH (2019)
Cardiac amyloidosis: can imaging shed light on mechanisms and prognosis?
Eur Heart J Cardiovasc Imaging, 20 (5), 500-501
DOI 10.1093/ehjci/jez009, PubMed 30726891
Klaeboe LG, Brekke PH, Lie ØH, Aaberge L, Haugaa KH, Edvardsen T (2019)
Classical mechanical dyssynchrony is rare in transcatheter aortic valve implantation-induced left bundle branch block
Eur Heart J Cardiovasc Imaging, 20 (3), 271-278
DOI 10.1093/ehjci/jey127, PubMed 30247533
Platonov PG, Haugaa KH, Bundgaard H, Svensson A, Gilljam T, Hansen J, Madsen T, Holst AG, Carlson J, Lie ØH, Kvistholm Jensen M, Edvardsen T, Jensen HK, Svendsen JH (2019)
Primary Prevention of Sudden Cardiac Death With Implantable Cardioverter-Defibrillator Therapy in Patients With Arrhythmogenic Right Ventricular Cardiomyopathy
Am J Cardiol, 123 (7), 1156-1162
DOI 10.1016/j.amjcard.2018.12.049, PubMed 30678832
Scheirlynck E, Dejgaard LA, Skjølsvik E, Lie OH, Motoc A, Hopp E, Tanaka K, Ueland T, Ribe M, Collet C, Edvardsen T, Droogmans S, Cosyns B, Haugaa KH (2019)
Increased levels of sST2 in patients with mitral annulus disjunction and ventricular arrhythmias
Open Heart, 6 (1), e001016
DOI 10.1136/openhrt-2019-001016, PubMed 31168386
Scheirlynck E, Van Malderen S, Motoc A, Lie ØH, de Asmundis C, Sieira J, Chierchia GB, Brugada P, Cosyns B, Droogmans S (2019)
Contraction alterations in Brugada syndrome; association with life-threatening ventricular arrhythmias
Int J Cardiol (in press)
DOI 10.1016/j.ijcard.2019.06.074, PubMed 31281045
Publications 2018
Dejgaard LA, Haland TF, Lie OH, Ribe M, Bjune T, Leren IS, Berge KE, Edvardsen T, Haugaa KH (2018)
Vigorous exercise in patients with hypertrophic cardiomyopathy
Int J Cardiol, 250, 157-163
DOI 10.1016/j.ijcard.2017.07.015, PubMed 29169752
Dejgaard LA, Skjølsvik ET, Lie ØH, Ribe M, Stokke MK, Hegbom F, Scheirlynck ES, Gjertsen E, Andresen K, Helle-Valle TM, Hopp E, Edvardsen T, Haugaa KH (2018)
The Mitral Annulus Disjunction Arrhythmic Syndrome
J Am Coll Cardiol, 72 (14), 1600-1609
DOI 10.1016/j.jacc.2018.07.070, PubMed 30261961
Haugaa KH, Lie ØH (2018)
Reveal the Concealed: The Quest for Early Disease Detection in Family Members at Risk of Developing Arrhythmogenic Cardiomyopathy
JACC Cardiovasc Imaging, 12 (3), 456-457
DOI 10.1016/j.jcmg.2018.02.007, PubMed 29550321
Lie ØH, Dejgaard LA, Saberniak J, Rootwelt C, Stokke MK, Edvardsen T, Haugaa KH (2018)
Harmful Effects of Exercise Intensity and Exercise Duration in Patients With Arrhythmogenic Cardiomyopathy
JACC Clin Electrophysiol, 4 (6), 744-753
DOI 10.1016/j.jacep.2018.01.010, PubMed 29929667
Lie ØH, Rootwelt-Norberg C, Dejgaard LA, Leren IS, Stokke MK, Edvardsen T, Haugaa KH (2018)
Prediction of Life-Threatening Ventricular Arrhythmia in Patients With Arrhythmogenic Cardiomyopathy: A Primary Prevention Cohort Study
JACC Cardiovasc Imaging, 11 (10), 1377-1386
DOI 10.1016/j.jcmg.2018.05.017, PubMed 30031702
Rootwelt-Norberg C, Lie ØH, Dejgaard LA, Chivulescu M, Leren IS, Edvardsen T, Haugaa KH (2018)
Life-threatening arrhythmic presentation in patients with arrhythmogenic cardiomyopathy before and after entering the genomic era; a two-decade experience from a large volume center
Int J Cardiol, 279, 79-83
DOI 10.1016/j.ijcard.2018.12.066, PubMed 30638987
Publications 2017
Chivulescu M, Haugaa K, Lie ØH, Edvardsen T, Ginghină C, Popescu BA, Jurcut R (2017)
Right ventricular remodeling in athletes and in arrhythmogenic cardiomyopathy
Scand Cardiovasc J, 52 (1), 13-19
DOI 10.1080/14017431.2017.1416158, PubMed 29254378
Dejgaard LA, Haland TF, Lie OH, Ribe M, Bjune T, Leren IS, Berge KE, Edvardsen T, Haugaa KH (2017)
Data on exercise and cardiac imaging in a patient cohort with hypertrophic cardiomyopathy
Data Brief, 15, 30-39
DOI 10.1016/j.dib.2017.08.018, PubMed 28971120
Lie ØH, Saberniak J, Dejgaard LA, Stokke MK, Hegbom F, Anfinsen OG, Edvardsen T, Haugaa KH (2017)
Lower than expected burden of premature ventricular contractions impairs myocardial function
ESC Heart Fail, 4 (4), 585-594
DOI 10.1002/ehf2.12180, PubMed 29154430