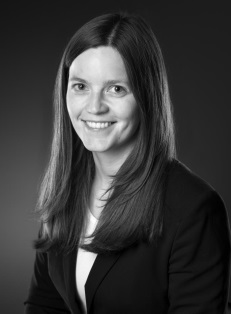 Ida Skrinde Leren
Ida Skrinde Leren, MD, PhD, Associate researcher
Leren successfully defended her thesis "Ventricular arrhythmias in cardiac ion channel diseases; occurrence, treatment and risk stratification" in June 2016. Her supervisors were Associate Professor Kristina Hermann Haugaa, MD, PhD and Professor Thor Edvardsen, MD, PhD.
Dr. Leren was awarded with His Majesty the King's Gold Medal for Best Doctoral Thesis within Medicin anno 2016.
The findings in the thesis gained wide international attention and helped change clinical practice and guidelines for the treatment of CPVT (catecholaminergic polymorphic ventricular tachycardia). The recommendations now state that asymptomatic family members receive pre-treatment with beta-blockers as preventative care. The follow-up study examined differences in the treatment effect of different beta-blockers at CPVT and indicated that the beta-blocker nadolol was better in protecting against severe rhythm disturbances than the traditional beta- blockers.
This finding has been important for the selection of drugs for these young patients and is the largest study of its kind. The third article illustrated the connection between the electrical and mechanical function of the heart utilizing sensitive image surveys developed at Oslo University Hospital.
Publications 2021
Melichova D, Nguyen TM, Salte IM, Klaeboe LG, Sjøli B, Karlsen S, Dahlslett T, Leren IS, Edvardsen T, Brunvand H, Haugaa KH (2021)
Strain echocardiography improves prediction of arrhythmic events in ischemic and non-ischemic dilated cardiomyopathy
Int J Cardiol, 342, 56-62
DOI 10.1016/j.ijcard.2021.07.044, PubMed 34324947
Publications 2020
Haugaa KH, Leren IS (2020)
Electro-mechanics or mechano-electrics, an intricate interplay
Eur Heart J Cardiovasc Imaging, 21 (11), 1246-1247
DOI 10.1093/ehjci/jeaa186, PubMed 32577742
Publications 2019
Castrini AI, Lie ØH, Leren IS, Estensen ME, Stokke MK, Klæboe LG, Edvardsen T, Haugaa KH (2019)
Number of pregnancies and subsequent phenotype in a cross-sectional cohort of women with arrhythmogenic cardiomyopathy
Eur Heart J Cardiovasc Imaging, 20 (2), 192-198
DOI 10.1093/ehjci/jey061, PubMed 29659777
Haugaa KH, Leren IS (2019)
Prevalence, Clinical Presentation, and Management of Channelopathies and Cardiomyopathies, Long QT Syndrome, Brugada Syndrome, Arrhythmogenic Cardiomyopathy, and Hypertrophic Cardiomyopathy
Curr. Cardiovascu. Risk Rep., 13 (7), 16
DOI 10.1007/s12170-019-0612-2
van der Werf C, Lieve KV, Bos JM, Lane CM, Denjoy I, Roses-Noguer F, Aiba T, Wada Y, Ingles J, Leren IS, Rudic B, Schwartz PJ, Maltret A, Sacher F, Skinner JR, Krahn AD, Roston TM, Tfelt-Hansen J, Swan H, Robyns T, Ohno S, Roberts JD, van den Berg MP, Kammeraad JA, Probst V et al. (2019)
Implantable cardioverter-defibrillators in previously undiagnosed patients with catecholaminergic polymorphic ventricular tachycardia resuscitated from sudden cardiac arrest
Eur Heart J, 40 (35), 2953-2961
DOI 10.1093/eurheartj/ehz309, PubMed 31145795
Publications 2018
Danielsen TK, Manotheepan R, Sadredini M, Leren IS, Edwards AG, Vincent KP, Lehnart SE, Sejersted OM, Sjaastad I, Haugaa KH, Stokke MK (2018)
Arrhythmia initiation in catecholaminergic polymorphic ventricular tachycardia type 1 depends on both heart rate and sympathetic stimulation
PLoS One, 13 (11), e0207100
DOI 10.1371/journal.pone.0207100, PubMed 30399185
Dejgaard LA, Haland TF, Lie OH, Ribe M, Bjune T, Leren IS, Berge KE, Edvardsen T, Haugaa KH (2018)
Vigorous exercise in patients with hypertrophic cardiomyopathy
Int J Cardiol, 250, 157-163
DOI 10.1016/j.ijcard.2017.07.015, PubMed 29169752
Lie ØH, Rootwelt-Norberg C, Dejgaard LA, Leren IS, Stokke MK, Edvardsen T, Haugaa KH (2018)
Prediction of Life-Threatening Ventricular Arrhythmia in Patients With Arrhythmogenic Cardiomyopathy: A Primary Prevention Cohort Study
JACC Cardiovasc Imaging, 11 (10), 1377-1386
DOI 10.1016/j.jcmg.2018.05.017, PubMed 30031702
Rootwelt-Norberg C, Lie ØH, Dejgaard LA, Chivulescu M, Leren IS, Edvardsen T, Haugaa KH (2018)
Life-threatening arrhythmic presentation in patients with arrhythmogenic cardiomyopathy before and after entering the genomic era; a two-decade experience from a large volume center
Int J Cardiol, 279, 79-83
DOI 10.1016/j.ijcard.2018.12.066, PubMed 30638987
Publications 2017
Broch K, Leren IS, Saberniak J, Ueland T, Edvardsen T, Gullestad L, Haugaa KH (2017)
Soluble ST2 is associated with disease severity in arrhythmogenic right ventricular cardiomyopathy
Biomarkers, 22 (3-4), 367-371
DOI 10.1080/1354750X.2016.1278266, PubMed 28067540
Dejgaard LA, Haland TF, Lie OH, Ribe M, Bjune T, Leren IS, Berge KE, Edvardsen T, Haugaa KH (2017)
Data on exercise and cardiac imaging in a patient cohort with hypertrophic cardiomyopathy
Data Brief, 15, 30-39
DOI 10.1016/j.dib.2017.08.018, PubMed 28971120
Haland TF, Hasselberg NE, Almaas VM, Dejgaard LA, Saberniak J, Leren IS, Berge KE, Haugaa KH, Edvardsen T (2017)
The systolic paradox in hypertrophic cardiomyopathy
Open Heart, 4 (1), e000571
DOI 10.1136/openhrt-2016-000571, PubMed 28674623
Klaeboe LG, Haland TF, Leren IS, Ter Bekke RMA, Brekke PH, Røsjø H, Omland T, Gullestad L, Aakhus S, Haugaa KH, Edvardsen T (2017)
Prognostic Value of Left Ventricular Deformation Parameters in Patients with Severe Aortic Stenosis: A Pilot Study of the Usefulness of Strain Echocardiography
J Am Soc Echocardiogr, 30 (8), 727-735.e1
DOI 10.1016/j.echo.2017.04.009, PubMed 28599826
Leren IS, Saberniak J, Haland TF, Edvardsen T, Haugaa KH (2017)
Combination of ECG and Echocardiography for Identification of Arrhythmic Events in Early ARVC
JACC-Cardiovasc. Imag., 10 (5), 504-513
Publications 2016
Barros MV, Leren IS, Edvardsen T, Haugaa KH, Carmo AA, Lage TA, Nunes MC, Rocha MO, Ribeiro AL (2016)
Mechanical Dispersion Assessed by Strain Echocardiography Is Associated with Malignant Arrhythmias in Chagas Cardiomyopathy
J Am Soc Echocardiogr, 29 (4), 368-74
DOI 10.1016/j.echo.2015.12.008, PubMed 26833338
Haland TF, Almaas VM, Hasselberg NE, Saberniak J, Leren IS, Hopp E, Edvardsen T, Haugaa KH (2016)
Strain echocardiography is related to fibrosis and ventricular arrhythmias in hypertrophic cardiomyopathy
Eur Heart J Cardiovasc Imaging, 17 (6), 613-21
DOI 10.1093/ehjci/jew005, PubMed 26873460
Haland TF, Saberniak J, Leren IS, Edvardsen T, Haugaa KH (2016)
Echocardiographic comparison between left ventricular non-compaction and hypertrophic cardiomyopathy
Int J Cardiol, 228, 900-905
DOI 10.1016/j.ijcard.2016.11.162, PubMed 27894062
Leren IS, Saberniak J, Haland TF, Edvardsen T, Haugaa KH (2016)
Combination of ECG and Echocardiography for Identification of Arrhythmic Events in Early ARVC
JACC Cardiovasc Imaging, 10 (5), 503-513
DOI 10.1016/j.jcmg.2016.06.011, PubMed 27771401
McLeod K, Wall S, Leren IS, Saberniak J, Haugaa KH (2016)
Ventricular structure in ARVC: going beyond volumes as a measure of risk
J Cardiovasc Magn Reson, 18 (1), 73
DOI 10.1186/s12968-016-0291-9, PubMed 27756409
Saberniak J, Leren IS, Haland TF, Beitnes JO, Hopp E, Borgquist R, Edvardsen T, Haugaa KH (2016)
Comparison of patients with early-phase arrhythmogenic right ventricular cardiomyopathy and right ventricular outflow tract ventricular tachycardia
Eur Heart J Cardiovasc Imaging, 18 (1), 62-69
DOI 10.1093/ehjci/jew014, PubMed 26903598
Publications 2015
Haugaa KH, Haland TF, Leren IS, Saberniak J, Edvardsen T (2015)
Arrhythmogenic right ventricular cardiomyopathy, clinical manifestations, and diagnosis
Europace, 18 (7), 965-72
DOI 10.1093/europace/euv340, PubMed 26498164
Leren IS, Hasselberg NE, Saberniak J, Håland TF, Kongsgård E, Smiseth OA, Edvardsen T, Haugaa KH (2015)
Cardiac Mechanical Alterations and Genotype Specific Differences in Subjects With Long QT Syndrome
JACC Cardiovasc Imaging, 8 (5), 501-510
DOI 10.1016/j.jcmg.2014.12.023, PubMed 25890583
Leren IS, Saberniak J, Majid E, Haland TF, Edvardsen T, Haugaa KH (2015)
Nadolol decreases the incidence and severity of ventricular arrhythmias during exercise stress testing compared with β1-selective β-blockers in patients with catecholaminergic polymorphic ventricular tachycardia
Heart Rhythm, 13 (2), 433-40
DOI 10.1016/j.hrthm.2015.09.029, PubMed 26432584
Sarvari SI, Haugaa KH, Stokke TM, Ansari HZ, Leren IS, Hegbom F, Smiseth OA, Edvardsen T (2015)
Strain echocardiographic assessment of left atrial function predicts recurrence of atrial fibrillation
Eur Heart J Cardiovasc Imaging, 17 (6), 660-7
DOI 10.1093/ehjci/jev185, PubMed 26219297
Publications 2010
Haugaa KH, Leren IS, Berge KE, Bathen J, Loennechen JP, Anfinsen OG, Früh A, Edvardsen T, Kongsgård E, Leren TP, Amlie JP (2010)
High prevalence of exercise-induced arrhythmias in catecholaminergic polymorphic ventricular tachycardia mutation-positive family members diagnosed by cascade genetic screening
Europace, 12 (3), 417-23
DOI 10.1093/europace/eup448, PubMed 20106799
Leren IS, Haugaa KH, Edvardsen T, Anfinsen OG, Kongsgård E, Berge KE, Leren TP, Amlie JP (2010)
[Catecholaminergic polymorphic ventricular tachycardia]
Tidsskr Nor Laegeforen, 130 (2), 139-42
DOI 10.4045/tidsskr.09.0529, PubMed 20125202