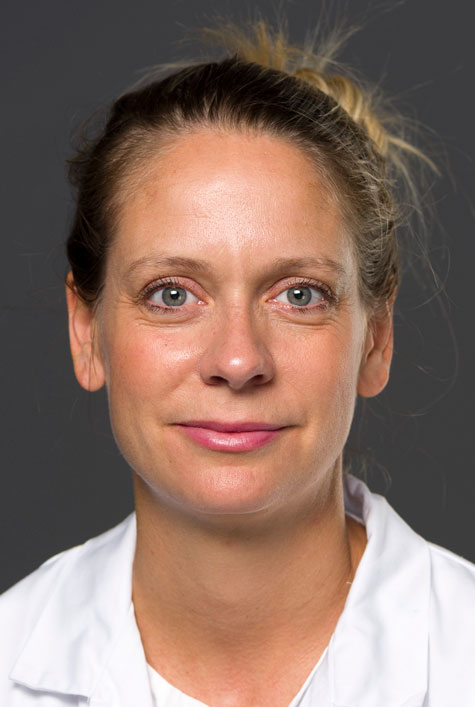 Kristina Lindemann
Head of research, Associate Professor; PhD, MD
+47 22 93 49 83
Short bio
Associate professor Kristina Lindemann is a staff specialist at the Department of gynaecologic cancer and head of research group for gynecological oncology. She also leads the National advisory unit of gynaecologic cancer at Oslo University Hospital and is a permanent member of the NSGO-CTU Scientific Committee.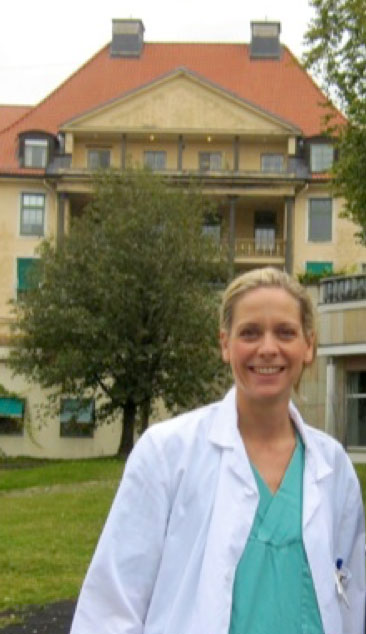 She attended medical school at the University of Heidelberg and München, and worked in the research group of Prof Nadia Harbeck where she received her doctoral degree in 2003. She completed her OB/GYN training the Akershus University Hospital in Oslo and defended her PhD on "Obesity and the risk of endometrial cancer" in 2010. The Global Clinical Scholars Research Training Program at Harvard Medical School added to her research training with focus on clinical trial conduction. Between 2015 and 2016 she worked as a fellow at the Crown Princess Mary Cancer Centre, Westmead, and the NHMRC Clinical Trials Centre in Sydney. Her research focus is to improve patient care in gynaecological cancers, through advancing and translating knowledge in cancer biology, drug development and supportive care.
Kristina Lindemann is higly active in in clinical trials in gynaecologic cancers and has been in involved in the conduct of >20 Phase I-III investigator-initiated and collaborative trials. In 2019 she is Principal Investigator for 9 phase II-III trials, in some of them as National/Nordic coordinator.
She has attracted competitive external funding from the Sister Institution Fund in collaboration with MD Andersen, the ANZGOG New Research Fund and from the Norwegian DAM foundation.
Kristina Lindemann has been awarded outstanding research (Akershus University Hospital, 2011; Oncological Forum, 2011; ASGO 2016) and received an ASCO merit award in 2018. Another important focus of her work is the education of younger colleagues. At Westmead Hospital she developed an online masterclass program for oncological fellows and as previous member of the executive group of the European Network of Young Gynae-Oncologists (ENYGO) she has initiated the LiFE project, a summary of research papers for gynae-onc fellows. She is co-author of the IGCS palliative care curriculum for palliative care.
Publications 2023
Berek JS, Matias-Guiu X, Creutzberg C, Fotopoulou C, Gaffney D, Kehoe S, Lindemann K, Mutch D, Concin N, Endometrial Cancer Staging Subcommittee, FIGO Women's Cancer Committee (2023)
FIGO staging of endometrial cancer: 2023
Int J Gynaecol Obstet, 162 (2), 383-394
DOI 10.1002/ijgo.14923, PubMed 37337978
Berek JS, Matias-Guiu X, Creutzberg C, Fotopoulou C, Gaffney D, Kehoe S, Lindemann K, Mutch D, Concin N, Endometrial Cancer Staging Subcommittee, FIGO Women's Cancer Committee (2023)
FIGO staging of endometrial cancer: 2023
J Gynecol Oncol, 34 (5), e85
DOI 10.3802/jgo.2023.34.e85, PubMed 37593813
Corbaux P, You B, Glasspool RM, Yanaihara N, Tinker AV, Lindemann K, Ray-Coquard IL, Mirza MR, Subtil F, Colomban O, Péron J, Karamouza E, McNeish I, Kelly C, Kagimura T, Welch S, Lewsley LA, Paoletti X, Cook A (2023)
Survival and modelled cancer antigen-125 ELIMination rate constant K score in ovarian cancer patients in first-line before poly(ADP-ribose) polymerase inhibitor era: A Gynaecologic Cancer Intergroup meta-analysis
Eur J Cancer, 191, 112966
DOI 10.1016/j.ejca.2023.112966, PubMed 37542936
Davidson B, Skeie-Jensen T, Holth A, Lindemann K, Toralba Barrameda AM, Lie AK, Wang Y (2023)
Lymphovascular invasion and p16 expression are independent prognostic factors in stage I vulvar squamous cell carcinoma
Virchows Arch (in press)
DOI 10.1007/s00428-023-03670-y, PubMed 37843640
Dos Santos MV, Holth A, Lindemann K, Staff AC, Davidson B (2023)
Clinical significance of L1CAM expression in metastatic tubo-ovarian high-grade serous carcinoma
Gynecol Oncol, 176, 76-81
DOI 10.1016/j.ygyno.2023.07.004, PubMed 37478615
Landen CN, Molinero L, Hamidi H, Sehouli J, Miller A, Moore KN, Taskiran C, Bookman M, Lindemann K, Anderson C, Berger R, Myers T, Beiner M, Reid T, Van Nieuwenhuysen E, Green A, Okamoto A, Aghajanian C, Thaker PH, Blank SV, Khor VK, Chang CW, Lin YG, Pignata S (2023)
Influence of Genomic Landscape on Cancer Immunotherapy for Newly Diagnosed Ovarian Cancer: Biomarker Analyses from the IMagyn050 Randomized Clinical Trial
Clin Cancer Res, 29 (9), 1698-1707
DOI 10.1158/1078-0432.CCR-22-2032, PubMed 36595569
Lindemann K, Heimisdottir Danbolt S, Ramberg L, Eyjólfsdóttir B, Wang YY, Heli-Haugestøl AG, Walcott SL, Mjåland O, Navestad GA, Hermanrud S, Juul-Hansen KE, Bragstad LK, Opheim R, Kleppe A, Kongsgaard U (2023)
Patient-reported nausea after implementation of an enhanced recovery after surgery protocol for gynae-oncology patients
Int J Gynecol Cancer, 33 (8), 1287-1294
DOI 10.1136/ijgc-2023-004356, PubMed 37451689
Lindemann K, Kleppe A, Eyjólfsdóttir B, Heimisdottir Danbolt S, Wang YY, Heli-Haugestøl AG, Walcott SL, Mjåland O, Navestad GA, Hermanrud S, Juul-Hansen KE, Kongsgaard U (2023)
Prospective evaluation of an enhanced recovery after surgery (ERAS) pathway in a Norwegian cohort of patients with suspected or advanced ovarian cancer
Int J Gynecol Cancer, 33 (8), 1279-1286
DOI 10.1136/ijgc-2023-004355, PubMed 37451690
Lundberg FE, Stensheim H, Ullenhag GJ, Sahlgren HM, Lindemann K, Fredriksson I, Johansson ALV (2023)
Risk factors for the increasing incidence of pregnancy-associated cancer in Sweden - a population-based study
Acta Obstet Gynecol Scand (in press)
DOI 10.1111/aogs.14677, PubMed 37694965
Pujade-Lauraine E, Selle F, Scambia G, Asselain B, Marmé F, Lindemann K, Colombo N, Mądry R, Glasspool R, Vergote I, Korach J, Lheureux S, Dubot C, Oaknin A, Zamagni C, Heitz F, Gladieff L, Rubio-Pérez MJ, Scollo P, Blakeley C, Shaw B, Ray-Coquard I, Redondo A, OReO/ENGOT-ov38 investigators (2023)
Maintenance olaparib rechallenge in patients with platinum-sensitive relapsed ovarian cancer previously treated with a PARP inhibitor (OReO/ENGOT-ov38): a phase IIIb trial
Ann Oncol (in press)
DOI 10.1016/j.annonc.2023.09.3110, PubMed 37797734
Skaali T, Blomhoff R, Lindemann K, Smeland S, Bruheim K, Seland M, Thorsen L (2023)
Self-reported distress and problems after treatment for gynecological cancer - Correlation between a short screening tool and longer measures of anxiety/depression and health-related quality of life
Acta Obstet Gynecol Scand (in press)
DOI 10.1111/aogs.14709, PubMed 37991142
Valstad H, Eyjolfsdottir B, Wang Y, Kristensen GB, Skeie-Jensen T, Lindemann K (2023)
Pelvic exenteration for vulvar cancer: Postoperative morbidity and oncologic outcome - A single center retrospective analysis
Eur J Surg Oncol, 49 (9), 106958
DOI 10.1016/j.ejso.2023.06.010, PubMed 37349160
Vilming B, Fallås Dahl J, Bentzen AG, Ingebrigtsen VA, Berge Nilsen E, Vistad I, Dørum A, Solheim O, Bjørge L, Zucknick M, Aune G, Lindemann K (2023)
Real-world data on niraparib maintenance treatment in patients with non-gBRCA mutated platinum-sensitive recurrent ovarian cancer
Int J Gynecol Cancer (in press)
DOI 10.1136/ijgc-2023-004484, PubMed 38000795
Publications 2022
Gatius S, Velasco A, Varela M, Cuatrecasas M, Jares P, Setaffy L, Bonhomme B, Santon A, Lindemann K, Croce S, Davidson B, Lax S, Palacios J, Matias-Guiu X (2022)
Comparison of the Idylla™ MSI assay with the Promega™ MSI Analysis System and immunohistochemistry on formalin-fixed paraffin-embedded tissue of endometrial carcinoma: results from an international, multicenter study
Virchows Arch, 480 (5), 1031-1039
DOI 10.1007/s00428-022-03291-x, PubMed 35124717
Kurnit KC, Nobre SP, Fellman BM, Iglesias DA, Lindemann K, Jhingran A, Eriksson AGZ, Ataseven B, Glaser GE, Mueller JJ, Westin SN, Soliman PT (2022)
Adjuvant therapy in women with early stage uterine serous carcinoma: A multi-institutional study
Gynecol Oncol, 167 (3), 452-457
DOI 10.1016/j.ygyno.2022.09.025, PubMed 36243601
Marth C, Abreu MH, Andersen KK, Aro KM, de Lurdes Batarda M, Boll D, Ekmann-Gade AW, Haltia UM, Hansen J, Haug AJ, Høgdall C, Korach J, Lassus H, Lindemann K, Van Nieuwenhuysen E, Ottevanger PB, Polterauer S, Schnack TH (2022)
Real-life data on treatment and outcomes in advanced ovarian cancer: An observational, multinational cohort study (RESPONSE trial)
Cancer, 128 (16), 3080-3089
DOI 10.1002/cncr.34350, PubMed 35714310
Paulsen T, Liland H, Myklebust TÅ, Lindemann K (2022)
Early referral to a palliative team improves end-of-life care among gynecological cancer patients: a retrospective, population-based study
Int J Gynecol Cancer, 32 (2), 181-188
DOI 10.1136/ijgc-2021-002898, PubMed 34987096
Poveda A, Lheureux S, Colombo N, Cibula D, Lindemann K, Weberpals J, Bjurberg M, Oaknin A, Sikorska M, González-Martín A, Madry R, Pérez MJR, Ledermann J, Davidson R, Blakeley C, Bennett J, Barnicle A, Škof E (2022)
Olaparib maintenance monotherapy in platinum-sensitive relapsed ovarian cancer patients without a germline BRCA1/BRCA2 mutation: OPINION primary analysis
Gynecol Oncol, 164 (3), 498-504
DOI 10.1016/j.ygyno.2021.12.025, PubMed 35063276
Siegenthaler F, Lindemann K, Epstein E, Rau TT, Nastic D, Ghaderi M, Rydberg F, Mueller MD, Carlson J, Imboden S (2022)
Time to first recurrence, pattern of recurrence, and survival after recurrence in endometrial cancer according to the molecular classification
Gynecol Oncol, 165 (2), 230-238
DOI 10.1016/j.ygyno.2022.02.024, PubMed 35277281
Skipar K, Hompland T, Lund KV, Løndalen A, Malinen E, Kristensen GB, Lindemann K, Nakken ES, Bruheim K, Lyng H (2022)
Risk of recurrence after chemoradiotherapy identified by multimodal MRI and 18F-FDG-PET/CT in locally advanced cervical cancer
Radiother Oncol, 176, 17-24
DOI 10.1016/j.radonc.2022.09.002, PubMed 36113778
Utne I, Stokke K, Ritchie C, Løyland B, Grov EK, Rasmussen HL, Lindemann K, Paul SM, Torstveit AH, Miaskowski C (2022)
Changes in Subjective Measures of Cognitive Function in Older Adults From the Initiation Through 12 Months After the Receipt of Chemotherapy
Cancer Nurs, 46 (6), E365-E374
DOI 10.1097/NCC.0000000000001140, PubMed 35781267
Publications 2021
Areklett EW, Fagereng E, Bruheim K, Andersson S, Lindemann K (2021)
Self-reported cognitive impairment in cervical cancer survivors: A cross-sectional study
Psychooncology, 31 (2), 298-305
DOI 10.1002/pon.5818, PubMed 34516040
Kargo AS, Jensen PT, Lindemann K, Hjollund NHI, Lund B, Haee M, Möller S, Hansen DG, Dahl Steffensen K (2021)
The PROMova study comparing active and passive use of patient-reported outcome measures in ovarian cancer follow-up: effect on patient-perceived involvement, satisfaction with care, and usefulness
Acta Oncol, 60 (4), 434-443
DOI 10.1080/0284186X.2021.1891281, PubMed 33651647
Kargo AS, Jensen PT, Lindemann K, Hjøllund NH, Liposits GI, Raaschou-Jensen N, Knudsen BM, Möller S, Hansen DG, Steffensen KD (2021)
Association of patient-reported outcomes and ovarian cancer recurrence
Int J Gynecol Cancer, 31 (9), 1248-1259
DOI 10.1136/ijgc-2021-002550, PubMed 34489355
Kasius JC, Pijnenborg JMA, Lindemann K, Forsse D, van Zwol J, Kristensen GB, Krakstad C, Werner HMJ, Amant F (2021)
Risk Stratification of Endometrial Cancer Patients: FIGO Stage, Biomarkers and Molecular Classification
Cancers (Basel), 13 (22)
DOI 10.3390/cancers13225848, PubMed 34831000
Lindemann K (2021)
Medical treatment of primary and recurrent cervical cancer
Int. J. Gynecol. Cancer, 31 1, 20
Lindemann K (2021)
Medical treatment of primary and recurrent cervical cancer
Int. J. Gynecol. Cancer, 31 2, 18
Lindemann K, Smogeli E, Småstuen MC, Bruheim K, Trovik J, Nordberg T, Kristensen GB, Werner HMJ, Nakken E (2021)
Salvage Radiation for Pelvic Relapse after Surgically Treated Endometrial Cancer
Cancers (Basel), 13 (6)
DOI 10.3390/cancers13061367, PubMed 33803531
Seland M, Skrede K, Lindemann K, Skaali T, Blomhoff R, Bruheim K, Wisløff T, Thorsen L (2021)
Distress, problems and unmet rehabilitation needs after treatment for gynecological cancer
Acta Obstet Gynecol Scand, 101 (3), 313-322
DOI 10.1111/aogs.14310, PubMed 34964982
Skorstad M, de Rooij BH, Jeppesen MM, Bergholdt SH, Ezendam NPM, Bohlin T, Jensen PT, Lindemann K, van de Poll L, Vistad I (2021)
Self-management and adherence to recommended follow-up after gynaecological cancer: results from the international InCHARGE study
Int J Gynecol Cancer, 31 (8), 1106-1115
DOI 10.1136/ijgc-2020-002377, PubMed 33858949
Utne I, Løyland B, Grov EK, Rasmussen HL, Torstveit AH, Paul SM, Ritchie C, Lindemann K, Vistad I, Rodríguez-Aranda C, Miaskowski C (2021)
Age-related differences in self-report and objective measures of cognitive function in older patients prior to chemotherapy
Nurs Open, 9 (2), 1040-1051
DOI 10.1002/nop2.1141, PubMed 34878233
van Weelden WJ, Lalisang RI, Bulten J, Lindemann K, van Beekhuizen HJ, Trum H, Boll D, Werner HMJ, van Lonkhuijzen LRCW, Yigit R, Forsse D, Witteveen PO, Galaal K, van Ginkel A, Bignotti E, Weinberger V, Sweegers S, Kroep JR, Cabrera S, Snijders MPLM, Inda MA, Eriksson AGZ, European Network for Individualized Treatment in Endometrial Cancer, Krakstad C, Romano A et al. (2021)
Impact of hormonal biomarkers on response to hormonal therapy in advanced and recurrent endometrial cancer
Am J Obstet Gynecol, 225 (4), 407.e1-407.e16
DOI 10.1016/j.ajog.2021.05.007, PubMed 34019887
Vistad I, Skorstad M, Demmelmaier I, Småstuen MC, Lindemann K, Wisløff T, van de Poll-Franse LV, Berntsen S (2021)
Lifestyle and Empowerment Techniques in Survivorship of Gynaecologic Oncology (LETSGO study): a study protocol for a multicentre longitudinal interventional study using mobile health technology and biobanking
BMJ Open, 11 (7), e050930
DOI 10.1136/bmjopen-2021-050930, PubMed 34253678
Publications 2020
Harter P, Pautier P, Van Nieuwenhuysen E, Reuss A, Redondo A, Lindemann K, Kurzeder C, Petru E, Heitz F, Sehouli J, Degregorio N, Wimberger P, Burges A, Cron N, Ledermann J, Lorusso D, Paoletti X, Marme F (2020)
Atezolizumab in combination with bevacizumab and chemotherapy versus bevacizumab and chemotherapy in recurrent ovarian cancer - a randomized phase III trial (AGO-OVAR 2.29/ENGOT-ov34)
Int J Gynecol Cancer, 30 (12), 1997-2001
DOI 10.1136/ijgc-2020-001572, PubMed 32606097
Kargo AS, Coulter A, Lindemann K, Jensen PT, Hjøllund NH, Mosgaard BJ, Steffensen KD (2020)
Use of PROM during follow-up of patients with ovarian cancer: the PROMova study protocol
Int J Gynecol Cancer, 30 (9), 1444-1449
DOI 10.1136/ijgc-2020-001528, PubMed 32586892
La Russa M, Zapardiel I, Zalewski K, Laky R, Dursun P, Sukhin V, Lindquist D, Lindemann K (2020)
Assessment of palliative care training in gynaecological oncology: a survey among European Network of Young Gynae-Oncologists (ENYGO) members
BMJ Support Palliat Care (in press)
DOI 10.1136/bmjspcare-2020-002233, PubMed 32958506
Lindemann K (2020)
Systematic treatment of primary and recurrent cervical cancer
Int. J. Gynecol. Cancer, 30 1, 15
Lindemann K, Martinsson L, Kaasa S, Lindquist D (2020)
Elderly gynaecological cancer patients at risk for poor end of life care: a population-based study from the Swedish Register of Palliative Care
Acta Oncol, 59 (6), 636-643
DOI 10.1080/0284186X.2020.1744717, PubMed 32238040
Vistad I, Lindemann K, Bentzen AG, Dahl AA, Steen R, Kiserud C (2020)
Preferences for follow up in long-term survivors after cervical cancer
Acta Obstet Gynecol Scand, 99 (9), 1253-1259
DOI 10.1111/aogs.13855, PubMed 32232835
Publications 2019
Lindemann K, Zalewski K, Halaska MJ (2019)
Summary of landmark papers published between August 2018 and May 2019
Int. J. Gynecol. Cancer, 29 1, 1-5
DOI 10.1136/ijgc-2019-000738
Piovano E, Ferrero A, Zola P, Marth C, Mirza MR, Lindemann K (2019)
Clinical pathways of recovery after surgery for advanced ovarian/tubal/peritoneal cancer: an NSGO-MaNGO international survey in collaboration with AGO-a focus on surgical aspects
Int J Gynecol Cancer, 29 (1), 181-187
DOI 10.1136/ijgc-2018-000021, PubMed 30640702
Roncolato F, Lindemann K, Willson ML, Martyn J, Mileshkin L (2019)
PI3K/AKT/mTOR inhibitors for advanced or recurrent endometrial cancer
Cochrane Database Syst Rev, 10 (10), CD012160
DOI 10.1002/14651858.CD012160.pub2, PubMed 31588998
Publications 2018
Lindemann K (2018)
Medical treatment of primary and recurrent cervical cancer
Int. J. Gynecol. Cancer, 28 4, 29
Lindemann K, Beale PJ, Rossi E, Goh JC, Vaughan MM, Tenney ME, Martyn JK, Sommeijer D, Iglesias JL, Kremmidiotis G, Simpson J, Doolin E, Lavranos TC, Leske A, Veillard AS, Espinoza D, Stockler MR, Rischin D, For ANZGOG and HCRN Collaborative Groups (2018)
Phase I study of BNC105P, carboplatin and gemcitabine in partially platinum-sensitive ovarian cancer patients in first or second relapse (ANZGOG-1103)
Cancer Chemother Pharmacol, 83 (1), 97-105
DOI 10.1007/s00280-018-3706-5, PubMed 30368585
Lindemann K, Gao B, Mapagu C, Fereday S, Emmanuel C, Alsop K, Traficante N, Australian Ovarian Cancer Study Group, Harnett PR, Bowtell DDL, deFazio A (2018)
Response rates to second-line platinum-based therapy in ovarian cancer patients challenge the clinical definition of platinum resistance
Gynecol Oncol, 150 (2), 239-246
DOI 10.1016/j.ygyno.2018.05.020, PubMed 29807697
Lindemann K, Zalewski K, Halaska MJ, Lindquist D (2018)
PREFACE
Int. J. Gynecol. Cancer, 28 4, 2
Smogeli E, Cvancarova M, Wang Y, Davidson B, Kristensen G, Lindemann K (2018)
Clinical Outcome of Patients With High-Risk Endometrial Carcinoma After Treatment With Chemotherapy Only
Int J Gynecol Cancer, 28 (9), 1789-1795
DOI 10.1097/IGC.0000000000001356, PubMed 30365455
Publications 2017
Lindemann K, Gibbs E, Åvall-Lundqvist E, dePont Christensen R, Woie K, Kalling M, Auranen A, Grenman S, Hoegberg T, Rosenberg P, Skeie-Jensen T, Hjerpe E, Dørum A, Gebski V, Kristensen G (2017)
Chemotherapy vs tamoxifen in platinum-resistant ovarian cancer: a phase III, randomised, multicentre trial (Ovaresist)
Br J Cancer, 116 (4), 455-463
DOI 10.1038/bjc.2016.435, PubMed 28118323
Lindemann K, Kok PS, Stockler M, Jaaback K, Brand A (2017)
Enhanced Recovery After Surgery for Advanced Ovarian Cancer: A Systematic Review of Interventions Trialed
Int J Gynecol Cancer, 27 (6), 1274-1282
DOI 10.1097/IGC.0000000000000981, PubMed 28498237
Lindemann K, Kok PS, Stockler M, Sykes P, Brand A (2017)
Enhanced Recovery After Surgery for Suspected Ovarian Malignancy: A Survey of Perioperative Practice Among Gynecologic Oncologists in Australia and New Zealand to Inform a Clinical Trial
Int J Gynecol Cancer, 27 (5), 1046-1050
DOI 10.1097/IGC.0000000000000982, PubMed 28525497
Minig L, Heitz F, Cibula D, Bakkum-Gamez JN, Germanova A, Dowdy SC, Kalogera E, Zapardiel I, Lindemann K, Harter P, Scambia G, Petrillo M, Zorrero C, Zanagnolo V, Rebollo JMC, du Bois A, Fotopoulou C (2017)
Patterns of Lymph Node Metastases in Apparent Stage I Low-Grade Epithelial Ovarian Cancer: A Multicenter Study
Ann Surg Oncol, 24 (9), 2720-2726
DOI 10.1245/s10434-017-5919-y, PubMed 28608122
Wiedmann MKH, Brunborg C, Di Ieva A, Lindemann K, Johannesen TB, Vatten L, Helseth E, Zwart JA (2017)
The impact of body mass index and height on the risk for glioblastoma and other glioma subgroups: a large prospective cohort study
Neuro Oncol, 19 (7), 976-985
DOI 10.1093/neuonc/now272, PubMed 28040713
Wiedmann MKH, Brunborg C, Di Ieva A, Lindemann K, Johannesen TB, Vatten L, Helseth E, Zwart JA (2017)
Overweight, obesity and height as risk factors for meningioma, glioma, pituitary adenoma and nerve sheath tumor: a large population-based prospective cohort study
Acta Oncol, 56 (10), 1302-1309
DOI 10.1080/0284186X.2017.1330554, PubMed 28548875
Zalewski K, Lindemann K, Halaska MJ, Zapardiel I, Laky R, Chereau E, Lindquist D, Polterauer S, Sukhin V, Dursun P (2017)
A Call for New Communication Channels for Gynecological Oncology Trainees: A Survey on Social Media Use and Educational Needs by the European Network of Young Gynecological Oncologists
Int J Gynecol Cancer, 27 (3), 620-626
DOI 10.1097/IGC.0000000000000917, PubMed 28187096
Publications 2016
Gao B, Lindemann K, Anderson L, Fereday S, Hung J, Alsop K, Tothill RW, Gebski V, Kennedy C, Balleine RL, Australian Ovarian Cancer Study Group, Harnett PR, Bowtell DD, DeFazio A (2016)
Serous ovarian and primary peritoneal cancers: A comparative analysis of clinico-pathological features, molecular subtypes and treatment outcome
Gynecol Oncol, 142 (3), 458-64
DOI 10.1016/j.ygyno.2016.06.023, PubMed 27444035
Lindemann K (2016)
Medical treatment of primary or recurrent cervical cancer
Int. J. Gynecol. Cancer, 26 1, 42-43
Lindemann K, Halaska MJ, Zalewski K (2016)
Surgical treatment of primary ovarian fallopian tube and peritoneal cancer
Int. J. Gynecol. Cancer, 26 1, 5-8
Lindemann K, Kristensen G, Mirza MR, Davies L, Hilpert F, Romero I, Ayhan A, Burges A, Rubio MJ, Raspagliesi F, Huizing M, Creemers GJ, Lykka M, Lee CK, Gebski V, Pujade-Lauraine E (2016)
Poor concordance between CA-125 and RECIST at the time of disease progression in patients with platinum-resistant ovarian cancer: analysis of the AURELIA trial
Ann Oncol, 27 (8), 1505-10
DOI 10.1093/annonc/mdw238, PubMed 27407100
Lindemann K, Zalewski K, Halaska MJ, LiFE Team (2016)
Preface
Int. J. Gynecol. Cancer, 26 1, 2
Lindemann K, Zalewski K, Halaska MJ, Lindquist D, The LiFE Team (2016)
Life - Literature for ENYGO
Int. J. Gynecol. Cancer, 26 4, 2-73
Smogeli E, Davidson B, Cvancarova M, Holth A, Katz B, Risberg B, Kristensen G, Lindemann K (2016)
L1CAM as a prognostic marker in stage I endometrial cancer: a validation study
BMC Cancer, 16, 596
DOI 10.1186/s12885-016-2631-4, PubMed 27488577
Zalewski K, Lindemann K, Halaska MJ (2016)
Medical treatment of primary ovarian cancer
Int. J. Gynecol. Cancer, 26 1, 9-11
Publications 2015
Lindemann K, Cvancarova M, Eskild A (2015)
Body mass index, diabetes and survival after diagnosis of endometrial cancer: A report from the HUNT-Survey
Gynecol Oncol, 139 (3), 476-80
DOI 10.1016/j.ygyno.2015.09.088, PubMed 26434365
Wiedmann M, Brunborg C, Lindemann K, Johannesen TB, Vatten L, Helseth E, Zwart JA (2015)
Smoking, obesity and the risk of pituitary adenoma: a large prospective cohort study (The HUNT Study)
Eur J Epidemiol, 31 (1), 95-8
DOI 10.1007/s10654-015-0033-6, PubMed 25903163
Publications 2014
Lindemann K, Malander S, Christensen RD, Mirza MR, Kristensen GB, Aavall-Lundqvist E, Vergote I, Rosenberg P, Boman K, Nordstrøm B (2014)
Examestane in advanced or recurrent endometrial carcinoma: a prospective phase II study by the Nordic Society of Gynecologic Oncology (NSGO)
BMC Cancer, 14, 68
DOI 10.1186/1471-2407-14-68, PubMed 24498853
Publications 2013
Onsrud M, Cvancarova M, Hellebust TP, Tropé CG, Kristensen GB, Lindemann K (2013)
Long-term outcomes after pelvic radiation for early-stage endometrial cancer
J Clin Oncol, 31 (31), 3951-6
DOI 10.1200/JCO.2013.48.8023, PubMed 24019546
Wiedmann M, Brunborg C, Lindemann K, Johannesen TB, Vatten L, Helseth E, Zwart JA (2013)
Body mass index and the risk of meningioma, glioma and schwannoma in a large prospective cohort study (The HUNT Study)
Br J Cancer, 109 (1), 289-94
DOI 10.1038/bjc.2013.304, PubMed 23778522
Publications 2012
Lindemann K, Christensen RD, Vergote I, Stuart G, Izquierdo MA, Kærn J, Havsteen H, Eisenhauer E, Ridderheim M, Lopez AB, Hirte H, Aavall-Lundquvist E, Vrdoljak E, Green J, Kristensen GB (2012)
First-line treatment of advanced ovarian cancer with paclitaxel/carboplatin with or without epirubicin (TEC versus TC)--a gynecologic cancer intergroup study of the NSGO, EORTC GCG and NCIC CTG
Ann Oncol, 23 (10), 2613-2619
DOI 10.1093/annonc/mds060, PubMed 22539562
Publications 2011
Rettinger G, Lindemann K, Ashoor M, Scheithauer M, Sommer F, Lindemann J (2011)
[Long term results of transseptal suture of the middle turbinate during sinus surgery]
Laryngorhinootologie, 90 (8), 471-5
DOI 10.1055/s-0031-1280840, PubMed 21809231
Publications 2010
Lindemann K, Eskild A, Vatten LJ, Bray F (2010)
Endometrial cancer incidence trends in Norway during 1953-2007 and predictions for 2008-2027
Int J Cancer, 127 (11), 2661-8
DOI 10.1002/ijc.25267, PubMed 20162667
Publications 2009
Lindemann K, Vatten LJ, Ellstrøm-Engh M, Eskild A (2009)
Serum lipids and endometrial cancer risk: results from the HUNT-II study
Int J Cancer, 124 (12), 2938-41
DOI 10.1002/ijc.24285, PubMed 19267407
Lindemann K, Vatten LJ, Ellstrøm-Engh M, Eskild A (2009)
The impact of BMI on subgroups of uterine cancer
Br J Cancer, 101 (3), 534-6
DOI 10.1038/sj.bjc.6605158, PubMed 19568239
Publications 2008
Lindemann K, Harbeck N, Lengyel E, Resau JH (2008)
A special key for unlocking the door to targeted therapies of breast cancer
ScientificWorldJournal, 8, 905-8
DOI 10.1100/tsw.2008.110, PubMed 18836657
Lindemann K, Vatten LJ, Ellstrøm-Engh M, Eskild A (2008)
Body mass, diabetes and smoking, and endometrial cancer risk: a follow-up study
Br J Cancer, 98 (9), 1582-5
DOI 10.1038/sj.bjc.6604313, PubMed 18362938
Publications 2007
Lindemann K, Resau J, Nährig J, Kort E, Leeser B, Annecke K, Welk A, Schäfer J, Vande Woude GF, Lengyel E, Harbeck N (2007)
Differential expression of c-Met, its ligand HGF/SF and HER2/neu in DCIS and adjacent normal breast tissue
Histopathology, 51 (1), 54-62
DOI 10.1111/j.1365-2559.2007.02732.x, PubMed 17593080
Publications 2005
Janni W, Rack B, Lindemann K, Harbeck N (2005)
Detection of micrometastatic disease in bone marrow: is it ready for prime time?
Oncologist, 10 (7), 480-92
DOI 10.1634/theoncologist.10-7-480, PubMed 16079315
Lengyel E, Prechtel D, Resau JH, Gauger K, Welk A, Lindemann K, Salanti G, Richter T, Knudsen B, Vande Woude GF, Harbeck N (2005)
C-Met overexpression in node-positive breast cancer identifies patients with poor clinical outcome independent of Her2/neu
Int J Cancer, 113 (4), 678-82
DOI 10.1002/ijc.20598, PubMed 15455388