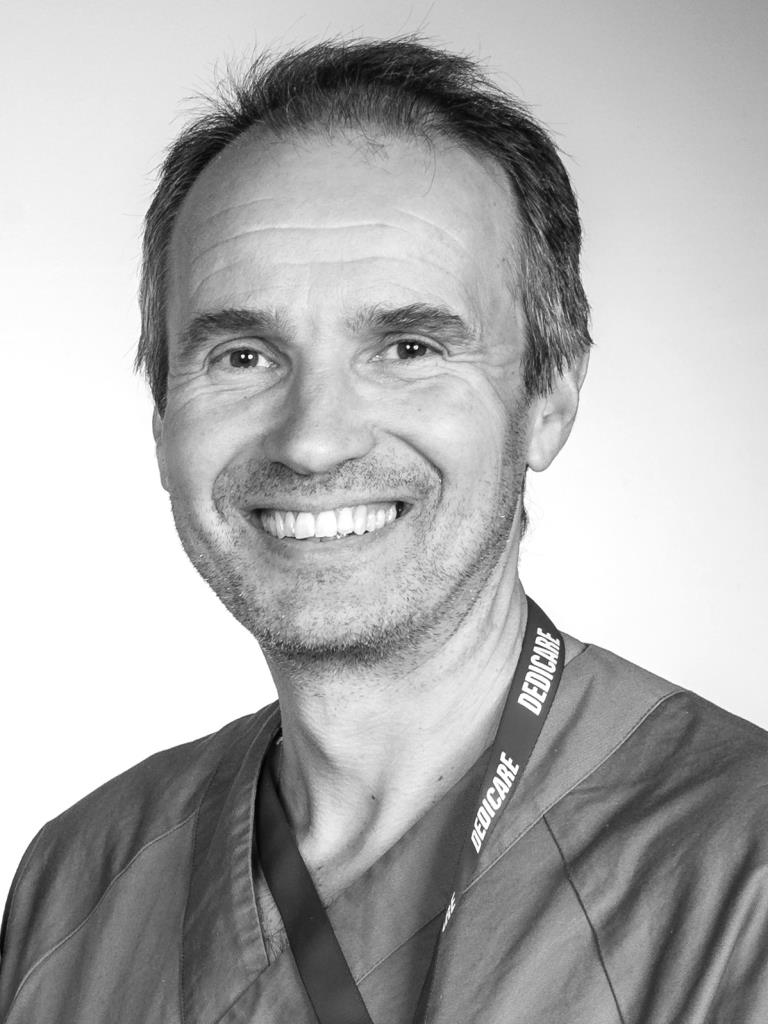 Einar Gude
Consultant Cardiologist, MD, PhD
Einar Gude defended his thesis "Limitations of current treatment strategies in human heart transplantation: Studies on pulmonary hemodynamics, renal failure and immunosuppression." in January 2013. Gude studied risk factors prior to and after heart transplantation and potential treatment strategies to optimize the transplantation outcome.
All patients transplanted between the years 1983-2007 were analyzed considering the degree of renal failure and pulmonary hypertension before and after transplantation. These two challenges are closely associated and usually secondary to severe heart failure. Both phenomena increase the risk of adverse outcomes during and after surgery and are relative contraindications against transplantation. Immunosuppressive medications after cardiac transplantation may be renal toxic and many patients experience a deterioration of renal failure after transplantation.
The severity of pulmonary hypertension was measured in all patients before and after transplantation. The prognosis was equal for patients suffering from too high blood preassure prior to surgery and for patients with a satisfactory preoperative blood preassure. However, patients experiencing elevated pressure after transplantation have a poorer prognosis. Likewise, renal function was mapped. Reduced renal function before and after transplantation increases the risk of dialysis and increased mortality if present early after transplantation.
Necessary immunosuppressive treatment has several side effects including renal failure, both acute after transplantation and progressive over years. Intravenous administration of immunosuppressive medicine Sandimun Neoral disposed for acute renal failure. A new medicine, Everolimus, has been tested, and with early intervention after transplantation severe kidney failure was almost normalized. By intervention a few years after transplantation, one can improve, but not normalize, renal function by reducing Sandimun Neoral and adding a small dose of Everolimus.
Publications 2023
Andel PM, Aukrust P, Gleditsch J, Gude E, Haugeberg G, Høie S, Salte T, Steine K, Atar D (2023)
Recurrent pericarditis
Tidsskr Nor Laegeforen, 143 (8)
DOI 10.4045/tidsskr.22.0580, PubMed 37254974
Bach-Gansmo T, Hodt A, Schjesvold FH, Gude E, Wien TN (2023)
Bone scintigraphy reduces the need for biopsy in suspected cardiac amyloidosis
Tidsskr Nor Laegeforen, 143 (9)
DOI 10.4045/tidsskr.22.0644, PubMed 37341415
Eldhagen P, Lehtonen J, Gude E, Gustafsson F, Bagger-Bahnsen A, Vakevainen M, Pilgaard T, Wedell-Wedellsborg D, Poulsen SH, Nordic PROACT study group (2023)
Health-related quality of life among transthyretin amyloid cardiomyopathy patients
ESC Heart Fail, 10 (3), 1871-1882
DOI 10.1002/ehf2.14350, PubMed 36946241
Gjersvik P, Falk RS, Roscher I, Rizvi SMH, Mjøen G, Gude E, Leuckfeld I, Boberg KM, Veierød MB, Robsahm TE (2023)
Rates of Second Tumor, Metastasis, and Death From Cutaneous Squamous Cell Carcinoma in Patients With and Without Transplant-Associated Immunosuppression
JAMA Dermatol, 159 (9), 923-929
DOI 10.1001/jamadermatol.2023.2029, PubMed 37466985
Holt MF, Flø A, Bjørnø V, Husebye T, Knudsen EC, Hodt A, Gustavsen A, Kristiansen HA, Raki M, Broch K, Wien TN, Gude E (2023)
A man in his seventies with fatigue and renal failure
Tidsskr Nor Laegeforen, 143 (9)
DOI 10.4045/tidsskr.22.0679, PubMed 37341412
Lyng CS, Gude E, Hodt A, Knudsen EC (2023)
First Norwegian case of hereditary ATTR amyloidosis with a novel transthyretin variant
Scand Cardiovasc J, 57 (1), 2174269
DOI 10.1080/14017431.2023.2174269, PubMed 36734834
Ravnestad H, Andersen R, Birkeland S, Svalebjørg M, Lingaas PS, Gude E, Gullestad L, Kvitting JP, Broch K, Andreassen AK (2023)
Pulmonary endarterectomy and balloon pulmonary angioplasty in chronic thromboembolic pulmonary hypertension: Comparison of changes in hemodynamics and functional capacity
Pulm Circ, 13 (1), e12199
DOI 10.1002/pul2.12199, PubMed 36788941
Publications 2022
Brautaset Englund KV, Østby CM, Broch K, Ueland T, Aukrust P, Gude E, Andreassen AK, Gullestad L (2022)
Iron homeostasis in heart transplant recipients randomized to ferric derisomaltose or placebo
Clin Transplant, 36 (7), e14695
DOI 10.1111/ctr.14695, PubMed 35532871
Didriksen H, Molberg Ø, Mehta A, Jordan S, Palchevskiy V, Fretheim H, Gude E, Ueland T, Brunborg C, Garen T, Midtvedt Ø, Andreassen AK, Lund-Johansen F, Distler O, Belperio J, Hoffmann-Vold AM (2022)
Target organ expression and biomarker characterization of chemokine CCL21 in systemic sclerosis associated pulmonary arterial hypertension
Front Immunol, 13, 991743
DOI 10.3389/fimmu.2022.991743, PubMed 36211384
Kvaslerud AB, Gude E, Eriksen G, Andreassen AK, Gullestad L, Broch K (2022)
Diastolic Dysfunction Is Unmasked on Exercise in Patients With Asymptomatic, Severe Aortic Stenosis: An Invasive Hemodynamic Study
Circ Heart Fail, 15 (2), e009253
DOI 10.1161/CIRCHEARTFAILURE.121.009253, PubMed 35137599
Lauppe R, Liseth Hansen J, Fornwall A, Johansson K, Rozenbaum MH, Strand AM, Vakevainen M, Kuusisto J, Gude E, Smith JG, Gustafsson F (2022)
Healthcare resource use of patients with transthyretin amyloid cardiomyopathy
ESC Heart Fail, 9 (3), 1636-1642
DOI 10.1002/ehf2.13913, PubMed 35365974
Lauppe R, Liseth Hansen J, Fornwall A, Johansson K, Rozenbaum MH, Strand AM, Väkeväinen M, Kuusisto J, Gude E, Smith JG, Gustafsson F (2022)
Prevalence, characteristics, and mortality of patients with transthyretin amyloid cardiomyopathy in the Nordic countries
ESC Heart Fail, 9 (4), 2528-2537
DOI 10.1002/ehf2.13961, PubMed 35560802
Publications 2021
Brautaset Englund KV, Østby CM, Rolid K, Gude E, Andreassen AK, Gullestad L, Broch K (2021)
Intravenous iron supplement for iron deficiency in cardiac transplant recipients (IronIC): A randomized clinical trial
J Heart Lung Transplant, 40 (5), 359-367
DOI 10.1016/j.healun.2021.01.1390, PubMed 33612360
Brautaset Englund KV, Østby CM, Tjønnås G, Gude E, Andreassen AK, Gullestad L, Broch K (2021)
Prevalence of iron deficiency in heart transplant recipients
Clin Transplant, 35 (8), e14346
DOI 10.1111/ctr.14346, PubMed 33969559
Bürker BS, Malt UF, Gude E, Grov I, Relbo Authen A, Dew MA, Gullestad L (2021)
Symptoms of anxiety after heart transplantation and their association with mortality: A secondary analysis
Clin Transplant, 35 (7), e14323
DOI 10.1111/ctr.14323, PubMed 33882158
Didriksen H, Molberg Ø, Fretheim H, Gude E, Jordan S, Brunborg C, Palchevskiy V, Garen T, Midtvedt Ø, Andreassen AK, Distler O, Belperio J, Hoffmann-Vold AM (2021)
Association of Lymphangiogenic Factors With Pulmonary Arterial Hypertension in Systemic Sclerosis
Arthritis Rheumatol, 73 (7), 1277-1287
DOI 10.1002/art.41665, PubMed 33497027
Gude E, Fiane AE (2021)
Can mechanical circulatory support be an effective treatment for HFpEF patients?
Heart Fail Rev, 28 (2), 297-305
DOI 10.1007/s10741-021-10154-1, PubMed 34370150
Inoue K, Khan FH, Remme EW, Ohte N, García-Izquierdo E, Chetrit M, Moñivas-Palomero V, Mingo-Santos S, Andersen ØS, Gude E, Andreassen AK, Wang TKM, Kikuchi S, Stugaard M, Ha JW, Klein AL, Nagueh SF, Smiseth OA (2021)
Determinants of left atrial reservoir and pump strain and use of atrial strain for evaluation of left ventricular filling pressure
Eur Heart J Cardiovasc Imaging, 23 (1), 61-70
DOI 10.1093/ehjci/jeaa415, PubMed 33496314
Inoue K, Khan FH, Remme EW, Ohte N, García-Izquierdo E, Chetrit M, Moñivas-Palomero V, Mingo-Santos S, Andersen ØS, Gude E, Andreassen AK, Wang TKM, Kikuchi S, Stugaard M, Ha JW, Klein AL, Nagueh SF, Smiseth OA (2021)
Corrigendum to: Determinants of left atrial reservoir and pump strain and use of atrial strain for evaluation of left ventricular filling pressure
Eur Heart J Cardiovasc Imaging, 23 (1), 136
DOI 10.1093/ehjci/jeab194, PubMed 34608485
Lauppe RE, Liseth Hansen J, Gerdesköld C, Rozenbaum MH, Strand AM, Vakevainen M, Kuusisto J, Gude E, Gustafsson F, Smith JG (2021)
Nationwide prevalence and characteristics of transthyretin amyloid cardiomyopathy in Sweden
Open Heart, 8 (2)
DOI 10.1136/openhrt-2021-001755, PubMed 34645699
Publications 2020
Bergh N, Gude E, Bartfay SE, K Andreassen A, Arora S, Dahlberg P, Dellgren G, Gullestad L, Gustafsson F, Karason K, Rådegran G, Bollano E, Andersson B (2020)
Invasive haemodynamics in de novo everolimus vs. calcineurin inhibitor heart transplant recipients
ESC Heart Fail, 7 (2), 567-576
DOI 10.1002/ehf2.12608, PubMed 32059083
Broch K, Gude E, Karason K, Dellgren G, Rådegran G, Gjesdal G, Gustafsson F, Eiskjaer H, Lommi J, Pentikäinen M, Lemström KB, Andreassen AK, Gullestad L (2020)
Cholesterol lowering with EVOLocumab to prevent cardiac allograft Vasculopathy in De-novo heart transplant recipients: Design of the randomized controlled EVOLVD trial
Clin Transplant, 34 (9), e13984
DOI 10.1111/ctr.13984, PubMed 32445429
Broch K, Popperud T, Gude E, Fløisand Y, Antal EA, Bosse G, Jonsrud C, Hegard T, Skaara S, Elsais A (2020)
A Middle-Aged Man Presenting With Progressive Heart Failure, Myopathy, and Monoclonal Gammopathy of Uncertain Significance
JACC Case Rep, 2 (5), 785-789
DOI 10.1016/j.jaccas.2020.02.024, PubMed 34317348
Gude E, Hoel TN, Sørensen G, Broch K, Meyer A, Fiane AE (2020)
Long-term continuous flow mechanical biventricular support: 9 years and counting
Interact Cardiovasc Thorac Surg, 30 (1), 81-84
DOI 10.1093/icvts/ivz231, PubMed 31580433
Gustafsson F, Andreassen AK, Andersson B, Eiskjær H, Rådegran G, Gude E, Jansson K, Solbu D, Karason K, Arora S, Dellgren G, Gullestad L, SCHEDULE (Scandinavian heart transplant everolimus de novo study with early calcineurin inhibitors avoidance) Investigators* (2020)
Everolimus Initiation With Early Calcineurin Inhibitor Withdrawal in De Novo Heart Transplant Recipients: Long-term Follow-up From the Randomized SCHEDULE Study
Transplantation, 104 (1), 154-164
DOI 10.1097/TP.0000000000002702, PubMed 30893292
Nelson LM, Andreassen AK, Arora S, Andersson B, Gude E, Eiskjaer H, Rådegran G, Dellgren G, Gullestad L, Gustafsson F (2020)
Mild acute cellular rejection and development of cardiac allograft vasculopathy assessed by intravascular ultrasound and coronary angiography in heart transplant recipients-a SCHEDULE trial substudy
Transpl Int, 33 (5), 517-528
DOI 10.1111/tri.13577, PubMed 31958178
Rolid K, Andreassen AK, Yardley M, Gude E, Bjørkelund E, Authen AR, Grov I, Broch K, Gullestad L, Nytrøen K (2020)
Long-term effects of high-intensity training vs moderate intensity training in heart transplant recipients: A 3-year follow-up study of the randomized-controlled HITTS study
Am J Transplant, 20 (12), 3538-3549
DOI 10.1111/ajt.16087, PubMed 32484261
Rolid K, Andreassen AK, Yardley M, Gude E, Bjørkelund E, Authen AR, Grov I, Pettersen KI, Dall CH, Karason K, Broch K, Gullestad L, Nytrøen K (2020)
High-intensity interval training and health-related quality of life in de novo heart transplant recipients - results from a randomized controlled trial
Health Qual Life Outcomes, 18 (1), 283
DOI 10.1186/s12955-020-01536-4, PubMed 32807179
Publications 2019
Andreassen AK, Broch K, Eiskjær H, Karason K, Gude E, Mølbak D, Stueflotten W, Gullestad L, SCHEDULE (SCandinavian HEart transplant everolimus De-novo stUdy with earLy calcineurin inhibitors avoidancE) Investigators (2019)
Blood Pressure in De Novo Heart Transplant Recipients Treated With Everolimus Compared With a Cyclosporine-based Regimen: Results From the Randomized SCHEDULE Trial
Transplantation, 103 (4), 781-788
DOI 10.1097/TP.0000000000002445, PubMed 30211826
Bendz B, Gude E, Ragnarsson A, Endresen K, Aaberge L, Geiran O, Simonsen S (2019)
Intra-aortic balloon pump in acute chest pain and cardiogenic shock - a long-term follow-up
Scand Cardiovasc J, 53 (6), 337-341
DOI 10.1080/14017431.2019.1657938, PubMed 31476881
Bürker BS, Gullestad L, Gude E, Havik OE, Relbo Authen A, Grov I, Andreassen AK, Fiane AE, Haraldsen IR, Dew MA, Andersson S, Malt UF (2019)
The Predictive Value of Depression in the Years After Heart Transplantation for Mortality During Long-Term Follow-Up
Psychosom Med, 81 (6), 513-520
DOI 10.1097/PSY.0000000000000702, PubMed 31033937
Nytrøen K, Rolid K, Andreassen AK, Yardley M, Gude E, Dahle DO, Bjørkelund E, Relbo Authen A, Grov I, Philip Wigh J, Have Dall C, Gustafsson F, Karason K, Gullestad L (2019)
Effect of High-Intensity Interval Training in De Novo Heart Transplant Recipients in Scandinavia
Circulation, 139 (19), 2198-2211
DOI 10.1161/CIRCULATIONAHA.118.036747, PubMed 30773030
Smiseth OA, Kjeldsen SE, Andersen OS, Mistry N, Westheim AS, Skulstad H, Gude E (2019)
Heart Failure with normal ejection fraction
Tidsskr. Nor. Laegeforen., 139 (6), 522-527
Smiseth OA, Kjeldsen SE, Andersen ØS, Mistry N, Westheim AS, Skulstad H, Gude E (2019)
[Heart failure with preserved ejection fraction]
Tidsskr Nor Laegeforen, 139 (6)
DOI 10.4045/tidsskr.18.0523, PubMed 30917641
Tennøe AH, Murbræch K, Andreassen JC, Fretheim H, Midtvedt Ø, Garen T, Dalen H, Gude E, Andreassen A, Aakhus S, Molberg Ø, Hoffmann-Vold AM (2019)
Systolic Dysfunction in Systemic Sclerosis: Prevalence and Prognostic Implications
ACR Open Rheumatol, 1 (4), 258-266
DOI 10.1002/acr2.1037, PubMed 31777802
Trøseid M, Mayerhofer CCK, Broch K, Arora S, Svardal A, Hov JR, Andreassen AK, Gude E, Karason K, Dellgren G, Berge RK, Gullestad L, Aukrust P, Ueland T (2019)
The carnitine-butyrobetaine-TMAO pathway after cardiac transplant: Impact on cardiac allograft vasculopathy and acute rejection
J Heart Lung Transplant, 38 (10), 1097-1103
DOI 10.1016/j.healun.2019.06.003, PubMed 31301965
Publications 2018
Arora S, Andreassen AK, Karason K, Gustafsson F, Eiskjær H, Bøtker HE, Rådegran G, Gude E, Ioanes D, Solbu D, Dellgren G, Ueland T, Aukrust P, Gullestad L, SCHEDULE (Scandinavian Heart Transplant Everolimus De Novo Study With Early Calcineurin Inhibitors Avoidance) Investigators (2018)
Effect of Everolimus Initiation and Calcineurin Inhibitor Elimination on Cardiac Allograft Vasculopathy in De Novo Heart Transplant Recipients
Circ Heart Fail, 11 (9), e004050
DOI 10.1161/CIRCHEARTFAILURE.117.004050, PubMed 30354362
Hoffmann-Vold AM, Fretheim H, Midtvedt Ø, Kilian K, Angelshaug M, Chaudhary A, Gunnarsson R, Brunborg C, Garen T, Andreassen AK, Gude E, Molberg Ø (2018)
Frequencies of borderline pulmonary hypertension before and after the DETECT algorithm: results from a prospective systemic sclerosis cohort
Rheumatology (Oxford), 57 (3), 480-487
DOI 10.1093/rheumatology/kex435, PubMed 29237073
Nagueh SF, Smiseth OA, Dokainish H, Andersen OS, Abudiab MM, Schutt RC, Kumar A, Gude E, Sato K, Harb SC, Klein AL (2018)
Mean Right Atrial Pressure for Estimation of Left Ventricular Filling Pressure in Patients with Normal Left Ventricular Ejection Fraction: Invasive and Noninvasive Validation
J Am Soc Echocardiogr, 31 (7), 799-806
DOI 10.1016/j.echo.2018.01.025, PubMed 29580694
Norum HM, Michelsen AE, Lekva T, Arora S, Otterdal K, Olsen MB, Kong XY, Gude E, Andreassen AK, Solbu D, Karason K, Dellgren G, Gullestad L, Aukrust P, Ueland T (2018)
Circulating delta-like Notch ligand 1 is correlated with cardiac allograft vasculopathy and suppressed in heart transplant recipients on everolimus-based immunosuppression
Am J Transplant, 19 (4), 1050-1060
DOI 10.1111/ajt.15141, PubMed 30312541
Tennøe AH, Murbræch K, Andreassen JC, Fretheim H, Garen T, Gude E, Andreassen A, Aakhus S, Molberg Ø, Hoffmann-Vold AM (2018)
Left Ventricular Diastolic Dysfunction Predicts Mortality in Patients With Systemic Sclerosis
J Am Coll Cardiol, 72 (15), 1804-1813
DOI 10.1016/j.jacc.2018.07.068, PubMed 30286924
Publications 2017
Andersen OS, Smiseth OA, Dokainish H, Abudiab MM, Schutt RC, Kumar A, Sato K, Harb S, Gude E, Remme EW, Andreassen AK, Ha JW, Xu J, Klein AL, Nagueh SF (2017)
Estimating Left Ventricular Filling Pressure by Echocardiography
J Am Coll Cardiol, 69 (15), 1937-1948
DOI 10.1016/j.jacc.2017.01.058, PubMed 28408024
Bürker BS, Gude E, Gullestad L, Grov I, Relbo Authen A, Andreassen AK, Havik OE, Dew MA, Fiane AE, Haraldsen IR, Malt UF, Andersson S (2017)
Cognitive function among long-term survivors of heart transplantation
Clin Transplant, 31 (12)
DOI 10.1111/ctr.13143, PubMed 29055147
Bürker BS, Gullestad L, Gude E, Relbo Authen A, Grov I, Hol PK, Andreassen AK, Arora S, Dew MA, Fiane AE, Haraldsen IR, Malt UF, Andersson S (2017)
Cognitive function after heart transplantation: Comparing everolimus-based and calcineurin inhibitor-based regimens
Clin Transplant, 31 (4)
DOI 10.1111/ctr.12927, PubMed 28185318
Gude E, Gullestad L, Andreassen AK (2017)
Everolimus immunosuppression for renal protection, reduction of allograft vasculopathy and prevention of allograft rejection in de-novo heart transplant recipients: could we have it all?
Curr Opin Organ Transplant, 22 (3), 198-206
DOI 10.1097/MOT.0000000000000409, PubMed 28463861
Günther A, Andersen R, Gude E, Jakobsen J, Edvardsen T, Sandvik L, Abildgaard A, Aaberge L, Gullestad L (2017)
The predictive value of coronary artery calcium detected by computed tomography in a prospective study on cardiac allograft vasculopathy in heart transplant patients
Transpl Int, 31 (1), 82-91
DOI 10.1111/tri.13057, PubMed 28865096
Nelson LM, Andreassen AK, Andersson B, Gude E, Eiskjær H, Rådegran G, Dellgren G, Gullestad L, Gustafsson F (2017)
Effect of Calcineurin Inhibitor-Free, Everolimus-Based Immunosuppressive Regimen on Albuminuria and Glomerular Filtration Rate After Heart Transplantation
Transplantation, 101 (11), 2793-2800
DOI 10.1097/TP.0000000000001706, PubMed 28230646
Relbo Authen A, Grov I, Karason K, Gustafsson F, Eiskjaer H, Rådegran G, Gude E, Jansson K, Dellgren G, Solbu D, Arora S, Andreassen AK, Gullestad L (2017)
Effect of everolimus vs calcineurin inhibitors on quality of life in heart transplant recipients during a 3-year follow-up: Results of a randomized controlled trial (SCHEDULE)
Clin Transplant, 31 (9)
DOI 10.1111/ctr.13038, PubMed 28640529
Rizvi SMH, Aagnes B, Holdaas H, Gude E, Boberg KM, Bjørtuft Ø, Helsing P, Leivestad T, Møller B, Gjersvik P (2017)
Long-term Change in the Risk of Skin Cancer After Organ Transplantation: A Population-Based Nationwide Cohort Study
JAMA Dermatol, 153 (12), 1270-1277
DOI 10.1001/jamadermatol.2017.2984, PubMed 29049612
Publications 2016
Andreassen AK, Andersson B, Gustafsson F, Eiskjaer H, Rådegran G, Gude E, Jansson K, Solbu D, Karason K, Arora S, Dellgren G, Gullestad L, SCHEDULE investigators (2016)
Everolimus Initiation With Early Calcineurin Inhibitor Withdrawal in De Novo Heart Transplant Recipients: Three-Year Results From the Randomized SCHEDULE Study
Am J Transplant, 16 (4), 1238-47
DOI 10.1111/ajt.13588, PubMed 26820618
Gullestad L, Eiskjaer H, Gustafsson F, Riise GC, Karason K, Dellgren G, Rådegran G, Hansson L, Gude E, Bjørtuft Ø, Jansson K, Schultz HH, Solbu D, Iversen M (2016)
Long-term outcomes of thoracic transplant recipients following conversion to everolimus with reduced calcineurin inhibitor in a multicenter, open-label, randomized trial
Transpl Int, 29 (7), 819-29
DOI 10.1111/tri.12783, PubMed 27067532
Mishra V, Fiane AE, Winsnes BA, Geiran O, Sørensen G, Hagen TP, Gude E (2016)
Cardiac replacement therapies: outcomes and costs for heart transplantation versus circulatory assist
Scand Cardiovasc J, 51 (1), 1-7
DOI 10.1080/14017431.2016.1196826, PubMed 27248460
Rashidi M, Esmaily S, Fiane AE, Gude E, A Tønseth K, Ueland T, Gustafsson F, Eiskjær H, Rådegran G, Dellgren G (2016)
Wound complications and surgical events in de novo heart transplant patients treated with everolimus: Post-hoc analysis of the SCHEDULE trial
Int J Cardiol, 210, 80-4
DOI 10.1016/j.ijcard.2016.02.075, PubMed 26938682
Solberg OG, Stavem K, Ragnarsson A, Ioanes D, Arora S, Endresen K, Benth JŠ, Gullestad L, Gude E, Andreassen AK, Aaberge L (2016)
Index of microvascular resistance after early conversion from calcineurin inhibitor to everolimus in heart transplantation: A sub-study to a 1-year randomized trial
J Heart Lung Transplant, 35 (8), 1010-7
DOI 10.1016/j.healun.2016.03.002, PubMed 27113960
Publications 2015
Arora S, Andreassen AK, Andersson B, Gustafsson F, Eiskjaer H, Bøtker HE, Rådegran G, Gude E, Ioanes D, Solbu D, Sigurdardottir V, Dellgren G, Erikstad I, Solberg OG, Ueland T, Aukrust P, Gullestad L, SCHEDULE (SCandinavian HEart transplant everolimus De novo stUdy with earLy calcineurin inhibitors avoidancE) Investigators (2015)
The Effect of Everolimus Initiation and Calcineurin Inhibitor Elimination on Cardiac Allograft Vasculopathy in De Novo Recipients: One-Year Results of a Scandinavian Randomized Trial
Am J Transplant, 15 (7), 1967-75
DOI 10.1111/ajt.13214, PubMed 25783974
Broch K, Murbraech K, Ragnarsson A, Gude E, Andersen R, Fiane AE, Andreassen J, Aakhus S, Andreassen AK (2015)
Echocardiographic evidence of right ventricular functional improvement after balloon pulmonary angioplasty in chronic thromboembolic pulmonary hypertension
J Heart Lung Transplant, 35 (1), 80-86
DOI 10.1016/j.healun.2015.08.007, PubMed 26476768
Publications 2014
Andreassen AK, Andersson B, Gustafsson F, Eiskjaer H, Radegran G, Gude E, Jansson K, Solbu D, Sigurdardottir V, Arora S, Dellgren G, Gullestad L, SCHEDULE Investigators (2014)
Everolimus initiation and early calcineurin inhibitor withdrawal in heart transplant recipients: a randomized trial
Am J Transplant, 14 (8), 1828-38
DOI 10.1111/ajt.12809, PubMed 25041227
Anfinsen OG, Gude E, Andersen R, Ragnarsson A (2014)
Haemodynamic measurements before and after angioplasty in post-ablation pulmonary vein stenosis
Int J Cardiol, 172 (3), e391-2
DOI 10.1016/j.ijcard.2013.12.268, PubMed 24447753
Apelland T, Gude E, Strøm EH, Gullestad L, Eiklid KL, Månsson JE, Reinholt FP, Houge G, Dahl CP, Almaas VM, Heiberg A (2014)
Familial globotriaosylceramide-associated cardiomyopathy mimicking Fabry disease
Heart, 100 (22), 1793-8
DOI 10.1136/heartjnl-2014-305616, PubMed 25031264
Broch K, Al-Ani A, Gude E, Gullestad L, Aakhus S (2014)
Echocardiographic evaluation of left ventricular filling pressure in heart transplant recipients
Scand Cardiovasc J, 48 (6), 349-56
DOI 10.3109/14017431.2014.981579, PubMed 25414078
Gustafsson F, Gude E, Sigurdardottir V, Aukrust P, Solbu D, Goetze JP, Gullestad L (2014)
Plasma NGAL and glomerular filtration rate in cardiac transplant recipients treated with standard or reduced calcineurin inhibitor levels
Biomark Med, 8 (2), 239-45
DOI 10.2217/bmm.13.95, PubMed 24521021
Heimdal K, Sanchez-Guixé M, Aukrust I, Bollerslev J, Bruland O, Jablonski GE, Erichsen AK, Gude E, Koht JA, Erdal S, Fiskerstrand T, Haukanes BI, Boman H, Bjørkhaug L, Tallaksen CM, Knappskog PM, Johansson S (2014)
STUB1 mutations in autosomal recessive ataxias - evidence for mutation-specific clinical heterogeneity
Orphanet J Rare Dis, 9, 146
DOI 10.1186/s13023-014-0146-0, PubMed 25258038
Trøseid M, Ueland T, Hov JR, Svardal A, Gregersen I, Dahl CP, Aakhus S, Gude E, Bjørndal B, Halvorsen B, Karlsen TH, Aukrust P, Gullestad L, Berge RK, Yndestad A (2014)
Microbiota-dependent metabolite trimethylamine-N-oxide is associated with disease severity and survival of patients with chronic heart failure
J Intern Med, 277 (6), 717-26
DOI 10.1111/joim.12328, PubMed 25382824
Publications 2013
Andreassen AK, Ragnarsson A, Gude E, Geiran O, Andersen R (2013)
Balloon pulmonary angioplasty in patients with inoperable chronic thromboembolic pulmonary hypertension
Heart, 99 (19), 1415-20
DOI 10.1136/heartjnl-2012-303549, PubMed 23846611
Nytrøen K, Rustad LA, Erikstad I, Aukrust P, Ueland T, Lekva T, Gude E, Wilhelmsen N, Hervold A, Aakhus S, Gullestad L, Arora S (2013)
Effect of high-intensity interval training on progression of cardiac allograft vasculopathy
J Heart Lung Transplant, 32 (11), 1073-80
DOI 10.1016/j.healun.2013.06.023, PubMed 23906899
Publications 2012
Arora S, Erikstad I, Ueland T, Sigurdardottir V, Ekmehag B, Jansson K, Eiskjaer H, Bøtker HE, Mortensen SA, Saunamaki K, Gude E, Ragnarsson A, Solbu D, Aukrust P, Gullestad L (2012)
Virtual histology assessment of cardiac allograft vasculopathy following introduction of everolimus--results of a multicenter trial
Am J Transplant, 12 (10), 2700-9
DOI 10.1111/j.1600-6143.2012.04234.x, PubMed 22958738
Arora S, Gude E, Sigurdardottir V, Mortensen SA, Eiskjær H, Riise G, Mared L, Bjørtuft O, Ekmehag B, Jansson K, Simonsen S, Aukrust P, Solbu D, Iversen M, Gullestad L (2012)
Improvement in renal function after everolimus introduction and calcineurin inhibitor reduction in maintenance thoracic transplant recipients: the significance of baseline glomerular filtration rate
J Heart Lung Transplant, 31 (3), 259-65
DOI 10.1016/j.healun.2011.12.010, PubMed 22333403
Nytrøen K, Rustad LA, Gude E, Hallén J, Fiane AE, Rolid K, Holm I, Aakhus S, Gullestad L (2012)
Muscular exercise capacity and body fat predict VO(2peak) in heart transplant recipients
Eur J Prev Cardiol, 21 (1), 21-9
DOI 10.1177/2047487312450540, PubMed 22659939
Sarvari SI, Gjesdal O, Gude E, Arora S, Andreassen AK, Gullestad L, Geiran O, Edvardsen T (2012)
Early postoperative left ventricular function by echocardiographic strain is a predictor of 1-year mortality in heart transplant recipients
J Am Soc Echocardiogr, 25 (9), 1007-14
DOI 10.1016/j.echo.2012.05.010, PubMed 22727199
Sigurdardottir V, Bjortuft O, Eiskjær H, Ekmehag B, Gude E, Gustafsson F, Hagerman I, Halme M, Lommi J, Mared L, Riise GC, Simonsen S (2012)
Long-term follow-up of lung and heart transplant recipients with pre-transplant malignancies
J Heart Lung Transplant, 31 (12), 1276-80
DOI 10.1016/j.healun.2012.09.007, PubMed 23089300
Sikkeland LI, Dahl CP, Ueland T, Andreassen AK, Gude E, Edvardsen T, Holm T, Yndestad A, Gullestad L, Kongerud J, Aukrust P, Øie E (2012)
Increased levels of inflammatory cytokines and endothelin-1 in alveolar macrophages from patients with chronic heart failure
PLoS One, 7 (5), e36815
DOI 10.1371/journal.pone.0036815, PubMed 22615818
Publications 2011
Andreassen AK, Gude E, Solberg OG, Ueland T (2011)
[Treatment of idiopathic pulmonary arterial hypertension]
Tidsskr Nor Laegeforen, 131 (13-14), 1285-8
DOI 10.4045/tidsskr.10.0053, PubMed 21725387
Arora S, Ueland T, Wennerblom B, Sigurdadottir V, Eiskjær H, Bøtker HE, Ekmehag B, Jansson K, Mortensen SA, Saunamaki K, Simonsen S, Gude E, Bendz B, Solbu D, Aukrust P, Gullestad L (2011)
Effect of everolimus introduction on cardiac allograft vasculopathy--results of a randomized, multicenter trial
Transplantation, 92 (2), 235-43
DOI 10.1097/TP.0b013e31822057f1, PubMed 21677600
Estensen M, Gude E, Ekmehag B, Lommi J, Bjortuft O, Mortensen S, Nystrom UM, Simonsen S (2011)
Pregnancy in heart- and heart/lung recipients can be problematic
Scand Cardiovasc J, 45 (6), 349-53
DOI 10.3109/14017431.2011.605168, PubMed 21879798
Timms D, Gude E, Gaddum N, Lim E, Greatrex N, Wong K, Steinseifer U, Lovell N, Fraser J, Fiane A (2011)
Assessment of right pump outflow banding and speed changes on pulmonary hemodynamics during biventricular support with two rotary left ventricular assist devices
Artif Organs, 35 (8), 807-13
DOI 10.1111/j.1525-1594.2011.01283.x, PubMed 21726243
Publications 2010
Arora S, Gunther A, Wennerblom B, Ueland T, Andreassen AK, Gude E, Endresen K, Geiran O, Wilhelmsen N, Andersen R, Aukrust P, Gullestad L (2010)
Systemic markers of inflammation are associated with cardiac allograft vasculopathy and an increased intimal inflammatory component
Am J Transplant, 10 (6), 1428-36
DOI 10.1111/j.1600-6143.2010.03118.x, PubMed 20486911
Gude E, Andreassen AK, Arora S, Gullestad L, Grov I, Hartmann A, Leivestad T, Fiane AE, Geiran OR, Vardal M, Simonsen S (2010)
Acute renal failure early after heart transplantation: risk factors and clinical consequences
Clin Transplant, 24 (6), E207-13
DOI 10.1111/j.1399-0012.2010.01225.x, PubMed 20184627
Gude E, Gullestad L, Arora S, Simonsen S, Hoel I, Hartmann A, Holdaas H, Fiane AE, Geiran OR, Andreassen AK (2010)
Benefit of early conversion from CNI-based to everolimus-based immunosuppression in heart transplantation
J Heart Lung Transplant, 29 (6), 641-7
DOI 10.1016/j.healun.2010.01.005, PubMed 20304681
Gullestad L, Iversen M, Mortensen SA, Eiskjaer H, Riise GC, Mared L, Bjørtuft O, Ekmehag B, Jansson K, Simonsen S, Gude E, Rundqvist B, Fagertun HE, Solbu D, Bergh CH (2010)
Everolimus with reduced calcineurin inhibitor in thoracic transplant recipients with renal dysfunction: a multicenter, randomized trial
Transplantation, 89 (7), 864-72
DOI 10.1097/TP.0b013e3181cbac2d, PubMed 20061999
Gullestad L, Mortensen SA, Eiskjær H, Riise GC, Mared L, Bjørtuft O, Ekmehag B, Jansson K, Simonsen S, Gude E, Rundqvist B, Fagertun HE, Solbu D, Iversen M (2010)
Two-year outcomes in thoracic transplant recipients after conversion to everolimus with reduced calcineurin inhibitor within a multicenter, open-label, randomized trial
Transplantation, 90 (12), 1581-9
DOI 10.1097/TP.0b013e3181fd01b7, PubMed 21030905
Publications 2009
Arora S, Aukrust P, Andreassen A, Simonsen S, Gude E, Grov I, Geiran O, Fiane A, Gullestad L (2009)
The prognostic importance of modifiable risk factors after heart transplantation
Am Heart J, 158 (3), 431-6
DOI 10.1016/j.ahj.2009.05.036, PubMed 19699867
Arora S, Aukrust P, Ueland T, Broch K, Simonsen S, Gude E, Fiane AE, Geiran O, Wergeland R, Andreassen AK, Gullestad L (2009)
Elevated serum uric acid levels following heart transplantation predict all-cause and cardiac mortality
Eur J Heart Fail, 11 (10), 1005-13
DOI 10.1093/eurjhf/hfp115, PubMed 19737803
Broch K, Gude E, Scott H, Aakhus S (2009)
[A patient with aortic stenosis and reduced left ventricular function]
Tidsskr Nor Laegeforen, 129 (20), 2119-21
DOI 10.4045/tidsskr.08.0622, PubMed 19855451
Gjesdal O, Gude E, Arora S, Leivestad T, Andreassen AK, Gullestad L, Aaberge L, Brunvand H, Edvardsen T, Geiran OR, Simonsen S (2009)
Intra-aortic balloon counterpulsation as a bridge to heart transplantation does not impair long-term survival
Eur J Heart Fail, 11 (7), 709-14
DOI 10.1093/eurjhf/hfp078, PubMed 19515719
Gude E, Simonsen S, Geiran OR, Fiane AE, Gullestad L, Arora S, Relbo A, Andreassen AK (2009)
Pulmonary hypertension in heart transplantation: discrepant prognostic impact of pre-operative compared with 1-year post-operative right heart hemodynamics
J Heart Lung Transplant, 29 (2), 216-23
DOI 10.1016/j.healun.2009.08.021, PubMed 19837606
Publications 2007
Arora S, Andreassen A, Simonsen S, Gude E, Dahl C, Skaardal R, Hoel I, Geiran O, Gullestad L (2007)
Prognostic importance of renal function 1 year after heart transplantation for all-cause and cardiac mortality and development of allograft vasculopathy
Transplantation, 84 (2), 149-54
DOI 10.1097/01.tp.0000268810.61393.2c, PubMed 17667805
Arora S, Jenum PA, Aukrust P, Rollag H, Andreassen AK, Simonsen S, Gude E, Fiane AE, Geiran O, Gullestad L (2007)
Pre-transplant Toxoplasma gondii seropositivity among heart transplant recipients is associated with an increased risk of all-cause and cardiac mortality
J Am Coll Cardiol, 50 (20), 1967-72
DOI 10.1016/j.jacc.2007.07.068, PubMed 17996562