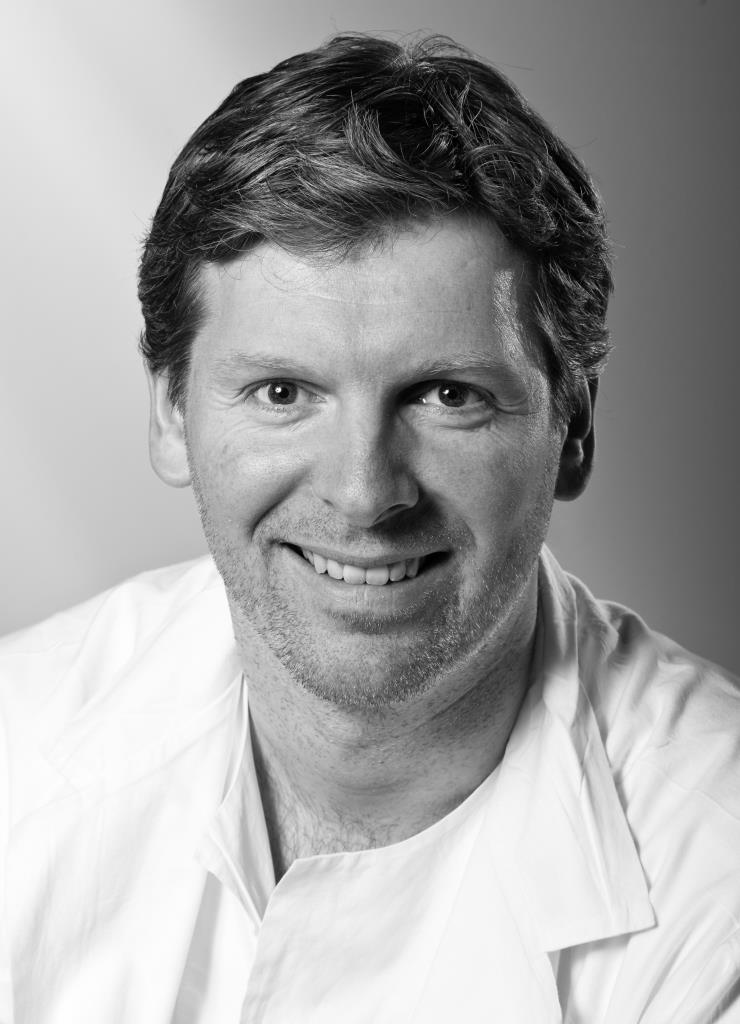 Christen Peder Dahl
Postdoctoral research fellow; MD, PhD
+47 230 70638
Christen Peder Dahl successfully defended his thesis "Inflammatory cytokines in heart failure – Potential role as mediators and biomarkers." in December 2010.
Immune activation and inflammation may be involved in the development of chronic heart failure.
The goal of the studies in this thesis was to uncover new mediators that may contribute to the development of heart failure, with a particular focus on participants in inflammatory reactions.

We have shown that several substances that promote inflammation are up-regulated in both clinical and experimental heart failure. In laboratory experiments, we have shown that these substances can promote further inflammation of blood cells as well as cause breakdown of connective tissue in the heart. We have also shown that measurement of osteoprotegerin in the blood, a marker of inflammation and calcification, was able to provide independent prognostic information in a large population of heart failure patients.
Finally, we showed that mediators from the lungs can also contribute to increased inflammation in heart failure patients. We have already identified new prognostic markers in this condition, and in the long run our results may lead to completely new forms of treatment in patients with heart failure.
Publications 2023
Vistnes M, Erusappan PM, Sasi A, Nordén ES, Bergo KK, Romaine A, Lunde IG, Zhang L, Olsen MB, Øgaard J, Carlson CR, Wang CH, Riise J, Dahl CP, Fiane AE, Hauge-Iversen IM, Espe E, Melleby AO, Tønnessen T, Aronsen JM, Sjaastad I, Christensen G (2023)
Inhibition of the extracellular enzyme A disintegrin and metalloprotease with thrombospondin motif 4 prevents cardiac fibrosis and dysfunction
Cardiovasc Res, 119 (10), 1915-1927
DOI 10.1093/cvr/cvad078, PubMed 37216909
Publications 2022
Rixon C, Andreassen K, Shen X, Erusappan PM, Almaas VM, Palmero S, Dahl CP, Ueland T, Sjaastad I, Louch WE, Stokke MK, Tønnessen T, Christensen G, Lunde IG (2022)
Lumican accumulates with fibrillar collagen in fibrosis in hypertrophic cardiomyopathy
ESC Heart Fail, 10 (2), 858-871
DOI 10.1002/ehf2.14234, PubMed 36444917
Rypdal KB, Olav Melleby A, Robinson EL, Li J, Palmero S, Seifert DE, Martin D, Clark C, López B, Andreassen K, Dahl CP, Sjaastad I, Tønnessen T, Stokke MK, Louch WE, González A, Heymans S, Christensen G, Apte SS, Lunde IG (2022)
ADAMTSL3 knock-out mice develop cardiac dysfunction and dilatation with increased TGFβ signalling after pressure overload
Commun Biol, 5 (1), 1392
DOI 10.1038/s42003-022-04361-1, PubMed 36539599
Publications 2021
Frisk M, Le C, Shen X, Røe ÅT, Hou Y, Manfra O, Silva GJJ, van Hout I, Norden ES, Aronsen JM, Laasmaa M, Espe EKS, Zouein FA, Lambert RR, Dahl CP, Sjaastad I, Lunde IG, Coffey S, Cataliotti A, Gullestad L, Tønnessen T, Jones PP, Altara R, Louch WE (2021)
Etiology-Dependent Impairment of Diastolic Cardiomyocyte Calcium Homeostasis in Heart Failure With Preserved Ejection Fraction
J Am Coll Cardiol, 77 (4), 405-419
DOI 10.1016/j.jacc.2020.11.044, PubMed 33509397
Rypdal KB, Erusappan PM, Melleby AO, Seifert DE, Palmero S, Strand ME, Tønnessen T, Dahl CP, Almaas V, Hubmacher D, Apte SS, Christensen G, Lunde IG (2021)
The extracellular matrix glycoprotein ADAMTSL2 is increased in heart failure and inhibits TGFβ signalling in cardiac fibroblasts
Sci Rep, 11 (1), 19757
DOI 10.1038/s41598-021-99032-2, PubMed 34611183
Publications 2020
Louwe MC, Olsen MB, Kaasbøll OJ, Yang K, Fosshaug LE, Alfsnes K, Øgaard JDS, Rashidi A, Skulberg VM, Yang M, de Miranda Fonseca D, Sharma A, Aronsen JM, Schrumpf E, Ahmed MS, Dahl CP, Nyman TA, Ueland T, Melum E, Halvorsen BE, Bjørås M, Attramadal H, Sjaastad I, Aukrust P, Yndestad A (2020)
Absence of NLRP3 Inflammasome in Hematopoietic Cells Reduces Adverse Remodeling After Experimental Myocardial Infarction
JACC Basic Transl Sci, 5 (12), 1210-1224
DOI 10.1016/j.jacbts.2020.09.013, PubMed 33426377
Publications 2019
Lorén CE, Dahl CP, Do L, Almaas VM, Geiran OR, Mörner S, Hellman U (2019)
Low Molecular Mass Myocardial Hyaluronan in Human Hypertrophic Cardiomyopathy
Cells, 8 (2)
DOI 10.3390/cells8020097, PubMed 30699940
Publications 2018
Andenæs K, Lunde IG, Mohammadzadeh N, Dahl CP, Aronsen JM, Strand ME, Palmero S, Sjaastad I, Christensen G, Engebretsen KVT, Tønnessen T (2018)
The extracellular matrix proteoglycan fibromodulin is upregulated in clinical and experimental heart failure and affects cardiac remodeling
PLoS One, 13 (7), e0201422
DOI 10.1371/journal.pone.0201422, PubMed 30052659
Hiis HG, Cosson MV, Dahl CP, Fiane AE, Levy FO, Andersen GØ, Krobert KA (2018)
Hypothermia elongates the contraction-relaxation cycle in explanted human failing heart decreasing the time for ventricular filling during diastole
Am J Physiol Heart Circ Physiol, 315 (5), H1137-H1147
DOI 10.1152/ajpheart.00208.2018, PubMed 30004809
Skarpengland T, Skjelland M, Kong XY, Skagen K, Holm S, Otterdal K, Dahl CP, Krohg-Sørensen K, Sagen EL, Bjerkeli V, Aamodt AH, Abbas A, Gregersen I, Aukrust P, Halvorsen B, Dahl TB (2018)
Increased Levels of Lectin-Like Oxidized Low-Density Lipoprotein Receptor-1 in Ischemic Stroke and Transient Ischemic Attack
J Am Heart Assoc, 7 (2)
DOI 10.1161/JAHA.117.006479, PubMed 29330254
Publications 2017
Abraityte A, Lunde IG, Askevold ET, Michelsen AE, Christensen G, Aukrust P, Yndestad A, Fiane A, Andreassen A, Aakhus S, Dahl CP, Gullestad L, Broch K, Ueland T (2017)
Wnt5a is associated with right ventricular dysfunction and adverse outcome in dilated cardiomyopathy
Sci Rep, 7 (1), 3490
DOI 10.1038/s41598-017-03625-9, PubMed 28615692
Abraityte A, Vinge LE, Askevold ET, Lekva T, Michelsen AE, Ranheim T, Alfsnes K, Fiane A, Aakhus S, Lunde IG, Dahl CP, Aukrust P, Christensen G, Gullestad L, Yndestad A, Ueland T (2017)
Wnt5a is elevated in heart failure and affects cardiac fibroblast function
J Mol Med (Berl), 95 (7), 767-777
DOI 10.1007/s00109-017-1529-1, PubMed 28357477
Mayerhofer CCK, Ueland T, Broch K, Vincent RP, Cross GF, Dahl CP, Aukrust P, Gullestad L, Hov JR, Trøseid M (2017)
Increased Secondary/Primary Bile Acid Ratio in Chronic Heart Failure
J Card Fail, 23 (9), 666-671
DOI 10.1016/j.cardfail.2017.06.007, PubMed 28688889
Norum HM, Broch K, Michelsen AE, Lunde IG, Lekva T, Abraityte A, Dahl CP, Fiane AE, Andreassen AK, Christensen G, Aakhus S, Aukrust P, Gullestad L, Ueland T (2017)
The Notch Ligands DLL1 and Periostin Are Associated with Symptom Severity and Diastolic Function in Dilated Cardiomyopathy
J Cardiovasc Transl Res, 10 (4), 401-410
DOI 10.1007/s12265-017-9748-y, PubMed 28474304
Nymo SH, Aukrust P, Kjekshus J, McMurray JJ, Cleland JG, Wikstrand J, Muntendam P, Wienhues-Thelen U, Latini R, Askevold ET, Gravning J, Dahl CP, Broch K, Yndestad A, Gullestad L, Ueland T, CORONA Study Group (2017)
Limited Added Value of Circulating Inflammatory Biomarkers in Chronic Heart Failure
JACC Heart Fail, 5 (4), 256-264
DOI 10.1016/j.jchf.2017.01.008, PubMed 28359413
Parikh SS, Blackwell DJ, Gomez-Hurtado N, Frisk M, Wang L, Kim K, Dahl CP, Fiane A, Tønnessen T, Kryshtal DO, Louch WE, Knollmann BC (2017)
Thyroid and Glucocorticoid Hormones Promote Functional T-Tubule Development in Human-Induced Pluripotent Stem Cell-Derived Cardiomyocytes
Circ Res, 121 (12), 1323-1330
DOI 10.1161/CIRCRESAHA.117.311920, PubMed 28974554
Rutkovskiy A, Sagave J, Czibik G, Baysa A, Zihlavnikova Enayati K, Hillestad V, Dahl CP, Fiane A, Gullestad L, Gravning J, Ahmed S, Attramadal H, Valen G, Vaage J (2017)
Connective tissue growth factor and bone morphogenetic protein 2 are induced following myocardial ischemia in mice and humans
Scand J Clin Lab Invest, 77 (5), 321-331
DOI 10.1080/00365513.2017.1318447, PubMed 28460577
Shahini N, Michelsen AE, Nilsson PH, Ekholt K, Gullestad L, Broch K, Dahl CP, Aukrust P, Ueland T, Mollnes TE, Yndestad A, Louwe MC (2017)
The alternative complement pathway is dysregulated in patients with chronic heart failure
Sci Rep, 7, 42532
DOI 10.1038/srep42532, PubMed 28195242
Publications 2016
Dhondup Y, Ueland T, Dahl CP, Askevold ET, Sandanger Ø, Fiane A, Ohm IK, Sjaastad I, Finsen AV, Wæhre A, Gullestad L, Aukrust P, Yndestad A, Vinge LE (2016)
Low Circulating Levels of Mitochondrial and High Levels of Nuclear DNA Predict Mortality in Chronic Heart Failure
J Card Fail, 22 (10), 823-8
DOI 10.1016/j.cardfail.2016.06.013, PubMed 27349571
Jørgensen SF, Reims HM, Frydenlund D, Holm K, Paulsen V, Michelsen AE, Jørgensen KK, Osnes LT, Bratlie J, Eide TJ, Dahl CP, Holter E, Tronstad RR, Hanevik K, Brattbakk HR, Kaveh F, Fiskerstrand T, Kran AB, Ueland T, Karlsen TH, Aukrust P, Lundin KE, Fevang B (2016)
A Cross-Sectional Study of the Prevalence of Gastrointestinal Symptoms and Pathology in Patients With Common Variable Immunodeficiency
Am J Gastroenterol, 111 (10), 1467-1475
DOI 10.1038/ajg.2016.329, PubMed 27527747
Jørgensen SF, Trøseid M, Kummen M, Anmarkrud JA, Michelsen AE, Osnes LT, Holm K, Høivik ML, Rashidi A, Dahl CP, Vesterhus M, Halvorsen B, Mollnes TE, Berge RK, Moum B, Lundin KE, Fevang B, Ueland T, Karlsen TH, Aukrust P, Hov JR (2016)
Altered gut microbiota profile in common variable immunodeficiency associates with levels of lipopolysaccharide and markers of systemic immune activation
Mucosal Immunol, 9 (6), 1455-1465
DOI 10.1038/mi.2016.18, PubMed 26982597
Melleby AO, Strand ME, Romaine A, Herum KM, Skrbic B, Dahl CP, Sjaastad I, Fiane AE, Filmus J, Christensen G, Lunde IG (2016)
The Heparan Sulfate Proteoglycan Glypican-6 Is Upregulated in the Failing Heart, and Regulates Cardiomyocyte Growth through ERK1/2 Signaling
PLoS One, 11 (10), e0165079
DOI 10.1371/journal.pone.0165079, PubMed 27768722
Skarpengland T, Dahl TB, Skjelland M, Scheffler K, de Sousa MML, Gregersen I, Kuśnierczyk A, Sharma A, Slupphaug G, Eide L, Segers FM, Skagen KR, Dahl CP, Russell D, Folkersen L, Krohg-Sørensen K, Holm S, Bjørås M, Aukrust P, Halvorsen B (2016)
Enhanced base excision repair capacity in carotid atherosclerosis may protect nuclear DNA but not mitochondrial DNA
Free Radic Biol Med, 97, 386-397
DOI 10.1016/j.freeradbiomed.2016.07.001, PubMed 27381496
Publications 2015
Abbas A, Gregersen I, Holm S, Daissormont I, Bjerkeli V, Krohg-Sørensen K, Skagen KR, Dahl TB, Russell D, Almås T, Bundgaard D, Alteheld LH, Rashidi A, Dahl CP, Michelsen AE, Biessen EA, Aukrust P, Halvorsen B, Skjelland M (2015)
Interleukin 23 levels are increased in carotid atherosclerosis: possible role for the interleukin 23/interleukin 17 axis
Stroke, 46 (3), 793-9
DOI 10.1161/STROKEAHA.114.006516, PubMed 25649806
Baysa A, Sagave J, Carpi A, Zaglia T, Campesan M, Dahl CP, Bilbija D, Troitskaya M, Gullestad L, Giorgio M, Mongillo M, Di Lisa F, Vaage JI, Valen G (2015)
The p66ShcA adaptor protein regulates healing after myocardial infarction
Basic Res Cardiol, 110 (2), 13
DOI 10.1007/s00395-015-0470-0, PubMed 25680868
Do L, Dahl CP, Kerje S, Hansell P, Mörner S, Lindqvist U, Engström-Laurent A, Larsson G, Hellman U (2015)
High Sensitivity Method to Estimate Distribution of Hyaluronan Molecular Sizes in Small Biological Samples Using Gas-Phase Electrophoretic Mobility Molecular Analysis
Int J Cell Biol, 2015, 938013
DOI 10.1155/2015/938013, PubMed 26448761
Fosshaug LE, Dahl CP, Risnes I, Bohov P, Berge RK, Nymo S, Geiran O, Yndestad A, Gullestad L, Aukrust P, Vinge LE, Øie E (2015)
Altered Levels of Fatty Acids and Inflammatory and Metabolic Mediators in Epicardial Adipose Tissue in Patients With Systolic Heart Failure
J Card Fail, 21 (11), 916-23
DOI 10.1016/j.cardfail.2015.07.014, PubMed 26231517
Nymo SH, Ueland T, Askevold E, Dahl CP, Gullestad L, Aukrust P, Yndestad A (2015)
Circulating nucleosomes in chronic heart failure
Int J Cardiol, 203, 742-3
DOI 10.1016/j.ijcard.2015.10.219, PubMed 26595779
Publications 2014
Abraityte A, Gullestad L, Askevold ET, Nymo S, Dahl CP, Aakhus S, Aukrust P, Ueland T (2014)
The Notch ligand Delta-like 1 is elevated and associated with mortality in patients with symptomatic aortic stenosis
Int J Cardiol, 180, 18-20
DOI 10.1016/j.ijcard.2014.11.111, PubMed 25438200
Apelland T, Gude E, Strøm EH, Gullestad L, Eiklid KL, Månsson JE, Reinholt FP, Houge G, Dahl CP, Almaas VM, Heiberg A (2014)
Familial globotriaosylceramide-associated cardiomyopathy mimicking Fabry disease
Heart, 100 (22), 1793-8
DOI 10.1136/heartjnl-2014-305616, PubMed 25031264
Askevold ET, Aukrust P, Nymo SH, Lunde IG, Kaasbøll OJ, Aakhus S, Florholmen G, Ohm IK, Strand ME, Attramadal H, Fiane A, Dahl CP, Finsen AV, Vinge LE, Christensen G, Yndestad A, Gullestad L, Latini R, Masson S, Tavazzi L, GISSI-HF Investigators, Ueland T (2014)
The cardiokine secreted Frizzled-related protein 3, a modulator of Wnt signalling, in clinical and experimental heart failure
J Intern Med, 275 (6), 621-30
DOI 10.1111/joim.12175, PubMed 24330105
Askevold ET, Gullestad L, Dahl CP, Yndestad A, Ueland T, Aukrust P (2014)
Interleukin-6 signaling, soluble glycoprotein 130, and inflammation in heart failure
Curr Heart Fail Rep, 11 (2), 146-55
DOI 10.1007/s11897-014-0185-9, PubMed 24477903
Bilbija D, Elmabsout AA, Sagave J, Haugen F, Bastani N, Dahl CP, Gullestad L, Sirsjö A, Blomhoff R, Valen G (2014)
Expression of retinoic acid target genes in coronary artery disease
Int J Mol Med, 33 (3), 677-86
DOI 10.3892/ijmm.2014.1623, PubMed 24424466
Finsen AV, Ueland T, Sjaastad I, Ranheim T, Ahmed MS, Dahl CP, Askevold ET, Aakhus S, Husberg C, Fiane AE, Lipp M, Gullestad L, Christensen G, Aukrust P, Yndestad A (2014)
The homeostatic chemokine CCL21 predicts mortality in aortic stenosis patients and modulates left ventricular remodeling
PLoS One, 9 (11), e112172
DOI 10.1371/journal.pone.0112172, PubMed 25398010
Orstavik O, Ata SH, Riise J, Dahl CP, Andersen GØ, Levy FO, Skomedal T, Osnes JB, Qvigstad E (2014)
Inhibition of phosphodiesterase-3 by levosimendan is sufficient to account for its inotropic effect in failing human heart
Br J Pharmacol, 171 (23), 5169-81
DOI 10.1111/bph.12647, PubMed 24547784
Trøseid M, Ueland T, Hov JR, Svardal A, Gregersen I, Dahl CP, Aakhus S, Gude E, Bjørndal B, Halvorsen B, Karlsen TH, Aukrust P, Gullestad L, Berge RK, Yndestad A (2014)
Microbiota-dependent metabolite trimethylamine-N-oxide is associated with disease severity and survival of patients with chronic heart failure
J Intern Med, 277 (6), 717-26
DOI 10.1111/joim.12328, PubMed 25382824
Wu X, Sagave J, Rutkovskiy A, Haugen F, Baysa A, Nygård S, Czibik G, Dahl CP, Gullestad L, Vaage J, Valen G (2014)
Expression of bone morphogenetic protein 4 and its receptors in the remodeling heart
Life Sci, 97 (2), 145-54
DOI 10.1016/j.lfs.2013.12.030, PubMed 24398041
Publications 2013
Almaas VM, Haugaa KH, Strøm EH, Scott H, Dahl CP, Leren TP, Geiran OR, Endresen K, Edvardsen T, Aakhus S, Amlie JP (2013)
Increased amount of interstitial fibrosis predicts ventricular arrhythmias, and is associated with reduced myocardial septal function in patients with obstructive hypertrophic cardiomyopathy
Europace, 15 (9), 1319-27
DOI 10.1093/europace/eut028, PubMed 23426552
Almaas VM, Haugaa KH, Strøm EH, Scott H, Smith HJ, Dahl CP, Geiran OR, Endresen K, Aakhus S, Amlie JP, Edvardsen T (2013)
Noninvasive assessment of myocardial fibrosis in patients with obstructive hypertrophic cardiomyopathy
Heart, 100 (8), 631-8
DOI 10.1136/heartjnl-2013-304923, PubMed 24368281
Dahl CP, Aukrust P, Nymo SH, Kjekshus J, Cleland JG, McMurray JJ, Wikstrand J, Gullestad L, Ueland T (2013)
Prognostic value of CXCL16 in patients with left ventricular systolic dysfunction and heart failure
Int J Cardiol, 168 (4), 4427-9
DOI 10.1016/j.ijcard.2013.05.008, PubMed 23714594
Engebretsen KV, Lunde IG, Strand ME, Waehre A, Sjaastad I, Marstein HS, Skrbic B, Dahl CP, Askevold ET, Christensen G, Bjørnstad JL, Tønnessen T (2013)
Lumican is increased in experimental and clinical heart failure, and its production by cardiac fibroblasts is induced by mechanical and proinflammatory stimuli
FEBS J, 280 (10), 2382-98
DOI 10.1111/febs.12235, PubMed 23480731
Gregersen I, Skjelland M, Holm S, Holven KB, Krogh-Sørensen K, Russell D, Askevold ET, Dahl CP, Ørn S, Gullestad L, Mollnes TE, Ueland T, Aukrust P, Halvorsen B (2013)
Increased systemic and local interleukin 9 levels in patients with carotid and coronary atherosclerosis
PLoS One, 8 (8), e72769
DOI 10.1371/journal.pone.0072769, PubMed 24023645
Prohászka Z, Munthe-Fog L, Ueland T, Gombos T, Yndestad A, Förhécz Z, Skjoedt MO, Pozsonyi Z, Gustavsen A, Jánoskuti L, Karádi I, Gullestad L, Dahl CP, Askevold ET, Füst G, Aukrust P, Mollnes TE, Garred P (2013)
Association of ficolin-3 with severity and outcome of chronic heart failure
PLoS One, 8 (4), e60976
DOI 10.1371/journal.pone.0060976, PubMed 23596511
Sandanger Ø, Ranheim T, Vinge LE, Bliksøen M, Alfsnes K, Finsen AV, Dahl CP, Askevold ET, Florholmen G, Christensen G, Fitzgerald KA, Lien E, Valen G, Espevik T, Aukrust P, Yndestad A (2013)
The NLRP3 inflammasome is up-regulated in cardiac fibroblasts and mediates myocardial ischaemia-reperfusion injury
Cardiovasc Res, 99 (1), 164-74
DOI 10.1093/cvr/cvt091, PubMed 23580606
Strand ME, Herum KM, Rana ZA, Skrbic B, Askevold ET, Dahl CP, Vistnes M, Hasic A, Kvaløy H, Sjaastad I, Carlson CR, Tønnessen T, Gullestad L, Christensen G, Lunde IG (2013)
Innate immune signaling induces expression and shedding of the heparan sulfate proteoglycan syndecan-4 in cardiac fibroblasts and myocytes, affecting inflammation in the pressure-overloaded heart
FEBS J, 280 (10), 2228-47
DOI 10.1111/febs.12161, PubMed 23374111
Publications 2012
Riise J, Nguyen CH, Hussain RI, Dahl CP, Ege MS, Osnes JB, Skomedal T, Sandnes DL, Levy FO, Krobert KA (2012)
Prostanoid-mediated inotropic responses are attenuated in failing human and rat ventricular myocardium
Eur J Pharmacol, 686 (1-3), 66-73
DOI 10.1016/j.ejphar.2012.04.022, PubMed 22546232
Riise J, Ørstavik Ø, Qvigstad E, Dahl CP, Osnes JB, Skomedal T, Levy FO, Krobert KA (2012)
Prostaglandin E1 facilitates inotropic effects of 5-HT4 serotonin receptors and β-adrenoceptors in failing human heart
Basic Res Cardiol, 107 (5), 295
DOI 10.1007/s00395-012-0295-z, PubMed 22923058
Rutkovskiy A, Stensløkken KO, Mariero LH, Skrbic B, Amiry-Moghaddam M, Hillestad V, Valen G, Perreault MC, Ottersen OP, Gullestad L, Dahl CP, Vaage J (2012)
Aquaporin-4 in the heart: expression, regulation and functional role in ischemia
Basic Res Cardiol, 107 (5), 280
DOI 10.1007/s00395-012-0280-6, PubMed 22777185
Rødland EK, Ueland T, Bjørnsen S, Sagen EL, Dahl CP, Naalsund A, Mollnes TE, Brosstad FR, Müller F, Aukrust P, Frøland SS (2012)
Systemic biomarkers of inflammation and haemostasis in patients with chronic necrotizing pulmonary aspergillosis
BMC Infect Dis, 12, 144
DOI 10.1186/1471-2334-12-144, PubMed 22731696
Sikkeland LI, Dahl CP, Ueland T, Andreassen AK, Gude E, Edvardsen T, Holm T, Yndestad A, Gullestad L, Kongerud J, Aukrust P, Øie E (2012)
Increased levels of inflammatory cytokines and endothelin-1 in alveolar macrophages from patients with chronic heart failure
PLoS One, 7 (5), e36815
DOI 10.1371/journal.pone.0036815, PubMed 22615818
Solberg OG, Ueland T, Wergeland R, Dahl CP, Aakhus S, Aukrust P, Gullestad L (2012)
High-sensitive troponin T and N-terminal-brain-natriuretic-peptide predict outcome in symptomatic aortic stenosis
Scand Cardiovasc J, 46 (5), 278-85
DOI 10.3109/14017431.2012.687836, PubMed 22545649
Ueland T, Svardal A, Øie E, Askevold ET, Nymoen SH, Bjørndal B, Dahl CP, Gullestad L, Berge RK, Aukrust P (2012)
Disturbed carnitine regulation in chronic heart failure--increased plasma levels of palmitoyl-carnitine are associated with poor prognosis
Int J Cardiol, 167 (5), 1892-9
DOI 10.1016/j.ijcard.2012.04.150, PubMed 22622056
Ueland T, Yndestad A, Dahl CP, Gullestad L, Aukrust P (2012)
TNF revisited: osteoprotegerin and TNF-related molecules in heart failure
Curr Heart Fail Rep, 9 (2), 92-100
DOI 10.1007/s11897-012-0088-6, PubMed 22453763
Yndestad A, Finsen AV, Ueland T, Husberg C, Dahl CP, Øie E, Vinge LE, Sjaastad I, Sandanger Ø, Ranheim T, Dickstein K, Kjekshus J, Damås JK, Fiane AE, Hilfiker-Kleiner D, Lipp M, Gullestad L, Christensen G, Aukrust P (2012)
The homeostatic chemokine CCL21 predicts mortality and may play a pathogenic role in heart failure
PLoS One, 7 (3), e33038
DOI 10.1371/journal.pone.0033038, PubMed 22427939
Øie E, Berge RK, Ueland T, Dahl CP, Edvardsen T, Beitnes JO, Bohov P, Aukrust P, Yndestad A (2012)
Tetradecylthioacetic acid increases fat metabolism and improves cardiac function in experimental heart failure
Lipids, 48 (2), 139-54
DOI 10.1007/s11745-012-3749-z, PubMed 23266898
Publications 2011
Ueland T, Aukrust P, Dahl CP, Husebye T, Solberg OG, Tønnessen T, Aakhus S, Gullestad L (2011)
Osteoprotegerin levels predict mortality in patients with symptomatic aortic stenosis
J Intern Med, 270 (5), 452-60
DOI 10.1111/j.1365-2796.2011.02393.x, PubMed 21623962
Ueland T, Dahl CP, Gullestad L, Aakhus S, Broch K, Skårdal R, Vermeer C, Aukrust P, Schurgers LJ (2011)
Circulating levels of non-phosphorylated undercarboxylated matrix Gla protein are associated with disease severity in patients with chronic heart failure
Clin Sci (Lond), 121 (3), 119-27
DOI 10.1042/CS20100589, PubMed 21294711
Ueland T, Dahl CP, Kjekshus J, Hulthe J, Böhm M, Mach F, Goudev A, Lindberg M, Wikstrand J, Aukrust P, Gullestad L (2011)
Osteoprotegerin predicts progression of chronic heart failure: results from CORONA
Circ Heart Fail, 4 (2), 145-52
DOI 10.1161/CIRCHEARTFAILURE.110.957332, PubMed 21216833
Waehre A, Halvorsen B, Yndestad A, Husberg C, Sjaastad I, Nygård S, Dahl CP, Ahmed MS, Finsen AV, Reims H, Louch WE, Hilfiker-Kleiner D, Vinge LE, Roald B, Attramadal H, Lipp M, Gullestad L, Aukrust P, Christensen G (2011)
Lack of chemokine signaling through CXCR5 causes increased mortality, ventricular dilatation and deranged matrix during cardiac pressure overload
PLoS One, 6 (4), e18668
DOI 10.1371/journal.pone.0018668, PubMed 21533157
Øie E, Ueland T, Dahl CP, Bohov P, Berge C, Yndestad A, Gullestad L, Aukrust P, Berge RK (2011)
Fatty acid composition in chronic heart failure: low circulating levels of eicosatetraenoic acid and high levels of vaccenic acid are associated with disease severity and mortality
J Intern Med, 270 (3), 263-72
DOI 10.1111/j.1365-2796.2011.02384.x, PubMed 21466599
Publications 2010
Dahl CP (2010)
Inflammatory cytokines in heart failure: potential role as mediators and biomakers
In Series of dissertations submitted to the Faculty of Medicine, University of Oslo, Unipub, Oslo, no. 1042, 1 b. (flere pag.)
BIBSYS 102590028, ISBN 978-82-8264-107-4
Ueland T, Gullestad L, Dahl CP, Aukrust P, Aakhus S, Solberg OG, Vermeer C, Schurgers LJ (2010)
Undercarboxylated matrix Gla protein is associated with indices of heart failure and mortality in symptomatic aortic stenosis
J Intern Med, 268 (5), 483-92
DOI 10.1111/j.1365-2796.2010.02264.x, PubMed 20804515
Øie E, Ahmed MS, Ueland T, Sikkeland LI, Dahl CP, Hagelin EM, von Lueder T, Edvardsen T, Andreassen AK, Gullestad L, Aukrust P, Yndestad A, Vinge LE, Attramadal H (2010)
Adrenomedullin is increased in alveolar macrophages and released from the lungs into the circulation in severe heart failure
Basic Res Cardiol, 105 (1), 89-98
DOI 10.1007/s00395-009-0070-y, PubMed 19823891
Publications 2009
Dahl CP, Husberg C, Gullestad L, Waehre A, Damås JK, Vinge LE, Finsen AV, Ueland T, Florholmen G, Aakhus S, Halvorsen B, Aukrust P, Oie E, Yndestad A, Christensen G (2009)
Increased production of CXCL16 in experimental and clinical heart failure: a possible role in extracellular matrix remodeling
Circ Heart Fail, 2 (6), 624-32
DOI 10.1161/CIRCHEARTFAILURE.108.821074, PubMed 19919988
Yndestad A, Landrø L, Ueland T, Dahl CP, Flo TH, Vinge LE, Espevik T, Frøland SS, Husberg C, Christensen G, Dickstein K, Kjekshus J, Øie E, Gullestad L, Aukrust P (2009)
Increased systemic and myocardial expression of neutrophil gelatinase-associated lipocalin in clinical and experimental heart failure
Eur Heart J, 30 (10), 1229-36
DOI 10.1093/eurheartj/ehp088, PubMed 19329498
Publications 2008
Afzal F, Andressen KW, Mørk HK, Aronsen JM, Sjaastad I, Dahl CP, Skomedal T, Levy FO, Osnes JB, Qvigstad E (2008)
5-HT4-elicited positive inotropic response is mediated by cAMP and regulated by PDE3 in failing rat and human cardiac ventricles
Br J Pharmacol, 155 (7), 1005-14
DOI 10.1038/bjp.2008.339, PubMed 18846035
Dahl CP, Gullestad L, Fevang B, Holm AM, Landrø L, Vinge LE, Fiane AE, Sandberg WJ, Otterdal K, Frøland SS, Damås JK, Halvorsen B, Aukrust P, Øie E, Yndestad A (2008)
Increased expression of LIGHT/TNFSF14 and its receptors in experimental and clinical heart failure
Eur J Heart Fail, 10 (4), 352-9
DOI 10.1016/j.ejheart.2008.02.010, PubMed 18353719