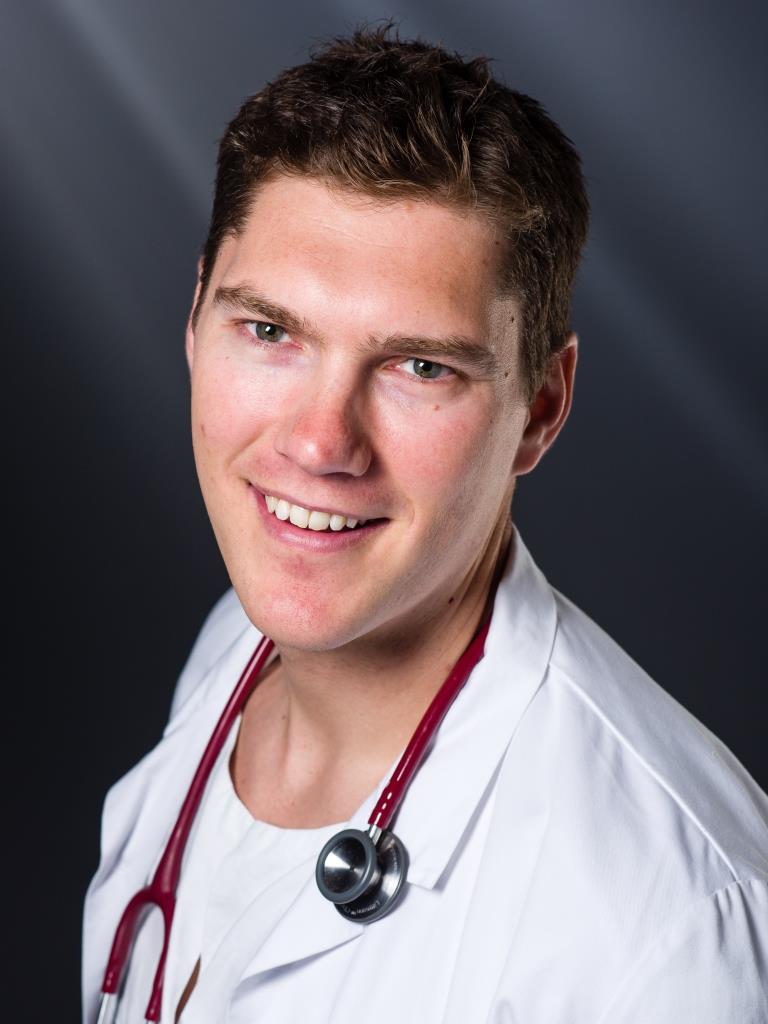 Andreas Auensen
Andreas Auensen successfully defended his thesis "Prognostic factors and outcomes in patients with severe aortic stenosis referred for evaluation of possible surgical aortic valve replacement" in February 2018.
Narrow aortic valve, also known as aortic stenosis, is the most common valvular heart disease in the western world. It often leads to heart failure and reduced quality of life due to the constant narrowing of the aortic valve. Surgically replacing the valve is an efficient treatment against complications and premature death.
In his studies Dr. Auensen followed 442 patients who were treated at Oslo University Hospital for aortic valve replacement. 351 of them were referred to surgery and the rest were either refused surgery due to insufficient amount of symptoms, high risk or the patient declined surgery as an option.
A wide range of clinical outcomes were observed;
- 90% of the patients who underwent surgery were alive after three years
- Patient-reported quality of life was substantially better one year after surgical valve replacement
- The amount of strokes during the first year post-surgery warrants attention
- Regular blood tests taken at the first assessment may possibly indicate the risk of complications in the post-surgery period
Due to the extensive knowledge of the beneficial effect of surgery on survival, it is currently ethically impossible to conduct a study in which patients with severe aortic stenosis are randomized to either surgery or only follow-up.
In modern medicine, clinical observational studies will be very important as new treatment options develop further, today's treatment options for aortic stenosis being an example of this.
Publications 2021
Kvaslerud AB, Santic K, Hussain AI, Auensen A, Fiane A, Skulstad H, Aaberge L, Gullestad L, Broch K (2021)
Outcomes in asymptomatic, severe aortic stenosis
PLoS One, 16 (4), e0249610
DOI 10.1371/journal.pone.0249610, PubMed 33826652
Publications 2020
Arain F, Abraityte A, Bogdanova M, Solberg OG, Michelsen AE, Lekva T, Aakhus S, Holm S, Halvorsen B, Finsen AV, Vinge LE, Nymo S, Espeland T, Ranheim T, Aukrust P, Vaage IJ, Auensen A, Gullestad L, Ueland T (2020)
YKL-40 (Chitinase-3-Like Protein 1) Serum Levels in Aortic Stenosis
Circ Heart Fail, 13 (10), e006643
DOI 10.1161/CIRCHEARTFAILURE.119.006643, PubMed 32962417
Publications 2019
Auensen A (2019)
CARDIOLOGY
Tidsskr. Nor. Laegeforen., 139 (18), 1818
Shahini N, Ueland T, Auensen A, Michelsen AE, Ludviksen JK, Hussain AI, Pettersen KI, Aakhus S, Espeland T, Lunde IG, Kirschfink M, Nilsson PH, Mollnes TE, Gullestad L, Aukrust P, Yndestad A, Louwe MC (2019)
Increased Complement Factor B and Bb Levels Are Associated with Mortality in Patients with Severe Aortic Stenosis
J Immunol, 203 (7), 1973-1980
DOI 10.4049/jimmunol.1801244, PubMed 31492744
Publications 2018
Auensen A (2018)
Treatment for severe aortic stenosis
Tidsskr. Nor. Laegeforen., 138 (14), 1332
Auensen A, Hussain AI, Garratt AM, Gullestad LL, Pettersen KI (2018)
Patient-reported outcomes after referral for possible valve replacement in patients with severe aortic stenosis
Eur J Cardiothorac Surg, 53 (1), 129-135
DOI 10.1093/ejcts/ezx228, PubMed 28977361
Hussain AI, Auensen A, Brunborg C, Beitnes JO, Gullestad L, Pettersen KI (2018)
Age-dependent morbidity and mortality outcomes after surgical aortic valve replacement
Interact Cardiovasc Thorac Surg, 27 (5), 650-656
DOI 10.1093/icvts/ivy154, PubMed 29746650
Kvaslerud AB, Hussain AI, Auensen A, Ueland T, Michelsen AE, Pettersen KI, Aukrust P, Mørkrid L, Gullestad L, Broch K (2018)
Prevalence and prognostic implication of iron deficiency and anaemia in patients with severe aortic stenosis
Open Heart, 5 (2), e000901
DOI 10.1136/openhrt-2018-000901, PubMed 30613413
Publications 2017
Auensen A, Hussain AI, Bendz B, Aaberge L, Falk RS, Walle-Hansen MM, Bye J, Andreassen J, Beitnes JO, Rein KA, Pettersen KI, Gullestad L (2017)
Morbidity outcomes after surgical aortic valve replacement
Open Heart, 4 (1), e000588
DOI 10.1136/openhrt-2017-000588, PubMed 28674629
Auensen A, Hussain AI, Falk RS, Walle-Hansen MM, Bye J, Pettersen KI, Aukrust P, Ueland T, Gullestad LL (2017)
Associations of brain-natriuretic peptide, high-sensitive troponin T, and high-sensitive C-reactive protein with outcomes in severe aortic stenosis
PLoS One, 12 (6), e0179304
DOI 10.1371/journal.pone.0179304, PubMed 28604834
Hussain AI, Auensen A, Brunborg C, Aakhus S, Fiane A, Pettersen KI, Gullestad L (2017)
Determinants and Outcome of Decision Making Among Patients with Severe Aortic Stenosis
J Heart Valve Dis, 26 (4), 413-422
PubMed 29302940