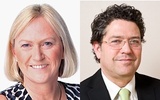 Our research group is focusing its investigations on the main topic of ischemic heart disease, and extends its approach to adjacent research fields such as heart failure and atrial fibrillation.
We study optimal secondary prevention after myocardial infarction, e.g., use of beta blockers, cholesterol lowering medications, and elucidate mechanisms linked to myocardial protection.
In addition, we have several projects focusing on cardiovascular (CV) biomarkers, i.e., both known biomarkers used for early diagnostication of myocardial infarction and identification of new biomarkers.
We also study the deleterious effects of anabolic steroids on the cardiovascular system. The efficiency and safety of anticoagulants is being evaluated by accessing data from Norwegian and international registries.
Finally, we have ongoing projects assessing optimal treatment of myocardial infarction, incidence of heart failure in Norway, and prevalence and treatment of atrial fibrillation in Scandinavia. In the MINOCA project, we study the optimal examinations of these patients. The multinational EXHAUSTION will produce more knowledge about the association between climate and CVD.
We also study patients with autoimmune joint diseases and look at inflammatory and cardiac markers in RA patients in relation to CVD. Furthermore we are engaged in a multinational project looking at ultrasound of the carotid artery in relation to CVD.