HEV vaccine trial Bangladesh
Hepatitis E virus (HEV) infection is endemic in Bangladesh, causing severe or fatal complications in pregnant women. This GLOBVAC funded project aims to assess the safety, feasibility, acceptability, immunogenicity, effectiveness, and cost-effectiveness of the HEV vaccine (Hecolin, Innovax, China) when given women of childbearing age in a rural area in Bangladesh (Matlab).
The vaccine has been shown to be both effective and safe in the general adult population in China, but there is insufficient data about its efficacy among pregnant women, the group with most to gain from vaccination. The research plan has been carefully designed and will be conducted by a multidisciplinary team of researchers at International Centre for Diarrhoeal Disease Research (iccdr,b) in Bangladesh and the Norwegian Institute of Public Health in Norway.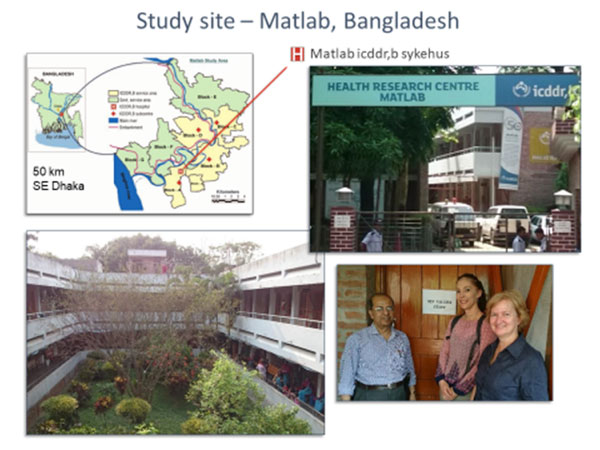 19,460 women aged 16-39 are currently enrolled in the study, nearing the target of 20,745. The participants in this cluster randomized trial receive either the hepatitis E vaccine or a hepatitis B vaccine (control group), and those who develop hepatitis E symptoms are tested for the disease. Those who become pregnant during the study are followed up closely with regular home visits. Currently, over 2500 pregnancies are reported, with more than 1500 births. Clinical outcomes and vaccine adverse events are monitored continuously, and through regular detailed visits from trial monitors. No vaccine related severe adverse events have been reported to date. The vaccine is administered on a 0, 1 and 6 month schedule and the women are followed up for a 2 year period after the last dose. The initial safety profile and immunogenicity of the vaccine was tested in a pilot study before enrollment of participants in the main trial, where participants were vaccinated on day 0 and day 30. No serious adverse reactions were observed, and only a few mild local adverse reactions were recorded which all resolved without sequela. Preliminary immunogenicity results showed that most participants had seroconverted (HEV), after just two doses of the vaccine.
Contact information:
Susanne Gjeruldsen Dudman, MD, PhD associate professor (Group and Project Leader), Susanne.Dudman@ous-hf.no, Oslo University Hospital, Department of Microbiology, Building B, 3rd floor, Room B2.3109, Sognsvannsveien 20, NO-0027, Oslo, Norway