Movement, muscle and neurodegeneration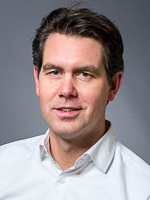 The Movement, muscle and neurodegeneration group was founded in 2019 bringing together reseachers studying a spectrum of chronic neurological disorders causing impaired motor function. Our areas of interest range across disorders affecting the planning and calibration of movements in the basal ganglia (Parkinson's disease, Huntington's disease, dystonia and tremor), diseases affecting the upper and lower motor neurons (amyotrophic lateral sclerosis and spinal muscular atrophy) and neuromuscular disorders (myasthenic syndromes and primary myopathies). In a majority of the conditions we study, the etiology is neurodegenerative, genetic or both.
Our scientific approaches span from translational studies based largely on laboratory and bioinformatic methodologies to observational studies and clinical trials recruiting patients from the Department of Neurology.
The Movement, muscle and neurodegeneration group is lead by professor Mathias Toft. This thematically overarching research group is organized into five subgroups focused on specific diseases and methodologies: