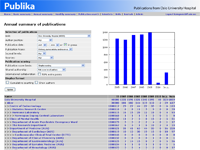 Publika is a system for maintaining a database of scientific publications from Oslo University Hospital. It is developed in the Bioinformatics group in collaboration with the research support services department and others responsible for maintaining publication lists at the hospital.
It is available at www.publika.no.
More information is available in another news story.