Subproject III: Microenvironment- and Radiation-induced Metastasis
The main aim of the project is to identify molecular and cellular mechanisms of microenvironment-and/or radiation-induced metastasis. Our hypothesis is that angiogenic factors and proteolytic enzymes may play important roles, whether the metastasis is caused by the tumor microenvironment, radiation therapy, or alterations in the tumor microenvironment induced by radiation therapy.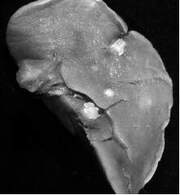 Human melanomas xenografted into BALB/c-nu/nu mice are used as preclinical models of human cancer. Molecular mechanisms are studied by using cDNA microarrays and conventional methods (immunohistochemistry, Western blotting, Northern blotting). Oxygen electrodes, hypoxia markers (pimonidazole), IFP electrodes, and MRI are used to characterize the tumor microenvironment.