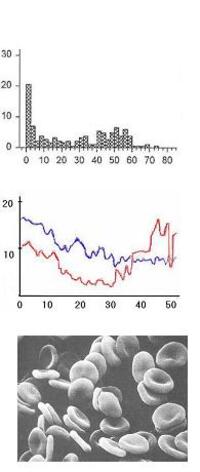 Eppendorf Polarographic Electrodes
Eppendorf polarographic electrodes consist of a thin gold cathode encased in a steel needle, and a silver-silver chloride anode. They operate on the principle of electrochemical reduction of oxygen at the probe tip. The current is proportional to the partial pressure of oxygen. The electrochemical reaction at the probe tip consumes oxygen. The oxygen consumption makes the electrodes unsuitable for prolonged measurements of pO2 in fixed positions in tissues. Eppendorf electrodes are well suited for measuring the spatial distribution of pO2 in tumor tissue.
OxyLite Fluorescence Electrodes
The OxyLite electrode system relies on a ruthenium chloride fluorescent compound, immobilized in a polymer at the tip of a fiber optic probe. Blue light is emitted from diodes within the unit, and the light is propagated down the fiber to the tip, where the ruthenium chloride is excited. The lifetime of the resultant fluorescence is inversely proportional to the oxygen concentration at the tip. No oxygen is consumed in the process, allowing long-lasting pO2 measurements in fixed positions. The OxyLite system is therefore a unique tool for detection of pO2 fluctuations in tumor tissue.
HbO2 Spectroscopy
HbO2 spectroscopy is used to measure the oxyhemoglobin saturation in individual capillaries within tissues. This spectrophotometric technique exploits the fact that the amount of oxygen bound to hemoglobin affects the blood color. Poorly oxygenated blood is dark red, whereas well oxygenated blood shows a brighter red color. Spectrophotometric measurements of oxyhemoglobin saturation are performed in vitro. Tissue specimens are fixed in liquid nitrogen and analyzed at temperatures below -100º C. The oxyhemoglobin saturation is calculated from the light absorbance at different wavelengths. Transmittance, and thereby absorbance, is detected by CCD-cameras.