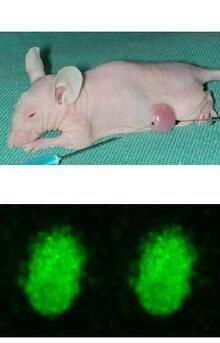 Human Tumor Xenografts
We use human melanoma and cervix carcinoma xenografts as experimental in vivo models of human cancer. The tumors are implanted orthotopically in athymic nude mice (BALB/c-nu/nu mice). We have demonstrated that our xenografted tumors retain several essential biological features of the donor patients' tumors, including many pathophysiological characteristics, response to treatment, and an organ-specific metastatic pattern.
Multicellular Spheroids
We use human melanoma multicellular spheroids as experimental in vitro models of human cancer. The spheroids are grown in liquid-overlay culture or in spinner flasks
GFP-labeled Melanoma Cells
We use human melanoma cells labeled with green fluorescence protein (GFP) to study metastatic dissemination and growth. The GFP is unique among light-emitting proteins in that it does not require any cofactors or substrates for generation of green light. Light generation is triggered by simple exposure of the GFP to standard long-wave ultraviolet light.