Welcome to the Rheumatology Research Group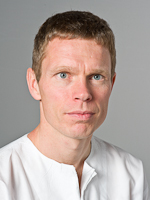 Research group leader: Øyvind Molberg
The activities of the Rheumatology Research Group are based on, and closely integrated with the clinical work done at the Department of Rheumatology, OUS Rikshospitalet. The Department consists of two clinical units; the Pediatric Rheumatology center, which is the only center for children with rheumatic diseases in Southern Norway and (2) the Adult Rheumatology section, which is the regional core facility in South-East Norway for serious connective tissue diseases and vasculitides.

The connective tissue diseases (CTD) and primary vasculitidis are serious systemic, chronic diseases with increased mortality and morbidity. To improve the standard of care for patients with these disorders, there is a need for better tools to assess disease activity and damage, better prognostic markers and valid disease outcome measures. Since both the CTDs and the vasculitidis are characterized by clinically heterogeneity, multi-organ involvement and "unpredictable" flares, these issues represent major research challenges. Our research group aims to take on these challenges and have set up a long-term research strategy that we hope will prove efficient.

The most important word in our strategy is collaboration. We aim to combine our strengths with the strengths of other research groups at OUS and build an inter-disciplinary research network that consistently performs high-quality clinical (and translational) research focused on a few, selected issues (see below). We have already established long-term collaborations with many different clinical and basic research groups at OUS.

Key research issues
To build unselected, complete regional or national cohorts on selected, serious connective tissue diseases in adults and children and provide unbiased data on disease prevalence, mortality, clinical features and prognostic factors.
To perform, targeted, inter-disciplinary, cross-sectional studies on the unselected patient cohorts. Since cardiac and pulmonary dysfunctions are major causes of morbidity and mortality in connective tissue diseases, we primarily focus on the heart and lungs, but we also assess the frequencies and impact of other key clinical features.
To identify biomarkers associated with (progressive) heart and lung involvement in pediatric and adult rheumatic diseases.
Over the last years, the Dept of Rheumatology has established two large electronic patient databases, one for adult patients and one for pediatric patients. Both databases have accompanying biobanks containing serum and DNA. The databases primarily contain key clinical and laboratory data on consenting routine care patients, but also includes patient data obtained through the research projects.
The database for adult rheumatology patients is called "The Norwegian Systemic Connective Tissue Disease and Vasculitis Register (NOSVAR). It currently includes clinical data on more than 2400 patients and 2000 biobank entries (see NOSVAR annual report for details). The pediatric rheumatology database is called "Norsk Barnerevmatologisk Register (NoBaRev), includes clinical data on more than 1100 children and adolescents and around 500 biobank entries.
Our ongoing research projects are described in more detail under the subheadings "Projects in Adult Rheumatology" and "Projects in Juvenile Rheumatology".
Currently, the scientific personnel includes three Professors in part-time positions, one senior researcher (50% position), two post-docs (both working on diseases in children) and three clinical rheumatologists with research experience who supervise PhD students. Altogether, there are seven PhD students working in the group. All the seven PhD students are medical doctors, two of them are rheumatologists and four are rheumatology trainees.