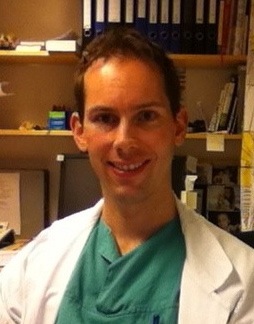 Terje Sæhle
Senior resident MD
+47 23074322
Terje Sæhle graduated from the medical faculty of NTNU in Trondheim in 2003 and became a specialist in neurosurgery in 2012. Next to a clinical position at the neurosurgical department at Oslo University Hospital (Rikshospitalet and Ullevål Sykehus) he works with the following PhD project in the Neurovascular-Hydrocephalus Research Group:
Neurodynamics in adult and pediatric hydrocephalus with particular focus on overdrainage
CSF overdrainage
Following implantation of an extra-cranial shunt to treat hydrocephalus patients, overdrainage of CSF is a rather frequent observation. The accompanying symptoms of intracranial hypotension can be severe, such as headache, unsteadiness, vertigo, lethargy, and cranial nerve dysfunction. Furthermore, CSF overdrainage can result in subdural hematoma, craniosynostosis and slit ventricle syndrome.
The incidence of overdrainage, depending on parameters like valve type and patient cohorts ranges widely, from 3% to 71% of cases. This often represents a major challenge to the physician because it can be hard to diagnose, though causing severe morbidity to the patient.
Currently there is no consensus on the optimal type of shunt or valve opening pressure in hydrocephalic patients. The introduction of shunts with adjustable opening pressure was thought to reduce the incidence of overdrainage and at the same time to avoid underdrainage of CSF. However, the setting of the valve opening pressure is still controversial and varies between hospitals.
Project objectives and methods
The main objective of this project is to provide a better understanding of intracranial dynamics and overdrainage. If we achieve better knowledge of these concepts we may come closer to a method of reducing complications related to overdrainage of CSF or perhaps to identify patients who are predisposed to such complications
According to our plan the project will consist of 8 articles. Two articles have already been published, another two articles are soon ready for submission, and the rest are planned for submission in 2013-2014.
The issues that will be addressed and discussed in the articles are
- Our departments experience in the use of intracranial pressure monitoring in pediatric or adult hydrocephalus patients between 2001 and 2012 (a retrospective survey). Can we learn something from our own experience?
- Whether the placement of the ICP sensor in the frontal parenchyma is representative or reflects different values then intraventricular pressure monitoring (we examine whether there is a transmantle pressure gradient in 10 patients with ventriculomegaly)
- Whether a gradual adjustment of the shunt valve can reduce complication rate or improve clinical efficacy in shunt treatment of hydrocephalus (a randomized, placebo-controlled multicentre study in Sweden and in Norway)
- Whether there are any morphological characteristics of the neurodynamical parameters in patients with CSF overdrainage (based on retrospective analysis of ICP recordings)
- Whether there are any neurodynamical parameters that preoperatively can help identifying patients that are predisposed to overdrainage related subdural hematoma
Author network for Terje Sæhle by COREMINE medical
Publications 2016
Sæhle T (2016)
Intrakranial «compliance» og pulsatilitet ved hydrocephalus
Tidsskr Nor Laegeforen, 136 (23-24), 2034
DOI 10.4045/tidsskr.16.0809, PubMed 28004562
Publications 2015
Farahmand D, Sæhle T, Eide PK, Tisell M, Hellström P, Wikkelsö C (2015)
A double-blind randomized trial on the clinical effect of different shunt valve settings in idiopathic normal pressure hydrocephalus
J Neurosurg, 124 (2), 359-67
DOI 10.3171/2015.1.JNS141301, PubMed 26315004
Sæhle T, Eide PK (2015)
Intracranial pressure monitoring in pediatric and adult patients with hydrocephalus and tentative shunt failure: a single-center experience over 10 years in 146 patients
J Neurosurg, 122 (5), 1076-86
DOI 10.3171/2014.12.JNS141029, PubMed 25679270
Sæhle T, Eide PK (2015)
Association between ventricular volume measures and pulsatile and static intracranial pressure scores in non-communicating hydrocephalus
J Neurol Sci, 350 (1-2), 33-9
DOI 10.1016/j.jns.2015.02.003, PubMed 25680584
Sæhle T, Eide PK (2015)
Characteristics of intracranial pressure (ICP) waves and ICP in children with treatment-responsive hydrocephalus
Acta Neurochir (Wien), 157 (6), 1003-14
DOI 10.1007/s00701-015-2410-z, PubMed 25870129
Publications 2014
Bjerknes S, Skogseid IM, Sæhle T, Dietrichs E, Toft M (2014)
Surgical site infections after deep brain stimulation surgery: frequency, characteristics and management in a 10-year period
PLoS One, 9 (8), e105288
DOI 10.1371/journal.pone.0105288, PubMed 25122445
Børretzen MN, Bjerknes S, Sæhle T, Skjelland M, Skogseid IM, Toft M, Dietrichs E (2014)
Long-term follow-up of thalamic deep brain stimulation for essential tremor - patient satisfaction and mortality
BMC Neurol, 14, 120
DOI 10.1186/1471-2377-14-120, PubMed 24903550
Sæhle T (2014)
Stimulation of motor cortex for pain relief
Tidsskr Nor Laegeforen, 134 (8), 846
DOI 10.4045/tidsskr.14.0016, PubMed 24780985
Sæhle T, Farahmand D, Eide PK, Tisell M, Wikkelsö C (2014)
A randomized controlled dual-center trial on shunt complications in idiopathic normal-pressure hydrocephalus treated with gradually reduced or "fixed" pressure valve settings
J Neurosurg, 121 (5), 1257-63
DOI 10.3171/2014.7.JNS14283, PubMed 25192478
Publications 2012
Stanisic M, Aasen AO, Pripp AH, Lindegaard KF, Ramm-Pettersen J, Lyngstadaas SP, Ivanovic J, Konglund A, Ilstad E, Sandell T, Ellingsen O, Sæhle T (2012)
Local and systemic pro-inflammatory and anti-inflammatory cytokine patterns in patients with chronic subdural hematoma: a prospective study
Inflamm Res, 61 (8), 845-52
DOI 10.1007/s00011-012-0476-0, PubMed 22527446
Publications 2011
Eide PK, Sroka M, Wozniak A, Sæhle T (2011)
Morphological characterization of cardiac induced intracranial pressure (ICP) waves in patients with overdrainage of cerebrospinal fluid and negative ICP
Med Eng Phys, 34 (8), 1066-70
DOI 10.1016/j.medengphy.2011.11.011, PubMed 22153319
Stanisic M, Lyngstadaas SP, Pripp AH, Aasen AO, Lindegaard KF, Ivanovic J, Ilstad E, Konglund A, Sandell T, Ellingsen O, Saehle T (2011)
Chemokines as markers of local inflammation and angiogenesis in patients with chronic subdural hematoma: a prospective study
Acta Neurochir (Wien), 154 (1), 113-20; discussion 120
DOI 10.1007/s00701-011-1203-2, PubMed 22037980
Publications 2010
Eide PK, Saehle T (2010)
Is ventriculomegaly in idiopathic normal pressure hydrocephalus associated with a transmantle gradient in pulsatile intracranial pressure?
Acta Neurochir (Wien), 152 (6), 989-95
DOI 10.1007/s00701-010-0605-x, PubMed 20130957
Publications 2002
Saehle T, Sande S, Finsen V (2002)
Abductor pollicis longus tendon interposition for arthrosis in the first carpometacarpal joint: 55 thumbs reviewed after 3 (1-5) years
Acta Orthop Scand, 73 (6), 674-7
DOI 10.1080/000164702321039660, PubMed 12553517