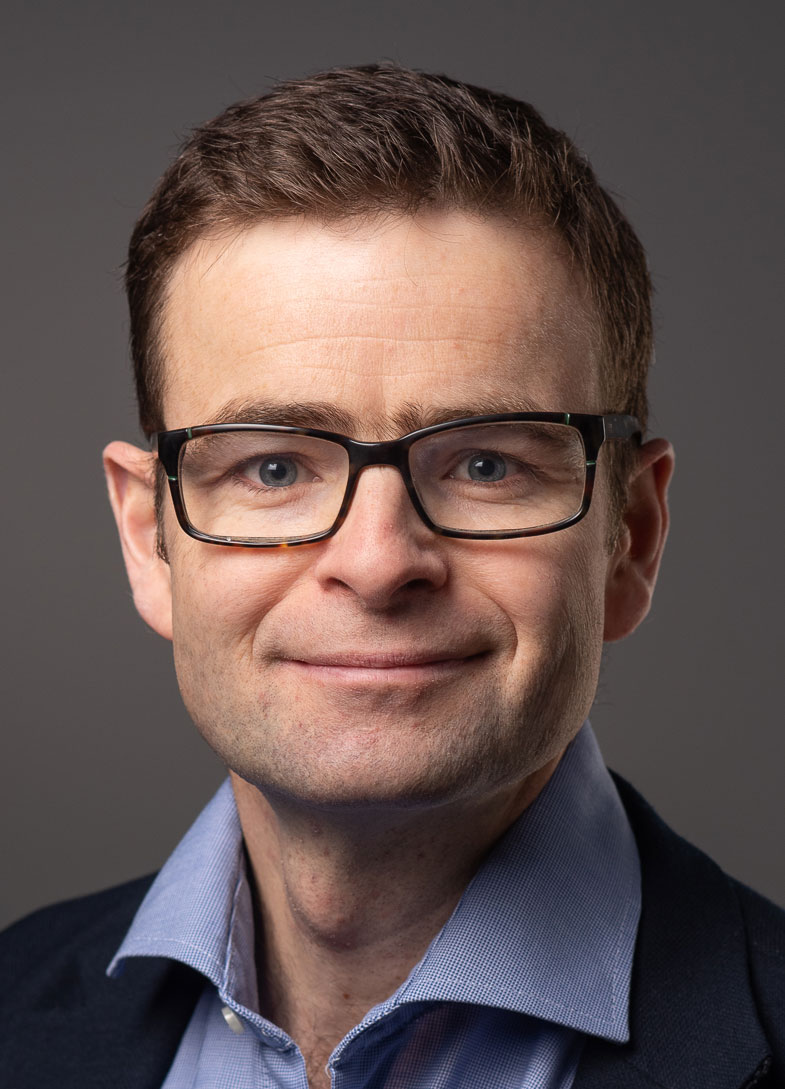 Kristian Bernhard Nilsen
Senior Researcher, Senior Consultant Neurophysiologist; MD, PhD
+47 913 72 241
Head of Section, Section for Clinical Neurophysiology, Department of Neurology.
Senior researcher at Department of Research and Innovation.
He is leading the subgroup for Pain mechanisms as a part of the larger research group for Neurological and musculoskeletal pain and genetics at Institute of Clinical Medicine – University of Oslo. He is current President of the Norwegian Association for Clinical Neurophysiology.
Background:
Kristian Bernhard Nilsen is a medical doctor with ph.d from the Norwegian University of Science and Technology. He is a senior Consultant Clinical Neurophysiologist. He has also worked as Senior Consultant at the Norwegian National Institute of Occupational Health, and as associate professor at Norwegian University of Science and Technology. Former board member of the Scandinavian Association for the Study of Pain, and former Chairman of the "Committee for quality-development" in the Norwegian Association for Clinical Neurophysiology.
Teaching experience:
Regular lectures on clinical neurophysiology for ph.d courses (University of Oslo), courses for education of residents in Neurology and Clinical Neurophysiology (Norwegian Medical Association), and master courses in pain management and physiotherapy (Oslo Metropolitan University and Buskerud University College). He is course leader for the national course "Basal and Clinical Neurophysiology" for residents in Neurology and Clinical Neurophysiology.
Research projects:
Project leader for the projects:
"Exploring the Genetics of Neuropathic Pain" – National study, funding from NRC. 2017-
"Motor neurons – can they be counted?" Clinical study on a new biomarker for ALS 2019-
"Digital gold mining in hospital data: Extrapolating neurophysiological reference values from historical records" – National quality study 2020-

Local PI for the "Puccini" clinical RCT study–BAY1878080 in the treatment of diabetic neuropathic pain.

2020–
"Sleep, inflammation and pain" – cohort studies from Norway – with collaborators from Australia and Norway – internal funding 2017-2021
"Prognostic factors for development of chronic pain after hospitalization for acute low back pain and/or sciatica" at Oslo University Hospital – internal funding 2014-2021
Responsible for development and maintenance of "Neuroscience registry for research and quality studies" for Oslo University Hospital 2014 –
He collaborates with several projects in neurology, oncology and ortophedics. Some of these are listed in his Cristin profile. He also participates in several international projects like the EU Horizon 2020 funded project Dolorisk, and a large international multicenter study investigating the validity of the neurophysiological MScanfit MUNE technique.
Supervising experience
He is presently main supervisor for 3 ph.d students at Oslo University Hospital. He has earlier supervised 7 master students and co-supervised 4 ph.d student.
Methodology and interests
His research is focused on clinical neurophysiological methods and pain mechanisms. He is currently leading projects focusing on mechanisms and treatment of neuropathic pain and carpal tunnel syndrome. His interests also includes methodological studies of clinical neurophysiological methods and human pain models. He is also involved in studies of narcolepsy, migraine, sleep disorders, pain genetics, side effects of cancer treatment, as well as studies on health effects of shift work. He has published more than 70 peer-reviewed papers, with a Google Scholar H index above 20. In his clinical work he is involved in the clinical investigation of patients with various neurological diseases, including epilepsy, neuromuscular disorders and all kinds of neuropathies.
---
Nevroglimt - Kristian Bernhard Nilsen's blog (in Norwegian)
Publications 2021
Aamodt AH, Tauboll E, Eichele T, Romundstad L, Sorteberg A, Wallace S, Fromm A, Raastad MF, Sand T, Skagen K, Eltoft A, Kefaloykos C, Frisvold SK, Nilsen KB, Carlsson M, Brathen G, Bakke I, Horn MA, Wiedmann M, Tennoe B, Totland JA, Ronning OM, Kurz M, Storstein A (2021)
Brain monitoring in hospitals needs to be strengthened
Tidsskr. Nor. Laegeforen., 141 (15), 1431-1433
Aamodt AH, Taubøll E, Eichele T, Romundstad L, Sorteberg A, Wallace S, Fromm A, Raastad MF, Sand T, Skagen K, Eltoft A, Kefaloykos C, Frisvold SK, Nilsen KB, Carlsson M, Bråthen G, Bakke I, Horn MA, Wiedmann M, Tennøe B, Totland JA, Rønning OM, Kurz M, Storstein A (2021)
Brain monitoring in hospitals needs to be strengthened
Tidsskr Nor Laegeforen, 141
DOI 10.4045/tidsskr.21.0412, PubMed 34726044
Christensen JO, Nilsen KB, Hopstock LA, Steingrímsdóttir ÓA, Nielsen CS, Zwart JA, Matre D (2021)
Shift work, low-grade inflammation, and chronic pain: a 7-year prospective study
Int Arch Occup Environ Health, 94 (5), 1013-1022
DOI 10.1007/s00420-020-01626-2, PubMed 33550437
Dunker Ø, Lie MU, Nilsen KB (2021)
Can within-subject comparisons of thermal thresholds be used for diagnostic purposes?
Clin Neurophysiol Pract, 6, 63-71
DOI 10.1016/j.cnp.2021.01.002, PubMed 33665518
Dunker Ø, Nilsen KB, Olsen SE, Åsvold BO, Bjørgaas MRR, Sand T (2021)
Which combined nerve conduction study scores are best suited for polyneuropathy in diabetic patients?
Muscle Nerve, 65 (2), 171-179
DOI 10.1002/mus.27445, PubMed 34687224
Hansen JO, Omland PM, Nilsen KB, Sand T, Matre D (2021)
Experimental sleep restriction increases latency jitter in pain elicited cortical responses
Heliyon, 7 (2), e06188
DOI 10.1016/j.heliyon.2021.e06188, PubMed 33659735
Matre D, Christensen JO, Mork PJ, Ferreira P, Sand T, Nilsen KB (2021)
Shift work, inflammation and musculoskeletal pain-The HUNT Study
Occup Med (Lond), 71 (9), 422-427
DOI 10.1093/occmed/kqab133, PubMed 34551112
Ragnum HB, De Bortoli AM, Elsais A, Nilsen KB, Hammarstrom C, Nyakas M (2021)
A man in his sixties with dyspnoea following immunotherapy
Tidsskr. Nor. Laegeforen., 141 (12), 1190-1194
Ragnum HB, De Bortoli AM, Elsais A, Nilsen KB, Hammarström C, Nyakas M (2021)
A man in his sixties with dyspnoea following immunotherapy
Tidsskr Nor Laegeforen, 141 (2021-12)
DOI 10.4045/tidsskr.21.0139, PubMed 34505469
Schulze DG, Nilsen KB, Killingmo RM, Zwart JA, Grotle M (2021)
Clinical Utility of the 6-Item CTS, Boston-CTS, and Hand-Diagram for Carpal Tunnel Syndrome
Front Neurol, 12, 683807
DOI 10.3389/fneur.2021.683807, PubMed 34385969
Sørensen DM, Bostock H, Ballegaard M, Fuglsang-Frederiksen A, Graffe CC, Grötting A, Jones K, Kallio M, Krarup C, Krøigård T, Lupescu T, Maitland S, Moldovan M, Nilsen KB, Pugdahl K, Santos MO, Themistocleous AC, Zlateva SS, Ööpik M, Tankisi H (2021)
Assessing inter-rater reproducibility in MScanFit MUNE in a 6-subject, 12-rater "Round Robin" setup
Neurophysiol Clin (in press)
DOI 10.1016/j.neucli.2021.11.002, PubMed 34906430
Winsvold BS, Kitsos I, Thomas LF, Skogholt AH, Gabrielsen ME, Zwart JA, Nilsen KB (2021)
Genome-Wide Association Study of 2,093 Cases With Idiopathic Polyneuropathy and 445,256 Controls Identifies First Susceptibility Loci
Front Neurol, 12, 789093
DOI 10.3389/fneur.2021.789093, PubMed 34975738
Publications 2020
Hansen BH, Juvodden HT, Nordstrand SH, Viste R, Thorsby PM, Swanson D, Nilsen KB, Nærland T, Knudsen-Heier S (2020)
High prevalence of ADHD symptoms in unmedicated youths with post-H1N1 narcolepsy type 1
Sleep Med, 75, 171-180
DOI 10.1016/j.sleep.2020.06.014, PubMed 32858357
Katsifaraki M, Nilsen KB, Christensen JO, Wærsted M, Knardahl S, Bjorvatn B, Härmä M, Matre D (2020)
Pain complaints after consecutive nights and quick returns in Norwegian nurses working three-shift rotation: an observational study
BMJ Open, 10 (9), e035533
DOI 10.1136/bmjopen-2019-035533, PubMed 32912941
Lie MU, Winsvold B, Gjerstad J, Matre D, Pedersen LM, Heuch I, Zwart JA, Nilsen KB (2020)
The association between selected genetic variants and individual differences in experimental pain
Scand J Pain, 21 (1), 163-173
DOI 10.1515/sjpain-2020-0091, PubMed 33108341
Nordstrand SEH, Juvodden HT, Viste R, Rootwelt T, Karlsen TI, Thorsby PM, Swanson D, Nilsen KB, Hansen BH, Knudsen-Heier S (2020)
Obesity and other medical comorbidities among NT1 patients after the Norwegian H1N1 influenza epidemic and vaccination campaign
Sleep, 43 (5)
DOI 10.1093/sleep/zsz277, PubMed 31724727
Sivertsen B, Pallesen S, Friborg O, Nilsen KB, Bakke ØK, Goll JB, Hopstock LA (2020)
Sleep patterns and insomnia in a large population-based study of middle-aged and older adults: The Tromsø study 2015-2016
J Sleep Res, 30 (1), e13095
DOI 10.1111/jsr.13095, PubMed 32469116
Publications 2019
de Rodez Benavent SA, Nygaard GO, Nilsen KB, Etholm L, Sowa P, Wendel-Haga M, Harbo HF, Drolsum L, Laeng B, Kerty E, Celius EG (2019)
Neurodegenerative Interplay of Cardiovascular Autonomic Dysregulation and the Retina in Early Multiple Sclerosis
Front Neurol, 10, 507
DOI 10.3389/fneur.2019.00507, PubMed 31156539
Fjeld OR, Grotle M, Matre D, Pedersen LM, Lie MU, Småstuen MC, Storheim K, Heuch I, Stubhaug A, Zwart JA, Nilsen KB (2019)
Predicting the outcome of persistent sciatica using conditioned pain modulation: 1-year results from a prospective cohort study
Scand J Pain, 20 (1), 69-75
DOI 10.1515/sjpain-2019-0112, PubMed 31527299
Hagen K, Hopstock LA, Elise Eggen A, Mathiesen EB, Nilsen KB (2019)
Does insomnia modify the association between C-reactive protein and migraine? The Tromsø Study 2015-2016
Cephalalgia, 39 (8), 1022-1029
DOI 10.1177/0333102418825370, PubMed 30862180
Hagen K, Stovner LJ, Nilsen KB, Kristoffersen ES, Winsvold BS (2019)
The impact of C-reactive protein levels on headache frequency in the HUNT study 2006-2008
BMC Neurol, 19 (1), 229
DOI 10.1186/s12883-019-1462-8, PubMed 31558164
Ho KKN, Simic M, Cvancarova Småstuen M, de Barros Pinheiro M, Ferreira PH, Bakke Johnsen M, Heuch I, Grotle M, Zwart JA, Nilsen KB (2019)
The association between insomnia, c-reactive protein, and chronic low back pain: cross-sectional analysis of the HUNT study, Norway
Scand J Pain, 19 (4), 765-777
DOI 10.1515/sjpain-2019-0033, PubMed 31287802
Lie MU, Petriu E, Matre D, Hansson P, Andersen OK, Zwart JA, Nilsen KB (2019)
Psychophysical or spinal reflex measures when assessing conditioned pain modulation?
Eur J Pain, 23 (10), 1879-1889
DOI 10.1002/ejp.1462, PubMed 31359580
Matre D, Nilsen KB, Katsifaraki M, Waage S, Pallesen S, Bjorvatn B (2019)
Pain complaints are associated with quick returns and insomnia among Norwegian nurses, but do not differ between shift workers and day only workers
Int Arch Occup Environ Health, 93 (3), 291-299
DOI 10.1007/s00420-019-01481-w, PubMed 31691014
Nordstrand SEH, Hansen BH, Rootwelt T, Karlsen TI, Swanson D, Nilsen KB, Knudsen S (2019)
Psychiatric symptoms in patients with post-H1N1 narcolepsy type 1 in Norway
Sleep, 42 (4)
DOI 10.1093/sleep/zsz008, PubMed 30649483
Ree A, Nilsen KB, Knardahl S, Sand T, Matre D (2019)
Sleep restriction does not potentiate nocebo-induced changes in pain and cortical potentials
Eur J Pain, 24 (1), 110-121
DOI 10.1002/ejp.1466, PubMed 31385378
Schulze DG, Nordby KC, Cvancarova Småstuen M, Clemm T, Grotle M, Zwart JA, Nilsen KB (2019)
Impact of technical variations on the ring-finger test for carpal tunnel syndrome
Clin Neurophysiol Pract, 5, 23-29
DOI 10.1016/j.cnp.2019.11.005, PubMed 31909307
Skarpsno ES, Mork PJ, Nilsen TIL, Steingrímsdóttir ÓA, Zwart JA, Nilsen KB (2019)
The interplay between sleeplessness and high-sensitivity C-reactive protein on risk of chronic musculoskeletal pain: longitudinal data from the Tromsø Study
Sleep, 42 (9)
DOI 10.1093/sleep/zsz127, PubMed 31135903
Publications 2018
Bajwa SK, Nilsen KB, Erichsen EAS, Berg-Hansen P, Harbo HF (2018)
A man in the 50s with dizziness, double vision and walking difficulties
Tidsskr. Nor. Laegeforen., 138 (3), 253-256
Bajwa SK, Nilsen KB, Erichsen EAS, Berg-Hansen P, Harbo HF (2018)
[A man in his 50s with dizziness, double vision and walking difficulties]
Tidsskr Nor Laegeforen, 138 (3)
DOI 10.4045/tidsskr.16.1109, PubMed 29411576
Engstrøm M, Aarrestad S, Eldøen G, Alme A, Bjørge T, Miljeteig H, Bjorvatn B, Knudsen S, Indrekvam S, Nilsen KB (2018)
New recommendations for objective investigation of sleep and sleep disorders
Tidsskr Nor Laegeforen, 138 (19)
DOI 10.4045/tidsskr.18.0741, PubMed 30497241
Engstrom M, Aarrestad S, Eldoen G, Alme A, Bjorge T, Miljeteig H, Bjorvatn B, Knudsen S, Indrekvam S, Nilsen KB (2018)
New recommendations for objective examination of sleep and sleep disorders
Tidsskr. Nor. Laegeforen., 138 (19), 1805-1806
Iversen JM, Uglem M, Indredavik MS, Romundstad PR, Nilsen KB, Sand T, Rygg M (2018)
Pain Sensitivity and Thermal Detection Thresholds in Young Adults Born Preterm With Very Low Birth Weight or Small for Gestational Age at Term Compared With Controls
J Pain, 19 (8), 873-884
DOI 10.1016/j.jpain.2018.03.001, PubMed 29574049
Katsifaraki M, Nilsen KB, Christensen JO, Wærsted M, Knardahl S, Bjorvatn B, Härmä M, Matre D (2018)
Sleep duration mediates abdominal and lower-extremity pain after night work in nurses
Int Arch Occup Environ Health, 92 (3), 415-422
DOI 10.1007/s00420-018-1373-9, PubMed 30417278
Katsifaraki M, Nilsen KB, Waersted M, Knardahl S, Lie JAS, Bjorvatn B, Harma M, Matre D (2018)
The association of sleepiness, insomnia, sleep disturbance and pain: a study amongst shiftworking nurses
Sleep Biol. Rhythms, 16 (1), 133-140
DOI 10.1007/s41105-017-0135-5
Nordstrand SH, Hansen BH, Kamaleri Y, Nilsen KB, Rootwelt T, Karlsen TI, Knudsen S (2018)
Changes in quality of life in individuals with narcolepsy type 1 after the H1N1-influenza epidemic and vaccination campaign in Norway: a two-year prospective cohort study
Sleep Med, 50, 175-180
DOI 10.1016/j.sleep.2018.05.037, PubMed 30075393
Publications 2017
de Rodez Benavent SA, Nygaard GO, Harbo HF, Tønnesen S, Sowa P, Landrø NI, Wendel-Haga M, Etholm L, Nilsen KB, Drolsum L, Kerty E, Celius EG, Laeng B (2017)
Fatigue and cognition: Pupillary responses to problem-solving in early multiple sclerosis patients
Brain Behav, 7 (7), e00717
DOI 10.1002/brb3.717, PubMed 28729927
Fjeld O, Grotle M, Siewers V, Pedersen LM, Nilsen KB, Zwart JA (2017)
Prognostic Factors for Persistent Leg-Pain in Patients Hospitalized With Acute Sciatica
Spine (Phila Pa 1976), 42 (5), E272-E279
DOI 10.1097/BRS.0000000000001773, PubMed 28244968
Hauger SL, Olafsen K, Schnakers C, Andelic N, Nilsen KB, Helseth E, Funderud I, Andersson S, Schanke AK, Løvstad M (2017)
Cognitive Event-Related Potentials during the Sub-Acute Phase of Severe Traumatic Brain Injury and Their Relationship to Outcome
J Neurotrauma, 34 (22), 3124-3133
DOI 10.1089/neu.2017.5062, PubMed 28594285
Lie MU, Matre D, Hansson P, Stubhaug A, Zwart JA, Nilsen KB (2017)
A tonic heat test stimulus yields a larger and more reliable conditioned pain modulation effect compared to a phasic heat test stimulus
Pain Rep, 2 (6), e626
DOI 10.1097/PR9.0000000000000626, PubMed 29392240
Matre D, Knardahl S, Nilsen KB (2017)
Night-shift work is associated with increased pain perception
Scand J Work Environ Health, 43 (3), 260-268
DOI 10.5271/sjweh.3627, PubMed 28259894
Viste R, Soosai J, Vikin T, Thorsby PM, Nilsen KB, Knudsen S (2017)
Long-term improvement after combined immunomodulation in early post-H1N1 vaccination narcolepsy
Neurol Neuroimmunol Neuroinflamm, 4 (5), e389
DOI 10.1212/NXI.0000000000000389, PubMed 28840177
Publications 2016
Hestad KA, Weider S, Nilsen KB, Indredavik MS, Sand T (2016)
Increased frontal electroencephalogram theta amplitude in patients with anorexia nervosa compared to healthy controls
Neuropsychiatr Dis Treat, 12, 2419-2423
DOI 10.2147/NDT.S113586, PubMed 27703359
Uglem M, Omland PM, Nilsen KB, Tronvik E, Stovner LJ, Hagen K, Linde M, Sand T (2016)
Does pain sensitivity change by migraine phase? A blinded longitudinal study
Cephalalgia, 37 (14), 1337-1349
DOI 10.1177/0333102416679955, PubMed 27919023
Publications 2015
Dalen ML, Knudsen PK, Bye K, Nilsen KB, Rørvik LM, Tessem GA (2015)
[ An infant with acute flaccid pareses]
Tidsskr Nor Laegeforen, 135 (16), 1455-8
DOI 10.4045/tidsskr.14.1419, PubMed 26356456
Matre D, Andersen MR, Knardahl S, Nilsen KB (2015)
Conditioned pain modulation is not decreased after partial sleep restriction
Eur J Pain, 20 (3), 408-16
DOI 10.1002/ejp.741, PubMed 26104968
Matre D, Hu L, Viken LA, Hjelle IB, Wigemyr M, Knardahl S, Sand T, Nilsen KB (2015)
Experimental Sleep Restriction Facilitates Pain and Electrically Induced Cortical Responses
Sleep, 38 (10), 1607-17
DOI 10.5665/sleep.5058, PubMed 26194577
Olsen SE, Bjørgaas MR, Åsvold BO, Sand T, Stjern M, Frier BM, Nilsen KB (2015)
Impaired Awareness of Hypoglycemia in Adults With Type 1 Diabetes Is Not Associated With Autonomic Dysfunction or Peripheral Neuropathy
Diabetes Care, 39 (3), 426-33
DOI 10.2337/dc15-1469, PubMed 26721812
Publications 2014
Elvemo NA, Nilsen KB, Landrø NI, Borchgrevink PC, Håberg AK (2014)
Patients with chronic pain lack somatic markers during decision-making
J Pain Res, 7, 425-37
DOI 10.2147/JPR.S62492, PubMed 25075199
Horn MA, Nilsen KB, Jørum E, Mellgren SI, Tallaksen CM (2014)
Small nerve fiber involvement is frequent in X-linked adrenoleukodystrophy
Neurology, 82 (19), 1678-83
DOI 10.1212/WNL.0000000000000415, PubMed 24719486
Matre D, Nilsen KB (2014)
Evoked potentials through small-fiber pathways - For both clinical and research purposes?
Scand J Pain, 5 (2), 110
DOI 10.1016/j.sjpain.2014.01.005, PubMed 29913673
Nilsen KB, Olsen IC, Solem AN, Matre D (2014)
A large conditioned pain modulation response is not related to a large blood pressure response: a study in healthy men
Eur J Pain, 18 (9), 1271-9
DOI 10.1002/j.1532-2149.2014.486.x, PubMed 24677417
Ødegård SS, Omland PM, Nilsen KB, Stjern M, Gravdahl GB, Sand T (2014)
The effect of sleep restriction on laser evoked potentials, thermal sensory and pain thresholds and suprathreshold pain in healthy subjects
Clin Neurophysiol, 126 (10), 1979-87
DOI 10.1016/j.clinph.2014.12.011, PubMed 25579466
Yarnitsky D, Bouhassira D, Drewes AM, Fillingim RB, Granot M, Hansson P, Landau R, Marchand S, Matre D, Nilsen KB, Stubhaug A, Treede RD, Wilder-Smith OH (2014)
Recommendations on practice of conditioned pain modulation (CPM) testing
Eur J Pain, 19 (6), 805-6
DOI 10.1002/ejp.605, PubMed 25330039
Publications 2013
Nilsen KB (2013)
[Better knowledge about pain management]
Tidsskr Nor Laegeforen, 133 (21), 2225
DOI 10.4045/tidsskr.13.1299, PubMed 24226312
Omland PM, Nilsen KB, Uglem M, Gravdahl G, Linde M, Hagen K, Sand T (2013)
Visual evoked potentials in interictal migraine: no confirmation of abnormal habituation
Headache, 53 (7), 1071-86
DOI 10.1111/head.12006, PubMed 23298223
Publications 2012
Fraser DA, Diep LM, Hovden IA, Nilsen KB, Sveen KA, Seljeflot I, Hanssen KF (2012)
Response to Comment on: Fraser et al. The Effects of Long-Term Oral Benfotiamine Supplementation on Peripheral Nerve Function and Inflammatory Markers in Patients With Type 1 Diabetes: A 24-Month, Double-Blind, Randomized, Placebo-Controlled Trial. Diabetes Care 2012;35:1095-1097
Diabetes Care, 35 (11), E80
DOI 10.2337/dc12-1124
Fraser DA, Diep LM, Hovden IA, Nilsen KB, Sveen KA, Seljeflot I, Hanssen KF (2012)
The effects of long-term oral benfotiamine supplementation on peripheral nerve function and inflammatory markers in patients with type 1 diabetes: a 24-month, double-blind, randomized, placebo-controlled trial
Diabetes Care, 35 (5), 1095-7
DOI 10.2337/dc11-1895, PubMed 22446172
Nilsen KB, Berg-Hansen P, Berge E, Petterson MA, Gjesdal K (2012)
[A man with debilitating orthostatic hypotension]
Tidsskr Nor Laegeforen, 132 (15), 1758-61
DOI 10.4045/tidsskr.11.1360, PubMed 22929944
Nilsen KB, Christiansen SE, Holmen LB, Sand T (2012)
The effect of a mental stressor on conditioned pain modulation in healthy subjects
Scand J Pain, 3 (3), 142-148
DOI 10.1016/j.sjpain.2012.04.005, PubMed 29913861
Publications 2011
Omland PM, Nilsen KB, Sand T (2011)
Habituation measured by pattern reversal visual evoked potentials depends more on check size than reversal rate
Clin Neurophysiol, 122 (9), 1846-53
DOI 10.1016/j.clinph.2011.02.025, PubMed 21414838
Publications 2010
Nilsen KB, Flaten MA, Hagen K, Matre D, Sand T (2010)
[Mechanisms for pain inhibiton in the central nervous system]
Tidsskr Nor Laegeforen, 130 (19), 1921-4
DOI 10.4045/tidsskr.10.0079, PubMed 20930880
Nilsen KB, Haram M, Tangedal S, Sand T, Brodtkorb E (2010)
Is elevated pre-ictal heart rate associated with secondary generalization in partial epilepsy?
Seizure, 19 (5), 291-5
DOI 10.1016/j.seizure.2010.03.003, PubMed 20395158
Sand T, Nilsen KB, Hagen K, Stovner LJ (2010)
Repeatability of cold pain and heat pain thresholds: The application of sensory testing in migraine research
Cephalalgia, 30 (8), 904-9
DOI 10.1177/0333102409356023, PubMed 20656701
Publications 2009
Hagen K, Zwart JA, Aamodt AH, Nilsen KB, Bråthen G, Helde G, Stjern M, Tronvik EA, Stovner LJ (2009)
The validity of questionnaire-based diagnoses: the third Nord-Trøndelag Health Study 2006-2008
J Headache Pain, 11 (1), 67-73
DOI 10.1007/s10194-009-0174-7, PubMed 19946790
Nilsen KB, Nicholas AK, Woods CG, Mellgren SI, Nebuchennykh M, Aasly J (2009)
Two novel SCN9A mutations causing insensitivity to pain
Pain, 143 (1-2), 155-8
DOI 10.1016/j.pain.2009.02.016, PubMed 19304393
Nilsen KB, Nicholas AK, Woods CG, Mellgren SI, Nebuchennykh M, Aasly J (2009)
Two novel SCN9A mutations causing insensitivity to pain (vol 143, pg 155, 2009)
Pain, 145 (1-2), 264
DOI 10.1016/j.pain.2009.06.025
Nilsen KB, Tronvik E, Sand T, Gravdahl GB, Stovner LJ (2009)
Increased baroreflex sensitivity and heart rate variability in migraine patients
Acta Neurol Scand, 120 (6), 418-23
DOI 10.1111/j.1600-0404.2009.01173.x, PubMed 19456305
Publications 2008
Hagen K, Zwart JA, Aamodt AH, Nilsen KB, Bråthen G, Helde G, Stjern M, Tronvik EA, Stovner LJ (2008)
A face-to-face interview of participants in HUNT 3: the impact of the screening question on headache prevalence
J Headache Pain, 9 (5), 289-94
DOI 10.1007/s10194-008-0062-6, PubMed 18690490
Leistad RB, Nilsen KB, Stovner LJ, Westgaard RH, Rø M, Sand T (2008)
Similarities in stress physiology among patients with chronic pain and headache disorders: evidence for a common pathophysiological mechanism?
J Headache Pain, 9 (3), 165-75
DOI 10.1007/s10194-008-0029-7, PubMed 18373156
Nilsen KB, Sand T, Borchgrevink P, Leistad RB, Rø M, Westgaard RH (2008)
A unilateral sympathetic blockade does not affect stress-related pain and muscle activity in patients with chronic musculoskeletal pain
Scand J Rheumatol, 37 (1), 53-61
DOI 10.1080/03009740701716850, PubMed 18189196
Sand T, Zhitniy N, Nilsen KB, Helde G, Hagen K, Stovner LJ (2008)
Thermal pain thresholds are decreased in the migraine preattack phase
Eur J Neurol, 15 (11), 1199-205
DOI 10.1111/j.1468-1331.2008.02276.x, PubMed 18795945
Publications 2007
Leistad RB, Sand T, Nilsen KB, Westgaard RH, Stovner LJ (2007)
Cardiovascular responses to cognitive stress in patients with migraine and tension-type headache
BMC Neurol, 7, 23
DOI 10.1186/1471-2377-7-23, PubMed 17683636
Leistad RB, Stovner LJ, White LR, Nilsen KB, Westgaard RH, Sand T (2007)
Noradrenaline and cortisol changes in response to low-grade cognitive stress differ in migraine and tension-type headache
J Headache Pain, 8 (3), 157-66
DOI 10.1007/s10194-007-0384-9, PubMed 17568991
Leistad RB, Westgaard RH, Nilsen KB, Stovner LJ, Sand T (2007)
Stress-induced pain and muscle activity in patients with migraine and tension-type headache
In Headache clinics: organization, patients and treatment, Oxford University Press, Oxford, S. [162]-166
BIBSYS 082384924
Nilsen KB (2007)
Autonomic activation and muscle activity in relation to musculoskeletal pain
In Dissertations at the Faculty of Medicine, NTNU, The Faculty, [Trondheim], 325, 1 b. (flere pag.)
BIBSYS 071611444, ISBN 978-82-471-4445-9
Nilsen KB, Sand T, Stovner LJ, Leistad RB, Westgaard RH (2007)
Autonomic and muscular responses and recovery to one-hour laboratory mental stress in healthy subjects
BMC Musculoskelet Disord, 8, 81
DOI 10.1186/1471-2474-8-81, PubMed 17697337
Nilsen KB, Sand T, Westgaard RH, Stovner LJ, White LR, Bang Leistad R, Helde G, Rø M (2007)
Autonomic activation and pain in response to low-grade mental stress in fibromyalgia and shoulder/neck pain patients
Eur J Pain, 11 (7), 743-55
DOI 10.1016/j.ejpain.2006.11.004, PubMed 17224287
Sand T, Nilsen KB, Westgaard RH, Stovner LJ, Rø M, Helde G, White LR, Leistad RB (2007)
Autonomic activation and pain in response to low-grade mental stress in fibromyalgia and shoulder/neck pain patients
Elsevier, [Amsterdam?], 13 bl.
BIBSYS 070984700
Sand T, Nilsen KB, Westgaard RH, Stovner LJ, White LR, Leistad RB (2007)
Noradrenaline and cortisol changes in response to low-grade cognitive stress differ in migraine and tension-type headache
[Springer Italia?], [Milano?], 10 bl.
BIBSYS 070984743
Publications 2006
Leistad RB, Sand T, Westgaard RH, Nilsen KB, Stovner LJ (2006)
Stress-induced pain and muscle activity in patients with migraine and tension-type headache
Cephalalgia, 26 (1), 64-73
DOI 10.1111/j.1468-2982.2005.00997.x, PubMed 16396668
Sand T, Nilsen KB, Westgaard RH, Stovner LJ, Rø M, Helde G (2006)
Pain induced by low-grade stress in patients with fibromyalgia and chronic shoulder/neck pain, relation to surface electromyography
Elsevier, [Amsterdam?], S. [615]-627
BIBSYS 061619248
Publications 2005
Nilsen KB, Westgaard RH, Stovner LJ, Helde G, Rø M, Sand TH (2005)
Pain induced by low-grade stress in patients with fibromyalgia and chronic shoulder/neck pain, relation to surface electromyography
Eur J Pain, 10 (7), 615-27
DOI 10.1016/j.ejpain.2005.10.001, PubMed 16300974
Publications 2004
Sand T, Nilsen KB, Westgaard RH, Stovner LJ, White LR, Gårseth M (2004)
Slow recovery of circulatory responses following low-grade stress
[s.n.], [S.l.], Bl. 567-568
BIBSYS 051307545
Publications 2001
Asheim H, Nilsen KB, Stordahl H, Johansen K (2001)
[Prescription of central nervous system stimulants]
Tidsskr Nor Laegeforen, 121 (8), 908-10
PubMed 11332376