CHFR Workshop on Dyssynchrony in Heart Failure took place at Rikshospitalet on Thursday October 11th. The workshop had focus on dyssynchrony and consequences for the failing heart, including the effects of cardiac resynchronization therapy. Methods to identify and quantify dyssynchrony by cardiac imaging were the main topic.
Opening the meeting was invited speaker Professor Theodore P. Abraham, MD, PhD from University of California, San Francisco with an excellent talk on the role of imaging in patients with left ventricular dyssynchrony. Professor Abraham directs the UCSF Echocardiography laboratory and is also a co-director of the UCSF HCM Center of Excellence. He is a well renowned expert in transthoracic, stress and transesophageal echocardiography.
Continuing the meeting was Professor Eigil Samset with his talk on myocardial work for dyssynchrony assessment followed by several PhD fellows and postdocs at Integrated CardioVascular Function who held talks on a variety of selected topics.
Visiting researcher, associate professor Katsuji Inoue MD, PhD from Department of Cardiology, Pulmonology, Hypertension & Nephrology at Ehime University Graduate School of Medicine in Japan, held an interesting talk on atrial mechanics during left bundle branch block. Finishing the meeting was Professor Helge Skulstad, who shed light on the future perspectives of research in the field of dyssynchrony.
The organizers would like to thank all speakers and participants.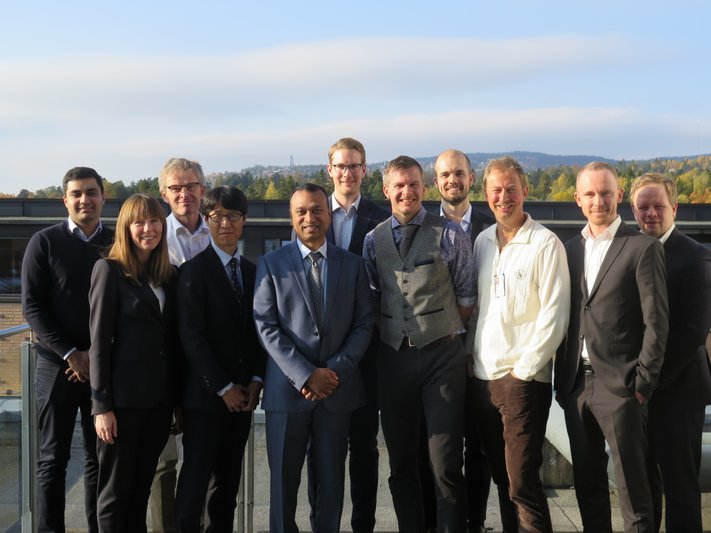 From left; Faraz Kahn Hameed, MD, Camilla K. Larsen, MD, Associate professor Helge Skulstad, MD, PhD, Associate professor Katsuji Inoue, MD, PhD, Professor Theodore P. Abraham, MD, PhD, John Aalen, MD, Professor Eigil Samset, PhD, Ole Jakob Sletten, MD, Espen Remme, M.Sc.Eng, PhD, Petter Storsten, MD and Espen Bøe, MD, PhD. (Photo: OUS)