Updated and expanded text Nov 4th: Lung cancer research funded by national clinical research program KLINBEFORSK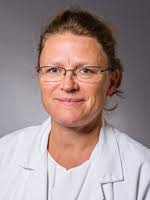 Åslaug Helland, head of the Translational studies on solid tumours reserach group at the Department of Cancer Genetics at Oslo University Hospital, receives 14,2 mill NOK from The national programme for clinical therapy research - KLINBEFORSK.
The supported project is entitled "Durvalumab After RadioTherapy – the DART-study". The purpose is to see if Durvalumab and radiation therapy can delay the worsening of disease in patients with non-small cell lung cancer normally treated with sequential chemotherapy followed by radiation therapy.
NB: text expanded on Nov 4th, with more details
Durvalumab after chemoradiation for stage III non-small cell lung cancer – the DART-study
The standard of care in Norway for patients with unresectable stage III NSCLC has until recently been platinum-based doublet chemotherapy concurrent with radiotherapy. This treatment cures some patients, however, the median progression-free survival is poor (approximately 8 months), and only 15-20% of patients are alive at 5 years. Clinical studies have recently demonstrated increased overall survival for stage III lung cancer patients treated with the PDL1-inhibitor durvalumab after chemoradiation. However, this treatment is only publically available in Norway for patients whose tumour express the protein PDL1 although effect is also seen on PDL1 negative tumours. As not all patients benefit, there is an urgent need for biomarkers predicting which patients are most likely to benefit.
In DART, 100 patients will be treated with durvalumab after chemoradiation. We will collect biological material and imaging data, aiming at identifying robust biomarkers predictive of response. In order to identify biomarkers, we need to elucidate the biology responsible for the response to durvalumab in the adjuvant setting, or the lack thereof. Our hypothesis is that the immunological microenvironment in the tumour influences responses. We will investigate both mutations, imaging techniques and gut microbiome- and immune-profiles. This will provide a new generation of tailored strategies to select the right therapy for each patient, and provide potential targets for future interventions to increase treatment response rates.
Norwegian NSCLC patients in all health regions will get access to treatment with durvalumab regardless of PDL1 status in this clinical study. In addition, next generation sequencing (NGS) will be established with large panels in all health regions in a coordinated effort, paving the way for extended use in personalised cancer therapy. The study is supported by Helse Sørøst and Klinbeforsk and patients will be included from the Nordic and Baltic countries. The clinical trial will open for inclusion at the end of 2019 and the trial is led by Professor Åslaug Helland from Oslo University Hospital.
---
Links:
From Klinbeforsk home page (in Norwegian):
149 millioner kroner til klinisk behandlingsforskning
Home page of Åslaug Helland's research group: Translational studies on solid tumours