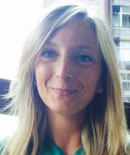 Anna Isotta Castrini
Anna Isotta got her Medical Graduation at the University of Brescia, Italy in 2011. After her medical internship, she started her residency in Cardiovascular Medicine in August 2013. In January 2016 she moved to Oslo University Hospital for a research fellowship. Her work focuses on the echocardiographic study of cardiomyopathies, with emphasis on AC patients.
Supervisors: Associated Professor Kristina Hermann Haugaa, MD, PhD and Professor Thor Edvardsen, MD, PhD.