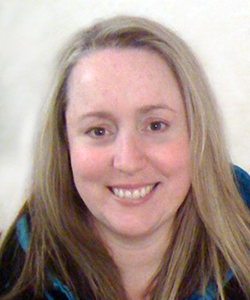 Thale Dawn Patrick-Brown
Research Coordinator; MSc, MIET
Dawn has a varied background, and joined the team after working in public sector research environments in the UK, Norway and Canada. She holds degrees from the University of Reading (MSc) and the University of Lethbridge (BSc), and is a PhD Student at Heriot-Watt University in Edinburgh, Scotland.

Research Interests:
Accounting and general organisational activities for the Acredit network
Statistical analysis of incidence and prevalence of rare abdominal cancers (PMP)
Localisation of satellite tumours in metastatic rectal cancer
Organisation of meetings and conferences
Website, photography and graphic design
Publications:
Melzer S, Bakke KM, Rød KL, Negård A, Flatmark K, Solbakke AM, Kristensen AT, Fuglestad AJ, Kersten C, Dueland S, Seierstad T, Hole KH, Lyckander LG, Larsen FO, Schou JV, Patrick-Brown D, Abrahamsson H, Redalen KR, Ree, AH. Sex related differences in primary metastatic site in rectal cancer; associated with hemodynamic factors? Clin Transl Radiat Oncol. 2019 Dec 2;21:5-10. doi: 10.1016/j.ctro.2019.11.006.
Publications 2020
Patrick-Brown TDJH, Carr NJ, Swanson DM, Larsen S, Mohamed F, Flatmark K (2020)
Estimating the Prevalence of Pseudomyxoma Peritonei in Europe Using a Novel Statistical Method
Ann Surg Oncol, 28 (1), 252-257
DOI 10.1245/s10434-020-08655-8, PubMed 32488520
Publications 2019
Meltzer S, Bakke KM, Rød KL, Negård A, Flatmark K, Solbakken AM, Kristensen AT, Fuglestad AJ, Kersten C, Dueland S, Seierstad T, Hole KH, Lyckander LG, Larsen FO, Schou JV, Patrick Brown D, Abrahamsson H, Redalen KR, Ree AH (2019)
Sex-related differences in primary metastatic site in rectal cancer; associated with hemodynamic factors?
Clin Transl Radiat Oncol, 21, 5-10
DOI 10.1016/j.ctro.2019.11.006, PubMed 31872084