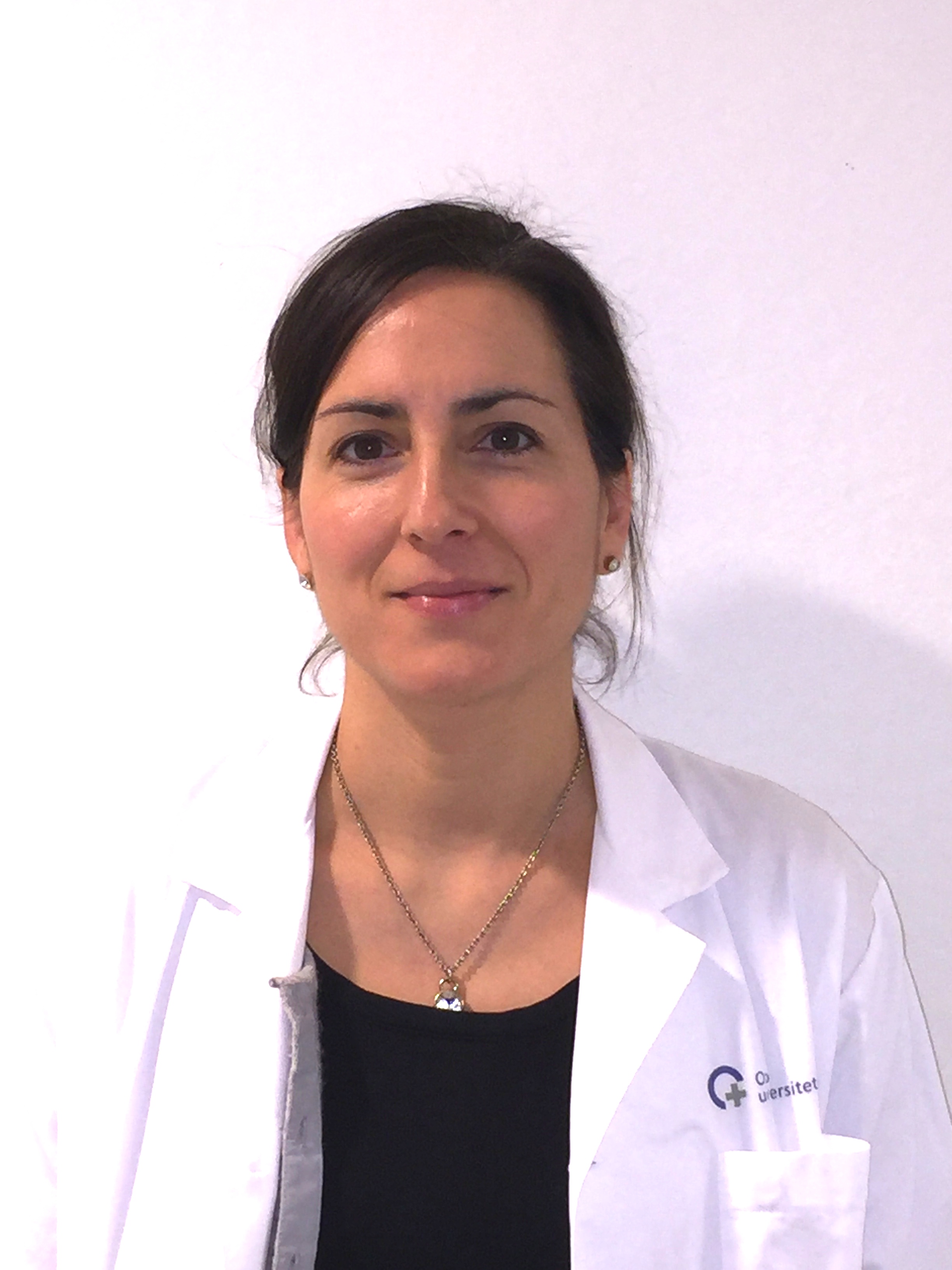 Sylvie Pollmann
Scientist Msc, PhD
+47 22 78 23 16
Education:
2000 – 2004    PhD in immunology
Institute of Biochemistry, Charité University Hospital, Humboldt-University Berlin,
Germany. "Investigation of the role of the proteasome and PA28 in antigen processing"
1996 – 1999    Master of Science in cell biology and human physiology
Blaise Pascal University, Clermont-Ferrand, France
1994 – 1996    Technical Diploma in biology and biochemistry
Institute of Technology, Clermont-Ferrand, France
Research interests/projects:
Therapeutic TCR discovery and pre-clinical validation
Work experience
2017 – present Scientist at the Dept. of Cellular Therapy, OUS-Radiumhospitalet, Oslo.         

2011 – 2016    Scientist at NEXTERA AS, Oslo.

2004 – 2010    Postdoctoral fellow at the Institute of Immunology, Center for Immune Regulation, Rikshospitalet, University of Oslo. "Investigation of rheumatoid arthritis pathogenesis at the cellular level"
Publications 2014
Løset GÅ, Berntzen G, Frigstad T, Pollmann S, Gunnarsen KS, Sandlie I (2014)
Phage Display Engineered T Cell Receptors as Tools for the Study of Tumor Peptide-MHC Interactions
Front Oncol, 4, 378
DOI 10.3389/fonc.2014.00378, PubMed 25629004
Publications 2012
Nilssen NR, Frigstad T, Pollmann S, Roos N, Bogen B, Sandlie I, Løset GÅ (2012)
DeltaPhage--a novel helper phage for high-valence pIX phagemid display
Nucleic Acids Res, 40 (16), e120
DOI 10.1093/nar/gks341, PubMed 22539265
Publications 2011
Pollmann S, Stensland M, Halvorsen EH, Sollid LM, Kvien TK, Fleckenstein B, Molberg O (2011)
Anti-PAD4 autoantibodies in rheumatoid arthritis: levels in serum over time and impact on PAD4 activity as measured with a small synthetic substrate
Rheumatol Int, 32 (5), 1271-6
DOI 10.1007/s00296-010-1765-y, PubMed 21267570
Publications 2009
Stensland ME, Pollmann S, Molberg Ø, Sollid LM, Fleckenstein B (2009)
Primary sequence, together with other factors, influence peptide deimination by peptidylarginine deiminase-4
Biol Chem, 390 (2), 99-107
DOI 10.1515/BC.2009.019, PubMed 19040354
Publications 2008
Halvorsen EH, Haavardsholm EA, Pollmann S, Boonen A, van der Heijde D, Kvien TK, Molberg Ø (2008)
Serum IgG antibodies to peptidylarginine deiminase 4 predict radiographic progression in patients with rheumatoid arthritis treated with tumour necrosis factor-alpha blocking agents
Ann Rheum Dis, 68 (2), 249-52
DOI 10.1136/ard.2008.094490, PubMed 18723564
Publications 2007
Halvorsen EH, Pollmann S, Gilboe IM, van der Heijde D, Landewé R, Ødegård S, Kvien TK, Molberg Ø (2007)
Serum IgG antibodies to peptidylarginine deiminase 4 in rheumatoid arthritis and associations with disease severity
Ann Rheum Dis, 67 (3), 414-7
DOI 10.1136/ard.2007.080267, PubMed 18006540
Textoris-Taube K, Henklein P, Pollmann S, Bergann T, Weisshoff H, Seifert U, Drung I, Mügge C, Sijts A, Kloetzel PM, Kuckelkorn U (2007)
The N-terminal flanking region of the TRP2360-368 melanoma antigen determines proteasome activator PA28 requirement for epitope liberation
J Biol Chem, 282 (17), 12749-54
DOI 10.1074/jbc.M611644200, PubMed 17308306
Publications 2002
Sijts A, Sun Y, Janek K, Kral S, Paschen A, Schadendorf D, Kloetzel PM (2002)
The role of the proteasome activator PA28 in MHC class I antigen processing
Mol Immunol, 39 (3-4), 165-9
PubMed 12200048
Sun Y, Sijts AJ, Song M, Janek K, Nussbaum AK, Kral S, Schirle M, Stevanovic S, Paschen A, Schild H, Kloetzel PM, Schadendorf D (2002)
Expression of the proteasome activator PA28 rescues the presentation of a cytotoxic T lymphocyte epitope on melanoma cells
Cancer Res, 62 (10), 2875-82
PubMed 12019167