Welcome to Elin H. Kure's Research Group
Molecular Profiling of GI Cancers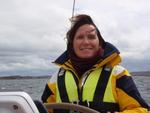 Elin H.Kure
The research group is studying pancreatic (The Thematic Pancreas Project) and metastatic colorectal cancer (The Nordic VII multicentre-phase III clinical trial) in close collaboration with clinicians at OUH. The goal is improved diagnostics and treatment outcome.
Our focus is on enhancing the knowledge of tumor biology in pancreatic cancer by exploring specific signaling pathways and their potential roles in metabolic reprogramming to aerobic glycolysis in pancreatic ductal adenocarcinomas (PDACs) byexamine how genetic alterations in the pathways may influence enzymes involved in glycosylation and if this can be related to changes in aerobic glycolysis.
Further, we are studying if molecular profiling at the miRNA and mRNA levels can provide a more accurate diagnostic classification of adenocarcinomas of the pancreatic head and malignant potential of precursor lesions.
In The Nordic VII study we explore miRNAs as potential cancer biomarkers in plasma and tumor tissue and the implication genetic mutations in cancer signaling pathways have on treatment outcome and toxicity. The goal is to identify miRNAs and tumor mutations that exert a predictive role in varying individual drug responsiveness and toxicity.
Contact information:
Elin H. Kure, Group Leader, Department of Genetics
Institute for Cancer Research, Oslo University Hospital, Radiumhospitalet
Ullernchausseen 70, 0310 Oslo
Phone: +47 22 78 13 77
Fax: +47 22 78 13 95
Switchboard: +47 22 93 40 00
e-mail: Elin.Kure@rr-research.no