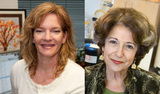 Mardis (left) and Bissell
Hydro lecturer Elaine Mardis, who is Director of Technology Development, at the Genome Center at Washington University School of Medicine in St Louis, will hold two lectures, entitled "Massively Parallel Sequencing Technologies: Fundamentals and Applications" and "Use of Next-generation Sequencing and Analysis in Cancer Therapy Decisions" respectively.

Mina Bissell, Professor and Distinguished Scientist at the Life Sciences Division Lawrence Berkeley National Laboratory, will lecture over the subject "The overarching role of the ECM and its receptors in homeostasis and breast cancer".

The lectures are held in the Auditorium at the Institute for Cancer Research, starting at 9.30 a.m.
Complete program, and information about the speakers

This Symposium is part of an annual series that Prof. Enrico Mihich have been organizing in collaboration with Hans-Peter Huber and Kurt S. Zšnker at the Fritz Bender Foundation, Munich, Germany, and a host institution. This year is is hosted by the Institute for Cancer Research, The Norwegian Radium Hospital Oslo University Hospital and the Radium Hospital Foundation.
The symposium takes place at Holmenkollen Park Hotel Conference Center September 7-9.
More